Ready for some offseason fun? Of course you are. You read Eye on Baseball, after all. So while we're here in late January with most of the good free agents signed (Yovani Gallardo and Dexter Fowler are the top remaining names), let's run through each position and rank the individual players. We'll start with catchers.
Things to keep in mind:
1. We are ranking the players based upon which ones we'd most want to have for the 2016 season only, ignoring salary. Quite simply, if money were no object and you were trying to win the World Series this season, which player would you most want to have?
2. These are subjective, as voted on by Matt Snyder, Dayn Perry and Mike Axisa. We ranked the players at each position individually and averaged out the results. You can feel free to disagree, which definitely means someone has to be wrong, stupid and biased. Respectful disagreement is so pre-Internet.
3. These aren't fantasy baseball rankings. All-around play matters.
Let's get to it. The top 15 catchers for the 2016 season, as expertly ranked by your Eye on Baseball friends.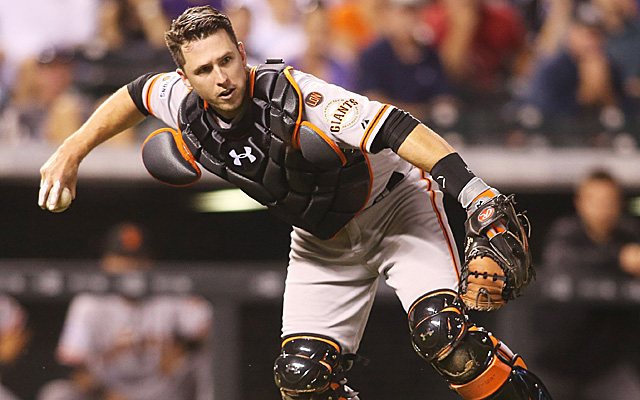 Top 15 MLB catchers:
Easy and obvious choice here. The former MVP is the best offensive catcher in baseball and works very well with his pitching staff behind the dish, too. He's still 28, so as long as he continues to play the majority of his games at catcher (106 last year, compared to 42 at first base), he's bound to stay at the top.
Despite having played for four different teams, Martin has been the catcher for a playoff team in eight of his 10 seasons. It's not a coincidence. He packs power and on-base skills (115 OPS+ last season) with excellent leadership and defensive chops. He led the AL in catching 44 percent of would-be basestealers last season while clubbing 23 homers.
Want some power from behind the plate? In terms of consistency, there's no better place to find it. McCann has hit at least 20 homers in eight consecutive seasons. He generally posts a low batting average these days, but he walks enough to make his on-base percentage palatable. Though not spectacular, he's more than acceptable defensively.
A model of durability, Perez is a rock for the Royals. He started 143 games in 2014 and 137 last season at catcher and that only includes the regular season. The on-field leader of the 2015 World Series champs, Perez gets loads of bonus points here to make up for his paltry .280 OBP.
And here we go. This will be the most hotly contested entry here, as Cardinals fans will go nuts and proclaim that Molina should be second (and some misguided folk will even say number one) while some opposition will say he's way too high. He's not much of a hitter any more (.270/.310/.350, 80 OPS+ last season), but as with Salvador Perez, there are some things numbers can't measure. Molina remains stellar behind the plate and leads a pitching staff like no one else in the game.
After finishing fourth in NL MVP voting in 2014, Lucroy had a down year last season while dealing with injuries. He's 30 and figures to bounce back some, but not all the way.
Injuries limited d'Arnaud to only 67 games last season, but he flashed nice offensive upside and only allowed one passed ball in 569 1/3 innings. He'll grow nicely with that awesome young rotation in Queens.
He's 27 now and coming off a season in which an outstanding first half (.282/.401/.526, 14 HR) landed him in the All-Star Game. He was awful in the second half while dealing with a shoulder injury, so we'll see how he bounces back.
Gomes won the AL Silver Slugger in 2014, but was hampered by injury in 2015. Of note: The Indians were 52-42 when he started and 29-38 when he didn't.
For the first time in his career, Cervelli got regular playing time last season and broke out, hitting .295/.370/.401. He also rated well defensively, with eight defensive runs saved.
He rode a hot start to the All-Star Game in 2015, but how much was real? He hit .287/.374/.498 with 14 homers in the first half and .217/.280/.349 with four homers in the second.
Norris was good last season behind the plate and flashed great gap power with 33 doubles. He's still only set to be 27 in 2016, too.
Just two years ago, Wieters would have been a top-five catcher on this list and could well be there again. He needs to show he's fully back from Tommy John surgery, though.
An excellent pitch-framer and clubhouse personality, Montero hit 15 homers with a .345 OBP last season for the upstart Cubs.
The youngster debuted to a .274/.319/.392 line in 84 games as a 23-year-old rookie last season. He needs to grow into being a big-league catcher in terms of leading a pitching staff, but the talent is there.