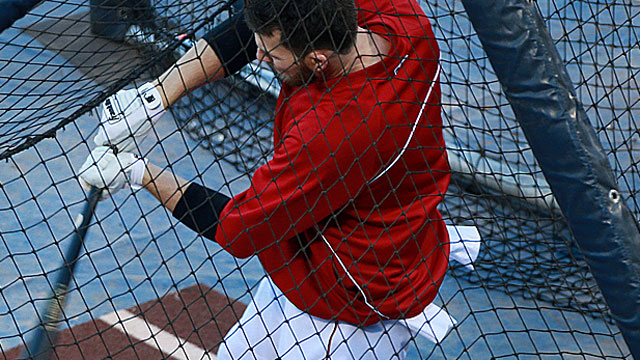 MIAMI GARDENS -- Here on the leafy campus of St. Thomas University, about 75 miles south of the nearest spring training site in Jupiter, works out one solitary major-league ballplayer, staying in shape for the call he has yet to receive. Stephen Drew
Stephen Drew, World Champion shortstop, poster of a .777 OPS in 2013 and ultra-reliable defender, exercises, lifts, fields and hits in practical solitude at the Boras Sports Training Institute, which doubles as the home of the St. Thomas Bobcats.
Except for country music provided on the comely, no-frills field for Drew's batting practice, it's as placid and quiet here as it was frenzied noisy when Drew's Red Sox clinched their World Series title, completing their improbable last-to-first exacta.
Drew never could have imagined that he'd be assisted in workouts by former big leaguer, coach and Boras client Alex Ochoa, plus workout guru Jaymie Murphy, and the Bobcats baseball coach Jorge Perez. How long that will be, no one knows for sure. But Drew is making certain to keep his shape and mindset right for the transition, whenever that comes.
"It's crazy how this game works, being in this position," Drew says in an interview with CBSSports.com after his first workout. "You trust your talent. In the end, it will all work out."
One way or another, it will. Although two college employees -- one in a Mets cap (don't read anything into that) -- were the only spectators attending on a typically balmy Miami day, teams are monitoring Drew. Some are calling, and a few have made offers, though apparently nothing yet in the right ballpark.
Drew did his part, putting together a typical season in '13 despite sitting out most of spring training following a concussion. He never expected free agency would be so difficult after hitting 13 home runs with 67 RBI, a .253 batting average and 110 OPS-plus. After helping his team win a title, thanks in part to his immaculate glovework and a Game 6 home run off Cardinals phenom Michael Wacha, he figured to be fielding offers commensurate with his ability.
He speaks openly about the negative effect the draft compensation has had on his free agency as well as the free agency of first baseman/DH Kendrys Morales, right-handed starter Ervin Santana, outfielder Nelson Cruz and even the late-signing Ubaldo Jimenez (who this week got a $50 million, four-year deal from the Orioles). But Drew manages to do it without revealing rancor or even frustration. He calls himself an "even-keel" guy (with his Georgia accent it sounds a little like "even kill"), and he appears to live up to it.
The same is said for Morales, another free-agent client of superagent Scott Boras who works out here at what's been casually dubbed as "Camp Boras." There actually is some formality to it; the training staff numbers at least a half dozen between here and the California version, and there are batting cages at the institute. The institute gives Boras clients a chance to become game-ready without full-fledged spring training. Morales had a day away Friday but has been working out here for a month, and like Drew is said to be in excellent condition.
Drew's spirit has not been broken. He simply presses on.
"It's baseball, and it's also business when you get to free agency," Drew said. "I enjoy playing the game. It's never really been a job to me. It's a kid's game, and it's done a lot of great things for me."
He appears to be keeping things in perspective, which isn't necessarily easy for someone for whom nearly everything has come so easily. From a big bonus when he himself was a draft pick for years as an Arizona Diamondback, then finally culminating with the pinnacle of a World Series championship in Boston. He's also someone who saw his brother, J.D., who similarly was represented by Boras and won a title in Boston, profit so famously via an opt-out clause prior to his older brother's $70 million Red Sox deal.
It's true Stephen Drew could have avoided these lonely workout sessions by accepting the $14.1 million qualifying offer extended by Boston, but that wasn't really a consideration for him. So far it's 0 for 22 in accepting qualifying offers among all free-agent players.
They'd all waited six years for free agency, and understandably weren't going to give that luxury up following productive seasons that almost always lead to multi-year deals. Drew recalled that his decision had to come about seven days after the Series, and that he was still "in Boston packing up'' when the deadline for the call came. He isn't looking back now.
He is, however, clearly thinking about the draft compensation rule that undeniably has put a serious crimp on the free agency of many excellent players. The players union very likely didn't anticipate the impact it has had, and even MLB bigwigs suggest they weren't expecting it to become quite the drag it seems to be, as teams are suddenly coming to more value the first-round pick (and the money that comes with it) following years of viewing the draft as a "crap shoot."
"You hate to say it, but it really messes up free agency for guys who worked hard," Drew said. "A lot of people don't want to give up that first-round pick, and that's what it boils down to. It's unusual. I understand draft picks, but at the same time, you have a guy who's proven as very good on defense and a top five shortstop if you look at it."
Drew's defense is practically unquestioned, and his regular-season OPS ranked him fourth for shortstops with 500 plate appearances (he did struggle at bat in the postseason, save for the homer in the finale). He could help his former team, and several other teams, as well.
How long he may wait is unknown at this point. But the issue, as far as Boras is concerned, is about talent, not timing. "Talent has no wristwatch," Boras said. "When you're the steak, you don't worry about what time dinner is."
There are believed to be about a half-dozen teams involved in the Drew derby on some level, but here are six that made sense from the start, and still make sense.
1. Red Sox: They say they love Drew, yet it isn't certain how concrete their other overtures beyond the qualifying were (one person said they spoke "conceptually" around the holidays). Months ago, word coming out of the Boston camp was that they wanted to avoid surpassing the $189 million luxury tax threshold. But even after Ryan Dempster fortuitously handed back to Boston $13.25 million by heading home, leaving Boston at least $15 million short of the luxury line, no new offer has been forthcoming.
 Red Sox people say they also love Xander Bogaerts and Will Middlebrooks, who for now man shortstop and third base, respectively, and suggest they'd like to keep their spending options open. It's possible they may want to see how the two kids look before acting again, and perhaps a third kid in center field, Jackie Bradley Jr.
Said GM Ben Cherington, "We're not writing our lineup out yet."
2. Blue Jays: They've had an eerily quiet winter and still could use a second baseman. They definitely have checked in on Drew, who could fill their second biggest need (they also haven't made a starting-pitching move).
3. Mets: The Mets suggested a salary close to the range of the $9.5 million Drew made last year, an unusual no-raise try that had little chance in free agency. It's no wonder then that GM Sandy Alderson has termed a Drew signing "unlikely," but the Mets would appear to have about the greatest need. Not only have they been dissatisfied at many points with current starter Ruben Tejada, they don't have any obvious shortstop answers in the minors. Another plus: they wouldn't lose a first-round pick since theirs is protected as one of the bottom 10 finishers last year.
4. Yankees. There were talks earlier, but now with the Yankees over the threshold yet again following the Masahiro Tanaka signing, they are for today saying they are "out of money." It's hard to imagine that's ever really the case, and after this week's meeting on positional players, one Yankees official termed as "vulnerable" the team's non-first base infield of Kelly Johnson, Derek Jeter, Brian Roberts plus Brendan Ryan and Eduardo Nunez. Perhaps, after they see how Jeter -- 40 in June and returning from ankle and leg woes -- looks on the field, things could change.
5. Pirates: Pittsburgh is receiving criticism for a quiet winter following its superb 2013 season interrupted 20 straight years of losing but seems a bit more focused on first base at the moment. They have some hope for young shortstop Jordy Mercer and the draft-choice concern but have spoken about Drew.
6. A's: This is probably the long shot of the group, but they allegedly have more money even after an active winter, GM Billy Beane has always been a fan, and there are some infield defense deficiencies.
Whatever the field may be, it's undoubtedly limited by the attachment of the draft pick. Considering Drew's credentials and age (he's 30) and the importance of his position, he probably could help a majority of teams. Not one free-agent player in the two years since the draft pick was attached has accepted and signed for the qualifying offer, though only the most elite of players seems to be completely unaffected by it (Robinson Cano, Jacoby Ellsbury and last year Josh Hamilton are examples of those super free agents who didn't have to worry about the draft attachment).
While MLB powers don't view the result as a "gotcha" moment, of course they aren't displeased by its downward effect on free-agent salaries. There's no belief there's enough impetus for the union to re-open the CBA to aid the handful of affected players, but they should seek an adjustment after the CBA expires in 2016, even if it means other givebacks. There isn't fairness to a lot of it, including the distinction that players on non-contenders who are traded in-season such as Matt Garza and Ricky Nolasco can't be extended qualifying offers and are thus unaffected while those who contribute to winning teams (and thus go untraded) are saddled with it.
While only 10 teams hold protected first-round picks by the rule, there was discussion of it being 15 teams before the union relented in the summer of 2012, according to people familiar with those talks. One agent (not Boras) called that seemingly small change "a killer."
If the qualifying offer was intended to enhance parity, it has had just the opposite effect. Ten of the 22 qualifying offers (45 percent) have been extended by the Red Sox and Yankees, providing the biggest revenue teams a load of draft picks. Meanwhile, only four of the 22 were extended by teams in the bottom half of revenues (Rays, B.J. Upton; Royals, Santana; Indians, Jimenez,: Reds, Choo).
What's more,  the compensation rule put emphasis on non-MLB free agents. This winter, Japanese star Tanaka got $155 million from the Yankees, and Cuban slugger Jose Daniel Abreu $66 million from the White Sox, with no concerns about lost draft choices.
"Our union has been really good. But I think we really have to look at this," Drew said. "Is this really good for free agency? Our players need to sit back and look at it and see what we need to do about it."
Boras holds a superb record of bettering his clients' positions via opt-outs and even rejections of the qualifying offer, starting with the granddaddy of them all among opt-outs, the one where Alex Rodriguez opted out of his original record $252 million contract ($81 million remained, though the Yankees had signaled a willingess to go to $220 million or so imply, simply for forgoing the opt-out) and eventually signed a second contract for $275 million.
Stephen's older brother turned his opt-out into a windfall after a nice season as a Dodger, turning down $33 million that remained on his contract only to more than double that. Kevin Millwood who once opted out of $7 million that remained on his deal, turning it into a $60 million Rangers deal.
All the qualifying offer rejection decisions did eventually work last year, as center fielder Michael Bourn got a $48 million, four-year contract (with a fifth-year option to take it to $60 million), and right-handed starter Kyle Lohse ultimately got a $33 million, three-year deal following a wait until March 25, and much convincing by Boras for Brewers owner Mark Attanasio to overrule his own GM, Doug Melvin, who didn't want to relinquish the No. 16 overall pick. (Attanasio was thrilled he did when Lohse was ready to go in week one, had a nice year and drew several trade inquiries in July, which were all rebuffed).
The qualifying offer didn't touch two other Boras clients, Ellsbury, who got $153 million from the Yankees, or Shin-Soo Choo, who got $130 million from the Rangers. So while the very top players appear relatively unscathed, Boras suggested "the top six to 13 percent of (free agent) players are drastically affected. These are premium major league players."
At this point, some wonder whether Drew could become the first to lose money by opting out. His final outcome could depend on how spring training camps go at other Florida locales, in Tampa (Yankees), Ft. Myers (Red Sox), in Arizona and elsewhere.
Like Lohse did before him, Morales and Drew sweat it out, literally.
In the Florida heat on Day 1 here, Drew didn't miss one grounder, all his throws were true, and he sprayed liners off BP pitcher Ochoa, who enhances the process with his famously peppy personality. The two workers at St. Thomas had to be impressed as Drew hit liner after liner to country music in an unusual scene.
Drew will likely have company come Monday with Morales due back for a workout that begins on the field about 9:30, just like spring training. Drew remarked that he thought it would feel "really weird" without a net behind the batters box, but as it turns out, he fouled no balls off. "I feel really good baseball wise," Drew said.
Left unsaid was exactly how he felt about the strangeness of the whole exercise. But like he said, he's even keeled.
"I'm preparing for spring training, just like everyone else in spring training. When Opening Day comes, just like everybody else, I'll be ready to go."
He could be at the Boras Institute for days, weeks or even more than a month. Boras said the goal is to be able to walk out of there ready to play big-league baseball. As for the psyche, it's only Day 1, but Drew's attitude seems sound.
"This will come to pass, and I will be with somebody and move forward," he said. "I'm looking forward to getting out with the guys … whoever they may be."