Six for Sunday: Home underdogs, Cutler questions, Chargers' impact
Home underdogs litter the schedule this week, but expect one to rise up and cause havoc in the NFL playoff race.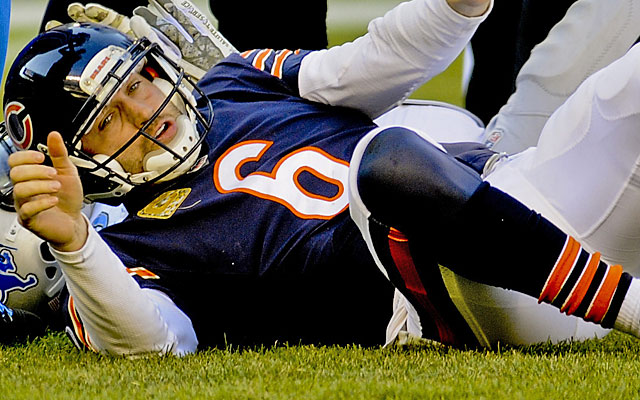 Home field???
Right now NFL teams have won 125 games at home to just 80 on the road -- a .610 winning percentage. But be careful this weekend. We already witnessed the Chargers going into Denver and getting a win over the favored Broncos. There are 10 home underdogs this week. While some of them will win anyway it wouldn't surprise me to see more road winners than home winners this week by a three-game margin.
What if ...
• Jay Cutler plays poorly against the Browns with the playoffs on the line? Will the Bears let him play through the rust or turn back to Josh McCown, who has thrown for over 300 yards in three straight games and has 11 touchdown passes to one interception?
•What if the Rams' pass rush gets to Drew Brees? The Rams have 43 sacks in their past 14 home games and the last time Brees was in St. Louis he was sacked six times in a Saints loss.
The ripple effect of the Chargers' win
Before Thursday, the AFC playoff race was focused on the Bengals catching the Patriots for the No. 2 seed. Cincinnati has already beaten the Patriots and is one game behind in the race for the No. 2 spot. With New England's porous defense and the loss of Rob Gronkowski, Sunday's game at Miami could be a problem. Now that Denver has lost, the Patriots have a clear shot at the No. 1 seed if it beats Miami, so the stakes are raised. New England could wind up in any of the top three seeds by Sunday night. The Bengals could beat the Steelers and still be stuck at No. 3. In the wild-card race the pressure was turned up a notch on the Ravens and Dolphins with the Chargers' win. San Diego has a long way to go even if Baltimore and Miami lose because of its conference record (4-6) and a head-to-head loss to Miami.
Are there spoilers on the schedule?
Eight teams with little to no chance of making the playoffs are playing teams already in the playoffs, or at least qualifiers heading into this weekend. It has been my experience over the years that a few of these teams will rise to the occasion and take great joy from spoiling a team's playoff hopes. The eight spoiler candidates: Jets, Browns, Vikings, Giants, Raiders, Steelers, Rams and Buccaneers. Can you figure out which one or two of these teams will act as the spoiler this week?
Some game facts to consider
• Matt Ryan has thrown one interception at home this season and has averaged 309 yards passing as the Falcons face the Redskins' 27th-ranked defense.
• The Jets didn't bench Geno Smith so he could get ready for the offseason. He has a 1-5 road record with four touchdown passes, 12 interceptions and 23 sacks.
• It looks like Matt Flynn for the Packers -- he has a touchdown pass every 41 throws this season. The Green Bay defense has given up 17 touchdowns in the six games Aaron Rodgers has missed.
• The Lions' offense at home is tough to contain -- Matthew Stafford averages 44 pass plays, Reggie Bush and Calvin Johnson generate 31 touches for 275 yards and at least two touchdowns and the team averages 32 points.
• The Bills didn't bench EJ Manuel to get him ready for the offseason. He is 0-4 on the road with just two touchdown passes, five interceptions and 20 sacks.
• Tom Brady is only 6-5 in Miami in his career.
Tacklers will continue to go low
It was a shame to see Gronkowski blow out his knee on a low tackle from Browns safety T.J. Ward last week but it was legal and will continue to be the tackle of choice for defensive backs around the league. I spoke with a number of DBs this week who don't want to be fined for hits to the head and also have to deal with significant size differences when it comes to bringing down tight ends. Two safeties were quick to point out that last week's Jason Witten and Charles Clay touchdowns were classic examples of defensive backs trying to tackle a big tight end up high and failing. Last week tight ends caught 146 passes and 19 touchdowns. You can guarantee defensive back coaches went over all of these plays and reminded the DBs to go low and make the tackle.
The people of Philadelphia now have two reasons to root for the Eagles this week

You might not recognize the Patriots' defensive coordinator without his beard

T.O. definitely isn't a fan of the Cowboys head coach
R.J. White, who nearly won the Vegas SuperContest, locks in his pick for the AFC Championship...

This player probably won't be too popular in New England if the Patriots lose on Sunday

The connections between the Eagles and Vikings quarterbacks are endless