3 to Watch: The 'Baseball's best story (but which one?)' edition
The Orioles have been a great story this year. The A's have been a great story this year. If you say one is better, you risk angering fans of the other. But as 3 to Watch says, the great thing for the rest of us is that we can appreciate both, especially this weekend when their worlds collide in an important three-game series in Oakland.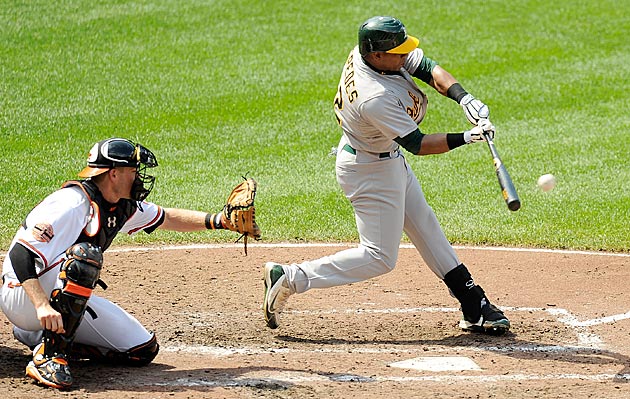 Matt Wieters (left) and Yoenis Cespedes last squared off in late July. (Getty Images)

If you say the Orioles are baseball's best story, you get nasty emails from A's fans saying, "What about us?"

If you say Bob Melvin deserves strong Manager of the Year consideration for what he has done in Oakland, thousands in Maryland scream, "What about Buck?"

The Orioles and A's meet this weekend in a potentially very important three-game series in Oakland, but this feels like more than just pennant race baseball.

It feels like worlds colliding. It feels like we'll take your best story in baseball and top it.

Take your pick: Would you rather have the team that can't find a home, the team that has had plenty of talent but keeps trading it away? Or would you rather have the team has put life into one of America's great ballparks, with the most improbable cast of characters you could find?

Would you rather have a manager who came in needing to totally change a culture, or the manager who had to find a way to make things fun again? Do you want the guy who preceded Bob Brenly as manager of the Diamondbacks, or the guy who followed him?

The great thing for those of us watching from the outside is that we really can have both.

We can have Buck Showalter and Bob Melvin. We can have Yoenis Cespedes and Manny Machado. We can have the improbable team that took on the powers in the American League East, and the improbable team that is taking on the powers in the AL West.

Thanks to the two wild-card system in place for the first time this year, we may even get another Orioles-A's meeting in the early days of next month, a one-game play-in that would mean everything.

This weekend, we have only a three-game series that means a lot.

The A's go in with the wild-card lead, but also with hopes of still catching the Rangers for first place in the West. The Orioles go in still battling the Yankees for first place in the East, but also knowing that after 14 years out of the playoffs, a wild-card berth wouldn't be a bad result.

The series begins with the 82-61 A's holding a record that is one game better than the 81-62 Orioles. That could be important, because if they are the two wild-card teams, the one that ends up on top would avoid a coast-to-coast flight for that single game playoff.

Of course, these are two teams that would accept even that, two teams where the story of 2012 is going to be a fun one to tell, no matter how it ends.

Which story is better? Do you really think I'm going to say? Do you really think I'm going to risk angering one group of fans or the other?

Do I like the A's story or the O's story?

Yes.


On to 3 to Watch:

1. The Orioles took care of the Rays in three games this week at Camden Yards, but they know better than to think the Rays are done. You can be sure that the Yankees think the same way, and they could get a reminder in the series that begins with Rays at Yankees, Friday (7:05 ET) at Yankee Stadium. It's a huge series for both teams, and the opener is a huge game for both teams. The Rays start David Price, who missed a start last week because of a sore shoulder but seems to have convinced everyone (including himself) that it was a minor problem. The Yankees start CC Sabathia, still trying to convince everyone that his elbow isn't a real problem.

2. The A's rotation for this weekend includes, of course, one guy they got when they traded Gio Gonzalez (Tommy Milone), one guy they got when they traded Trevor Cahill (Jarrod Parker), and one guy who has started all of four big-league games (Dan Straily). The Orioles rotation includes one guy they just added (Joe Saunders), one guy still trying to establish himself in the big leagues (Zack Britton) and one TBA. Of course. The Orioles rotation always includes at least one TBA. In this case, TBA is the starter for Orioles at A's, Sunday (4:07 ET) at the Coliseum.

3. The Rays and Cardinals were amazing comeback stories last September, but they were dependent on the Red Sox and Braves to collapse (thoughtfully, they did). The comeback and collapse always go together, which is why the Phillies/Brewers story of the last week has been accompanied by the struggles of the Cardinals, Dodgers and Pirates, who all seemed to lose every day. The Cardinals and Dodgers can't both lose every day this weekend, because they're playing each other in a four-game series that concludes with Cardinals at Dodgers, Sunday (4:10 ET) at Dodger Stadium. The final matchup is potentially a good one, too, with Adam Wainwright facing Clayton Kershaw. Neither one has won a game this month, but it hasn't been easy for any Cardinal or Dodger to win. This weekend, someone will.
Does the Jackson signing mean the Giants are out on Lorenzo Cain?

Acuna edged out Shohei Ohtani and Vladimir Guerrero Jr.

There's no reason to run over the cases for and against Bonds, so let's have fun instead
The coveted right-hander would certainly be a fit in Milwaukee

We rate the best mustaches from random baseball cards because, why not?

Colon wants to break a Dennis Martinez record