The Lineup: Michael Young unloads; Monday brings several playoff-implication battles
First things first, if you're looking for some Pirates-Cardinals mention here for their 19-inning game, you won't find it. We've already covered that bad boy in its own 3 Up, 3 Down. As for the rest of the games, we've got you covered right here.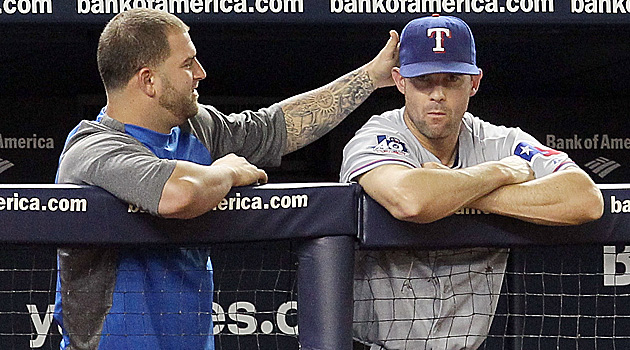 Young was having a rough season before Sunday. (Getty Images)


First things first, if you're looking for some Pirates-Cardinals mention here for their 19-inning game, you won't find it. We've already covered that bad boy in its own 3 Up, 3 Down. As for the rest of the games ...
Full Sunday scoreboard with recaps and box scores for every game








3 UP

Michael Young Rangers: He's been a steady contributor to the Rangers' offense for the past decade, but Young has struggled this season. He entered Sunday hitting .268 with a pretty awful .641 OPS -- especially bad considering he's used as either a corner infielder or DH most of the time. Sunday, it was vintage Young. He went 3-for-5 with a homer, double, two runs and five RBI. The entire Rangers' offense did damage, picking up 11 runs on 19 hits, including nine of the extra-base variety, but Young's day stuck out because he really needed it. He entered Sunday with only two-extra base hits in August.

Kyle Kendrick, Phillies: His outing Sunday on its own merit is worth a mention, as Kendrick threw eight shutout innings and only gave up three hits and a walk while striking out seven. Team this with his last outing, though, and Kendrick has worked 15 straight scoreless innings with 13 strikeouts and a 0.60 WHIP.

Coco Crisp/Jarrod Parker, Athletics: Crisp, the A's leadoff man, went 3-for-5 with a homer and five RBI. The RBI total matches his career-high for RBI in one game and it marked the fifth time he'd done so. The most recent came August 24, 2011. The A's also got a huge pitching performance from the rookie Parker, who worked eight shutout innings and picked up the victory.

3 DOWN

Doug Fister, Tigers: Fister's offense spotted him a five-run lead in the first inning. Instead of making that lead stand up, Fister had his club down 7-5 after four innings and that's how the game ended. He didn't even finish the fourth, leaving with this line: 3 2/3 innings, eight hits, seven earned runs.

Zack Greinke, Angels: No two ways about it, Greinke's been awful for the Angels. In five starts, his ERA since the trade is now 6.19. Sunday he gave up seven hits, four walks and six earned runs in six innings. He forced in runs via hit-by-pitch and a walk, too. Meanwhile, the Angels were swept in four games by the Rays.

White Sox: They were outscored 18-8 in getting swept in Kansas City this weekend. That's not what first-place teams are supposed to do. Of course, the Tigers lost two of three to the Orioles, so Chicago dodges a bullet.








Battle out West: It's first place versus second place. It's a bitter rivalry. Only a half-game separates the teams. It's the Giants and Dodgers. An added bonus here is that last time these two clubs met, the Dodgers swept the Giants in San Francisco. Now the series heads to L.A., where the Giants are looking to return the favor. Ready-to-heckle Dodgers fans surely have some comments about Melky Cabrera armed and ready. Monday's opener provides a sick pitching matchups, too, as it is Madison Bumgarner (13-7, 2.97) vs. Clayton Kershaw (11-6, 2.90). 10:00 p.m. ET

Battle out East: This one isn't quite as close, as the Nationals have a five-game lead over the Braves, but it's a head-to-head battle between first and second place nonetheless. Plus, if the Braves sweep, it's a two-game deficit. If the Nationals sweep, the lead is pushed up to a whopping eight games. So this series has potential to alter the course of the season for each club. The pitching matchup Monday is a good one, too, in Tim Hudson (12-4, 3.59) against Jordan Zimmermann (9-7, 2.38). 7:05 p.m. ET

Battle in Texas: The way things are going, this is a potential playoff preview: The Orioles visiting the Rangers. A side storyline here is Ryan Dempster (6-6, 3.12) getting the start for Texas. He's been terrible in three starts for the Rangers, sporting an 8.31 ERA and 1.73 WHIP and is returning from the restricted list to tend to a personal matter. Miguel Gonzalez (5-2, 3.38) gets the nod for the Orioles. 8:05 p.m. ET
Monday's probable pitchers








• Little League pics: Buzzfeed.com has collected 24 old pictures of professional athletes past and present from their Little League days. From Nolan Ryan to Tom Seaver to Greg Maddux to CC Sabathia, there's a good mix. There are guys from other sports in Little League baseball garb, too, like Tom Brady, Peyton Manning and Michael Jordan.

• Berkman sums it up: Lance Berkman has long been one of the best interviews in baseball. When discussing the recent firing of Brad Mills, Berkman pretty well summed up the difficulty the Astros face right now: "Just like they're starting over with their manager and all their players, they're going to have to rebuild the fan base because it doesn't exist right now. They're going to have to start over there, too. They've lost every casual fan. That's the biggest tragedy." (SportingNews.com)

• Trout greatness: It seems we can't stop talking about how great Mike Trout has been this season, but it's with good reason. Here's more: Sunday, Sam Miller of Baseball Prospectus noted that Trout now has the highest single-season Wins Above Replacement (Baseball-Reference version) in Angels history. This is utterly amazing, because WAR is a cumulative stat, meaning the more games one plays, the higher he has a chance to score. And he had the best-ever for an Angel in a season after just 99 games. In slightly-related news, Vernon Wells posted a negative WAR last season and has a negative WAR again this season.

• Most respected Nationals player? Jayson Werth. That's the word from Washington as the Nationals continue to sport baseball's best record. Wusa9.com has the story.

• Worst pitch ever? The ball slipped out of Barry Zito's hand Saturday night with Carlos Quentin at the plate. Observe one of the worst offerings in MLB history (via Brinson at The Cove):
For more baseball news, rumors and analysis, follow @EyeOnBaseball on Twitter, subscribe to the RSS feed and "like" us on Facebook.
Where might the Orioles third baseman land?

Kinsler will slot in at second base for the Angels

The Marlins got a better return for Ozuna than Stanton or Gordon
The two teams are going about things in very different ways

The Marlins are indeed in teardown mode under new ownership

The Marlins still have more attractive pieces