NBA 360: Just how good is that Warriors smallball lineup?
The Warriors' smallball continues to dominate, the Magic give an early gift worth giving, the Raptors have greatness on Drake night, and the Cavs are just hurt. All that and more in our notes roundup.
by

Eye on Basketball staff

• 10 min read
With the NBA season in full swing, we take a look at some of the notable developments from around the league -- many of which aren't being talked about enough -- including stats, quotes, videos, and more in our weekly roundup of observations.
Team

Observations

The "Whatever You Call It, It's Good" Lineup

Some call it the "Death" lineup, others call it the "Nuclear" lineup. It's even been called the "Velociraptor" lineup. 

Either way, the Warriors' smallball lineup of Stephen Curry, Klay Thompson, Andre Iguodala, Harrison Barnes, and Draymond Green now has an offensive efficiency of 154.7 and a defensive efficiency of 84.8 for a net rating of 69.9 points per 100 possessions. That's a simply absurd figure. 

I've taken to asking every NBA person I know, from scouts to execs to media to fans, how do you counter it? What do you do?

The only real answer is "you can't." Draymond Green makes going big impossible to garner an advantage, and no smallball lineup can score efficiently enough to keep pace. Until a team finds a way to combat that combination, which the Dubs only use sparingly, there really is no answer for how to beat the Warriors. - Matt Moore

Wait, Waiters Don't Tell Me

A few days prior to the Thunder rolling into Salt Lake City, getting

Kevin Durant

back, and demolishing a pretty good Jazz defense, the Thunder were troubleshooting a way to get by without the 2014 NBA MVP.  At one point in a loss to the

Pelicans

, who were dealing with their own injuries, Thunder guard

Dion Waiters

had a breakaway chance in the first quarter. 

He hilariously missed a dunk attempt/layup opportunity

, which dropped him to more misses on layups this season than makes at the time.

He wasn't going to do that again, especially when he had several chances at dunks or layups against the Jazz's defense. Three different times in that game, Waiters dunked the ball emphatically. One such dunk even led Waiters to do a "raise the roof" celebration, which our records show hasn't been done since 1998. It's also possible he was just trying a new way of calling for the ball and wasn't actually raising an imaginary roof.

When asked about it after the game, teammates like Enes Kanter and Russell Westbrook all joked about how that missed layup earlier in the week likely led to Waiters making sure he got enough height on his leap to finish the play properly. Not only has he raised the roof, but now he's raising the expectations of him finishing at the rim, which will only make the next missed layup chance even funnier. - Matt Moore

A Glass Cav Full

Cleveland's locker room was not a particularly pleasant place to be following the loss in Toronto. Media members were kept waiting awhile for the door to open, and when it did,

LeBron James

gave curt, dismissive responses to most of the questions asked of him. James wore an intense look on his face even after his scrum ended.

Tristan Thompson

repeatedly called the team soft, and said he and the rest of the bigs were to blame. When 

ESPN's Dave McMenamin

 and 

the Cleveland Plain Dealer's Chris Haynes reported

 that James and veteran

James Jones

called everybody out, I wasn't surprised.

Watching the Cavs, though, I'd hardly call them soft. I'd call them "hurt."

Jared Cunningham

started at point guard at the Air Canada Centre because of

Matthew Dellavedova

's injury, and they are already without

Kyrie Irving

,

Iman Shumpert

and

Timofey Mozgov

. The reality of the situation is that Cleveland is nowhere near full strength, which puts the bench at a disadvantage and drains the starters of energy. -James Herbert

Bread and Bonner

Matt Bonner took the mic to wish San Antonio fans a happy Thanksgiving before the team's game against the Mavericks on Wednesday. The sandwich enthusiast that he is, Bonner told everybody to remember to make sandwiches with their leftovers, via the San Antonio Express-News' Jeff McDonald. All NBA fans should be thankful for Matt Bonner.- Ananth Pandian

You Need A Better Plan

The Mavericks got a rather insane idea in their head vs. the Grizzlies this week. Down 121 in the fourth quartter, they went to Hack-A-Tony, intentionally fouling Tony Allen. 

Of course, that plan doesn't work so great when it's a career 72 percent free throw shooter. This season, Allen's only shooting 59 percent from the stripe but that's still not good enough to gamble on it slowing down the Grizzlies. Allen went on to hit six of eight, and the Grizzlies' lead stretched to 15. 

Beyond the fact that Allen can hit free throws, and the fact that the Grizzlies' anemic offense would likely fare worse anyway, the Mavericks also didn't stick to it, which meant that they were just supplementing the Grizzlies' offense. By the time it was over, the lead was too big to come back from, and while the Mavericks did score seven points in that two-minute span, it wasn't enough. 

There have been studies that show that Hack-A strategies don't actually work. They fail to actually effectively garner an advantage. If you're going to use one, it might be better not to use it on a 72 percent shooter from the line, even if it's Tony Allen who's a notoriously poor shooter from the field. - Matt Moore

Child's Play

Baby races in basketball arenas has been all the rage. Between quarters or maybe even getting top billing during a halftime show, parents line up a few infants at the starting line on the court and as soon as the MC says to go, another parent a few yards away start calling for their baby. The crowd can really get behind it because of the adorable nature of watching these kids move along the hardwood floor.



During the

Oklahoma City Thunder

-

Utah Jazz

game Monday night, the Vivint Smart Home Arena crowd in Salt Lake City saw quite the show in a night full of emoting. The baby race featured three crawling rugrats and only one of them truly embraced the competition. As two of the kids just kind of stayed at the starting line when the race began, the baby in the first position took off. He was crawling like a young Carl Lewis, bolting ahead of the competition in a way that made you feel like he's destined to be the next great Olympian.

The crowd couldn't help but get behind this incredible effort. However, as the small child approached the finish line, he possibly buckled under the pressure. He was about a foot and a half away from winning the race when the roar of the crowd cheering him on was simply too much. He stopped right in his tracks with the camera zoomed in on his face. He leaned back on his legs under him and began sobbing. He cried for the entire crowd and the cheers immediately turned into "awwwww" sounds. The rest of the competition was nowhere near him.

It was as if Deion Sanders started highstepping to the end zone on a pick-6 and then stopped at the one-yard line to let out the frustrations of life. Eventually, the father was able to coax the child into crossing the final 18 inches of space for the victory. The crowd erupted in joy, which was the exact opposite of their reaction every time Enes Kanter was checking into the game or touching the basketball. - Zach Harper

Byron Scott is trolling the world at this point. 

Here's Kobe Bryant's shot chart from the Los Angeles Lakers' humiliating loss to the Golden State Warriors Tuesday. 

After the game, Scott reiterated that he has no concern over Bryant's shooting, and later said the would not consider for a moment benching their star veteran. Bryant said that his teammates had to help him more. 

This is a total nightmare of a season for the Lakers and their fans, and the awkwardness over the Bryant situation continues to get worse. - Matt Moore

STARTED FROM THE BOTTOM NOW THE WHOLE TEAM'S HERE (IN THIS "HOTLINE BLING" BOX)

Toronto is 3-0 on Drake Night, the team's annual celebration of its global ambassador. This time, Drake watched his

Raptors

upset the shorthanded

Cavaliers

while sitting next to his mom courtside. His mom was not in her seat in the second half, though, so she perhaps missed out on

Kyle Lowry

's offensive explosion. Before the game, Toronto general manager Masai Ujiri and Drake talked to the media from the "Hotline Bling" box the team had set up. Ujiri danced a little bit and raved about his Grammy-winning friend. 

"When

Jonas Valanciunas

got hurt I was in Toronto and I get a call at 1:30 in the morning and it's Drake, concerned," Ujiri said. "You know, like, 'How is he?' and all that. But that's how he is with everything that we do." - James Herbert

i am a photojournalist pic.twitter.com/l58gUUBjQS

— James Herbert (@outsidethenba) November 26, 2015

THE GIVING SEASON

The NBA community often does a lot to help the community during the holidays. It's work doesn't make headlines or get page views, but it's important work that actually makes a difference. I try and keep track of as many as possible, but this one from the Magic stood out among all the rest. 

From the Magic:

U.S. Army Corporal Scott Owens and his family were presented the keys to a newly remodeled mortgage-free home in Winter Haven, Florida during theMagic's game on Wednesday. On hand to reward the Owens' were representatives from Building Homes for Heroes, Chase and the Magic.

"This was absolutely amazing," Owens said. "Making sure my family has a place to live, a safe place for the kids to grow up, that's the first step to transition. You can't ask for a better Thanksgiving."

Owens proudly served in the Army for more than six years with multiple deployments to Iraq. He earned numerous awards and medals and was honorably discharged in 2009. Owens suffered injuries during combat in 2003. He has been diagnosed with a traumatic brain injury and post-traumatic stress disorder 

The family of five was also surprised with a few other gifts during the ceremony. They received a $1,000 check to help with holiday shopping, personalizedMagic jerseys, Disney Park passes and other gadgets and goodies for the three kids to enjoy.

"I'm very thankful for what they (Magic and Chase) do," Owens said. "Giving back to the community, giving back to those who have served is really appreciated."

- Matt Moore

Not-So-Chatty Youngsters

I asked Tyson Chandler about the Suns and what they needed to improve. He mentioned weakside communication, a pretty standard answer. But when I asked him why the youngsters on Phoenix struggled with that, his answer was pretty interesting.


"Being young, it's confidence and understanding the game. You tend to be quiet because you're not confident in what you're saying. It's about understanding what you're trying to accomplish."

Jameer Nelson told me something similar about point guard leadership, in that when you're young, you don't feel like you can direct more established, veteran players. It goes to show that in a game that seems like it's dictated so much by talent, the simple everyday dynamics of age play a part. - Matt Moore

Slow And Low

In the last four games, the Sixers have held a lead in the fourth quarter at some point. They have a net rating of minus-15.6 points per 100 possessions in those games. Basically, in the last five minutes, they melt like plastic toy men under a magnifying glass in the sun. 

Much of this has been the result of their woeful backcourt. The Sixers' guard situation is dire, with Tony Wroten and Kendall Marshall still out, plus, the fact that Tony Wroten and Kendall Marshall are considered upgrades on what they have. The Sixers can't feed the big men because Nerlens Noel has been disastrous offensively this season and Jahlil Okafor's a rookie. Even if Okafor were able to carry them home, which would be a better option with his ability to command double teams and thereby create open looks on the perimeter, the Sixers' guards can't get the ball to him anyway. 

Still, Philadelphia needs to try and focus more on the young bigs in these situations. Not only are those two the only real NBA starting talent they have, but it would allow them to slow the pace and grind out the game, instead of randomly hoisting perimeter shots. There are no good options. - Matt Moore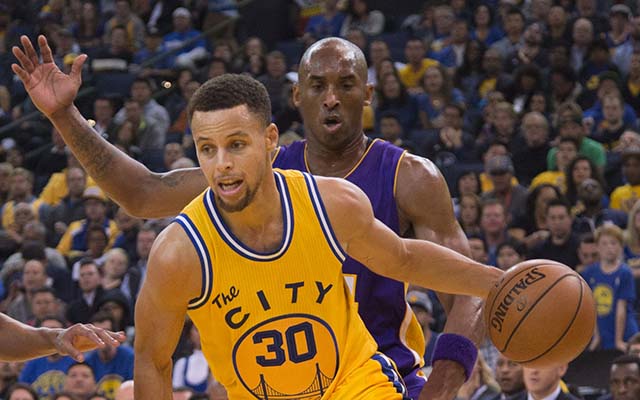 CBS Sports HQ Daily Newsletter
Get the best highlights and stories - yeah, just the good stuff handpicked by our team to start your day.
Please check the opt-in box to acknowledge that you would like to subscribe.
Thanks for signing up!
Keep an eye on your inbox for the latest sports news.
Sorry!
There was an error processing your subscription.
SportsLine's top experts are going big with an NBA parlay

Mike McClure, a DFS pro with almost $2 million in career earnings, gives optimal lineup ad...

SportsLine's advanced computer model simulated Saturday's Spurs vs. Nuggets game 10,000 ti...
Portland now leads the series 2-1 heading into Sunday's Game 4

Get the complete schedule for the first round of the NBA playoffs, along with viewing info...

A look at every series in the opening round of the playoffs