A year ago, the idea of the best receiver in football belonging to the Lions wouldn't have been a crazy concept. Not with Calvin Johnson routinely rescuing Matthew Stafford's inaccurate fastballs on a weekly basis, not with Johnson consistently winning jump balls against inferior defensive backs, not with Johnson living up to his Megatron moniker every Sunday.
But when Johnson, now 31, stunningly retired this offseason, abandoning -- and with good reason -- the hapless Lions during his prime, that possibility became completely crazy. So, it's shocking then, that in their first season without Johnson, the Lions still boast the most dangerous, prolific, productive receiver of the 2016 NFL season.
It's not Golden Tate, who served as Stafford's secondary option during the last two years of the Megatron era. Golden "I don't know what you're talking about" Tate has totaled fewer than 100 receiving yards in three games, combined. So no, he hasn't emerged as the Lions' premier receiver thus far.
It's not Marcus James -- the undrafted free agent who stole the show last season down the stretch by catching game-winning passes against the Bears and Packers. Even though James has shined as Stafford's primary option in the slot through three games this season by averaging 9.69 yards per catch on third down, he's not the league's best receiver, namely because I just made him up. He's not real.
Admit it, you thought Marcus James might be real for a brief moment, which demonstrates just how little we paid attention to the Lions last year and how poorly we portrayed them entering the season. Again, with good reason -- the Lions were 7-9 a year ago with Calvin Johnson, now they're without him. It didn't take quantum physics to rule out the Lions' playoff chances heading into the season, it required common sense. How often do sub-.500 teams improve after losing their best player?
Yet, the Lions are 1-2, just lost to the Packers by a single score, and have a completely winnable game against the Bears this weekend. They're not dead, at least not yet.
For that, they can thank Cal product Marvin Jones, the 26-year-old former fifth-round pick of the Bengals who latched onto the Lions as a free agent this offseason. Not only is Jones real -- I promise -- he's the best damn receiver in the league entering Week 4.
So yes, it's Week 4, a small sample size is the only thing that exists at this point, and there's a fairly decent chance he won't wind up atop the leaderboard four months from now. But, at this point in time, Jones has been the best receiver in the league.
He's been targeted by Stafford on 29 different plays and has managed to come with 18 of those passes for 408 yards and two touchdowns. He's averaging a staggering 22.7 yards per receptions. He's the highest scoring Fantasy receiver.
So, how has Jones taken over the league?
He's incredibly efficient on the deep ball, catching five of nine passes thrown 20-plus yards beyond the line of scrimmage, which has resulted in 208 yards and two scores. To be clear, Jones is averaging 23.1 yards per target and 41.6 yards per catch on balls thrown at least 20 yards downfield. For context, consider Calvin Johnson averaged 10.4 yards per target and 33.4 yards per catch in that same area last season. This year, Jones ranks first in receptions 20-plus yards downfield.
This picture, taken from Jones' six-catch, 205-yard, two-touchdown game against the Packers last weekend, represents his dominance on the home-run ball. Nobody could cover him:
There's a reason why they let Jones drift behind them all alone. The corner was expecting help over the top, but his support disappeared when Jones made the safety believe he was cutting in across the field before turning up.
The safety bit on that subtle fake.
Not every one of Jones' deep balls in that game were easy. He earned his yards.
His first reception in the second quarter came against isolated coverage down the right sideline. Jones almost always lines up on the outside. According to Pro Football Focus, he's operated in the slot just 12 times.
On this particular play, the Packers used two deep safeties, which should've, in theory, guarded against the deep sideline passes.
Instead, both safeties both provided zone support inside, which freed Jones' path down the right sideline.
All Jones had to do was beat his man and he was home free. He did exactly that -- with ease.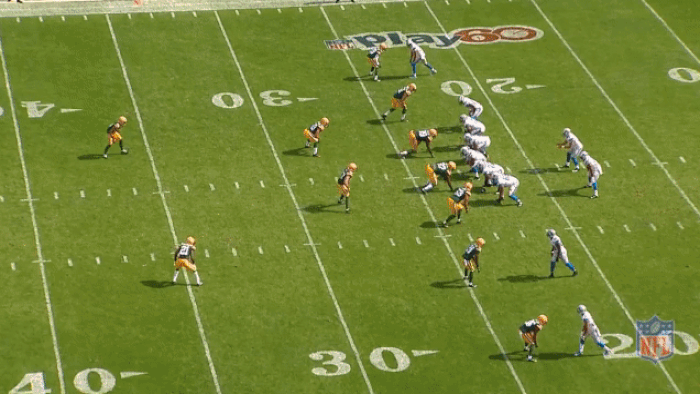 Due to the quality of the pass -- severely under thrown -- it didn't go for a touchdown. Stafford should've led Jones to the end zone instead of forcing him to win a contested catch.
This is as open as open gets in the NFL:
Don't worry, the next time that exact scenario presented itself a little later in the second quarter, Jones went 73 yards to the house. This time, with the safeties playing zone on the inside (again) and with Jones beating his man down the right sideline (again), Stafford threw a back-shoulder line drive to Jones instead of lofting a floater down the field.
The result? A touchdown, due to some insane body control. Just when it seemed like Jones would step out of bounds after getting two feet down, he swung his leg around and turned up field.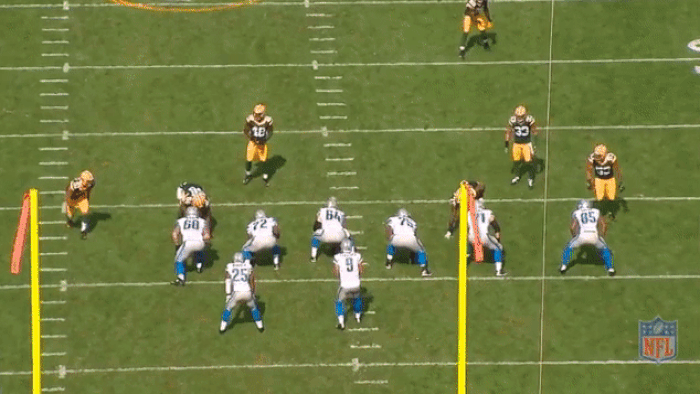 That's a familiar sight. According to Pro Football Focus, 45 percent of Jones' targets come when he's running a go route. He's caught seven of those 13 passes for 250 yards. Jones' role in the offense is basically "go deep."
Via Pro Football Focus:
| | | | | | | | | |
| --- | --- | --- | --- | --- | --- | --- | --- | --- |
| | Targets | % of targets | Average depth | Catches | Comp. % | Yards | TDs | INTs |
| Screens | 3 | 10% | -1.0 | 2 | 67% | 5 | 0 | 0 |
| Slants | 2 | 7% | 3.5 | 1 | 50% | 4 | 0 | 0 |
| Out routes | 2 | 7% | 10.0 | 2 | 100% | 64 | 0 | 0 |
| In routes | 2 | 7% | 5.0 | 1 | 50% | 8 | 0 | 0 |
| Comebacks | 2 | 7% | 12.0 | 1 | 50% | 10 | 0 | 0 |
| Hitches | 2 | 7% | 8.5 | 2 | 100% | 18 | 0 | 0 |
| Corner routes | 1 | 3% | 14.0 | 1 | 100% | 22 | 0 | 0 |
| Post routes | 1 | 3% | 14.0 | 1 | 100% | 27 | 0 | 0 |
| Go routes | 13 | 45% | 23.5 | 7 | 54% | 250 | 2 | 0 |
| Crossing routes | 1 | 3% | 2.0 | 0 | 0% | 0 | 0 | 0 |
The key there: Stafford's yet to be picked off when he targets Jones. And those go routes have been risk free, so far. The reward is 35.7 yards per completion and a 138.6 passer rating (league average for go routes is 88.3), per Pro Football Focus.
Again, it's only been three games, so Jones' numbers are bound to regress, but that shouldn't take away from his incredible three-game stretch. That also shouldn't diminish what he's accomplished over the course of his career.
He's improving year to year.
| | | | | |
| --- | --- | --- | --- | --- |
| | Catches | Yards | Yards per catch | TDs |
| 2012 | 18 | 201 | 11.2 | 1 |
| 2013 | 51 | 712 | 14.0 | 10 |
| 2015 | 65 | 816 | 12.6 | 4 |
| 3 games of 2016 | 18 | 408 | 22.7 | 2 |
And that development hasn't stopped. Jones is on pace for a 96-catch, 2,176-yard, 11-touchdown season.
Of course, there are more factors at play here than just Jones' individual efforts. The Lions throw the ball a ton with Stafford averaging 40 passes per game and offensive coordinator Jim Bob Cooter has proven to be more than just a half-season wonder. Detroit is also allowing 28.3 points per game, so they've been involved in some serious shootouts.
But this isn't a fluke. It isn't an aberration. The Packers couldn't cover Jones. In three games, nobody has. Jones' breakout season should continue, even if it doesn't continue along at this exact -- and insane -- pace.
Marvin Jones' stardom is only just beginning, but J.J. Watt's might be ending. And that's a damn shame.
Watt, in case you somehow missed it, landed on injured reserve after re-injuring his back, which he had surgery on in July. There's no guarantee Watt will miss the remainder of the season -- he's eligible to return in December -- but there's also no guarantee Watt will return to his former status as the league's best defender and world's scariest cyborg.
So, let's remember Watt's tenure as the NFL's most dominant player, just in case he never does return to the level he operated at prior to the injury which must not be named.
From 2012-2015, Watt terrorized opposing offenses. He notched 69 sacks, which means he averaged 17.25 sacks per season. He pulled off the kind of stuff that you don't even see in video games.
But I don't want this to turn into a film review, namely because there are far too many plays to pick from and I don't have the time to turn them all into GIFs. So, here are the stats: Even when factoring in his rookie year of 2011 and his hampered 2016 season, he's still on top of the sack leaderboard ... by 11.
The Ringer's Robert Mays has more:
He's totaled 213 quarterback hits, soaring past Carlos Dunlap, who is second with 132. Watt has registered 133 tackles for loss, nearly double Michael Bennett's 76. When healthy, Watt is the most devastating offense-wrecking force alive.
This Sunday will be the first game Watt's missed. So, up until now, he's been impossibly healthy.
If the government wanted to create the perfect athlete in a laboratory, that creation would be J.J. Watt (or LeBron James). So no, the Texans cannot replace him. Whitney Mercilus is one of the league's top pass rushers. Jadeveon Clowney is the closest the gods have come to creating a athlete that video games don't even allow nerds like me to make. It doesn't matter, because Watt is perfect.
Long may he reign.
2. The Seahawks' wacky score lines
Just a warning: This is really weird.
For the seventh time under Pete Carroll, a Seahawks game finished with a totally unique score line, in that a game had never finished with that exact score throughout the entire history of the NFL.
That's wild -- and pointless, I know.
For all the attention that's directed toward Josh Norman, he's still trailing Richard Sherman. Through three games, Sherman's been targeted eight times and has given up four receptions. Those four receptions have only resulted in 23 total yards.
Plus, there's this:
According to Pro Football Focus, quarterbacks have posted a 56.3 passer rating when throwing toward Sherman.
4. FitzTragic, Part II?
Speaking of some awful quarterback play, Ryan Fitzpatrick's six-interception, zero-touchdown day against the Chiefs wasn't just bad by Fitzpatrick's standards, it went down as one of the worst individual performances in the history of the league.
According to Pro Football Talk's Michael David Smith, Fitzpatrick pieced together the NFL's first six-pick game since 2007. According to ESPN Stats & Info, the Jets' eight giveaways were their most since 1976. According to ESPN, the last Jets quarterback to throw six interceptions in a game was Joe Namath back in 1975. According to ESPN and Pro Football Reference,Fitzpatrick's six-pick performance marked the 40th time -- ever -- a quarterback has thrown at least six interceptions in a single game.
But there's actually a better stat to sum up his incompetence. As a Reddit user pointed out, the Chiefs' defense posted better a stat line than Brandon Marshall and Eric Decker.
| | | | |
| --- | --- | --- | --- |
| | Catches | Yards | TDs |
| Marshall+Decker | 4 | 58 | 0 |
| Chiefs defense | 6 | 55 | 1 |
The Jets play the Seahawks this weekend, so there's plenty of potential for FitzTragic, Part II.
The hype for Dak Prescott and especially Carson Wentz has gotten to the point where they're being compared to pretty much every all-time great quarterback. Did you know that Wentz is actually a combination of Peyton Manning, Brett Favre, Ben Roethlisberger, and Matt Saracen?
And, did you know that Prescott is actually ahead of that Manning-Favre-Roethlisberger-Saracen quarterback in terms of one statistical category?
Prescott and the Cowboys get the 49ers while the Eagles and Wentz are on a bye.
So far, most of Prescott's success has come throwing the ball on short-to-immediate passes. On deep passes -- balls thrown 20-plus yards downfield -- Prescott's gone 1 of 8 for 29 yards, per Pro Football Focus. So, the 49ers don't necessarily need to worry about getting burned deep, because he's only taking two or three shots down the field per game.
Instead, the 49ers will need to cover every other area of the field, because Prescott's been efficient all over. He's 8 of 9 when throwing behind the line of scrimmage, 38 of 50 when throwing within 9 yards of the line of scrimmage, and 19 of 27 when throwing between 10-19 yards beyond the line of scrimmage.
Like most quarterbacks, the key to stopping Prescott will be to apply pressure. According to Pro Football Focus, his passer rating drops from 102.0 when he isn't pressured to 72.2 when he's under duress.
6. Cole Beasley leads the Cowboys receivers
The 49ers might want to cover Cole Beasley. Through three games, the Cowboys' leading receiver is not Dez Bryant (23 targets) or Jason Witten (20 targets). It's Beasley, with 25 targets.
This guy:
In fact, if you combined Bryant's and Witten's receptions, they'd have only five more than Beasley, who leads the team with 20. He also leads the team with 213 receiving yards.
Dez Bryant reportedly won't play this weekend against the 49ers, so ... WR1 Cole Beasley, y'all.
And now: Let's check in on the 49ers
Meanwhile, in San Francisco ...
Somewhere, Jim Tomsula is angry that Chip Kelly stole his offense.
OK, back to the Cowboys.
Perhaps we overhyped the No. 4 overall pick, Ezekiel Elliott, when the Cowboys drafted him. Because after his first two subpar outings, we began to worry. Heck, someone even asked Cowboys owner Jerry Jones if Elliott's two fumbles would impact (edit: decrease) his workload moving forward.
Jones said no, and thank goodness for that, because our long, national nightmare is over. Against the Bears -- yeah yeah yeah, insert your jokes about their defense here -- Elliott carried the ball 30 times and picked up 140 yards. He didn't score a touchdown, but that doesn't really matter when he did this to a poor Bears safety.
And that gave the Cowboys' Twitter account its cue to pretend like a pretty darn cool play was actually one of the greatest runs in the history of football and running.
Look, we get it, Elliott's super athletic and can jump super high at top speeds. But it's not as if his athleticism is actually out of this world or anything.
Oh wait ...
I mean, come on ...
But, even after dealing with the Cowboys' extreme excitement, it's clear that Elliott is getting more comfortable at the next level. Take a look at his game log:
| | | | | | |
| --- | --- | --- | --- | --- | --- |
| | Carries | Yards | YPC | Receiving yards | TDs |
| Week 1 | 20 | 51 | 2.6 | 1 | 1 |
| Week 2 | 21 | 83 | 4.0 | 4 | 1 |
| Week 3 | 30 | 140 | 4.7 | 20 | 0 |
That's a noticeable improvement. My only concern: They might be overworking him.
As NFL.com's Gil Brandt pointed out, Elliott is on pace to reach 379 attempts on the season. Letting a running back carry the ball more than 370 times in a season is historically not a great thing to do.
One way to lower his pitch count? Take him out at the end of blowouts. When the Cowboys built up a huge fourth-quarter lead over the Bears, it was still Elliott handling the carries, which makes about as much sense as allowing Lance Dunbar to steal his goal line carries (they did that too).
Still, all is well in Dallas.
I'm still wondering how they'll screw this one up.
Did you know that Trevor Siemian did not play like an awful quarterback for the first time in his NFL career on Sunday?
John Elway definitely knows.
Moments after Siemian led -- not metaphorically, like he actually did lead the Broncos with his 8.91 yards per pass, four touchdowns, and 132.1 passer rating -- the Broncos to a win over the Bengals, his boss fired up Twitter and did something that is slightly embarrassing given he's a 56-year-old Super Bowl executive who is telling a random Twitter user I told you so, but also slightly admirable given he's a 56-year-old Super Bowl executive who is telling a random Twitter user I told you so.
And you know what? Elway should be happy. He played his hand perfectly.
He refused to hand Brock Osweiler, a meh quarterback, a contract befitting a top quarterback and he ended up snagging a rookie, developmental quarterback late in the first round. Then, he handed the starting job to Siemian (who?) and his team is still 3-0, even though it's played the Panthers and Bengals.
And finally, Siemian looked good on Sunday. He didn't dink and dunk his way to 312 yards, he let it rip against the Bengals.
Look for Siemian to continue gunning it on Sunday against the Buccaneers, who are allowing 8.24 yards per pass this season. Heck, they just let Case freakin' Keenum look like an actual NFL starter on Sunday.
9. The Bears' tackles are awful
When the Bears signed Josh Sitton, they not only stole one of their rivals' best players, they also solidified the interior of their line. That move also required the Bears to shift rookie guard Cody Whitehair to center on the eve of the season, but it ended up working out.
The Bears' offense -- and team, honestly -- is brutally bad, but a lone bright spot has been the interior of the line. Those tackles on the other hand ...
No wonder Jay Cutler lasted fewer than two games before suffering a serious injury. The Lions' defense, I'm guessing, will try to take advantage of the Bears' inability to block anyone on the edges.
The Rams have done a ton of strange things during Jeff Fisher's tenure.
They traded up to draft a quarterback who still isn't ready to start a month into the season. They somehow managed to consistently beat the Seahawks despite taking on the form of a mediocre team against every other opponent. They signed Tavon Austin to an extension worth $25.5 million guaranteed and have maintained that Austin is a 100-catch receiver, even though he's averaged roughly 41 catches per season in his career.
And boy, are the Rams trying to feed Austin this year.
So far, he's caught 14 passes for 145 yards and a touchdown, so he's on pace for roughly 75 catches, 773 yards, and five touchdowns. Sounds about right.
The Rams play the Cardinals this week. The Cardinals' passing defense ranks sixth in the league. The Rams' passing offense ranks 31st.
I don't envision a great day for Austin.
So, Austin isn't the best player on the Rams, but defensive lineman Aaron Donald is. He's recorded more ejections (1) than sacks (0) this season, but he's been effective at getting after the quarterback.
Cardinals' quarterback Carson Palmer has faltered under pressure this season, posting a 64.9 passer rating when pressured (per Pro Football Focus), so Donald has a chance to make a real impact during the game this weekend.
12. Antonio Brown vs. the Chiefs receivers
I can't stop laughing at this. Antonio Brown is ridiculous and the Chiefs receivers can't catch touchdowns.
They play this weekend.
Fantasy stat of the week
Well, Patriots fans are certainly loyal.
Leftovers
The Bears are 1-8 in their past nine home games, all of which were coached by John Fox.
Blaine Gabbert's touchdown pass streak ended at 12 games. And now his watch has ended.
In 91 straight games, the Seahawks have been within one score in the fourth quarter. That's the longest streak in NFL history, per Football Outsiders' 2016 Almanac, which you can acquire here.
The Seahawks also haven't lost a game by more than 10 points since Oct. 30, 2011, including the postseason.
Russell Wilson is the middle of the fourth-longest starting streak to begin a career, according to Football Outsiders' Scott Kacsmar.
The last time a Colts player rushed for 100 yards in a game? Dec. 16, 2012. The last time one of their players rushed for 1,000 yards in a season? 2007.
Drinking game of the week
The drinking game of the season remains the Jared Goff sad face drinking game, which means you should drink every time Goff looks like this:
The drinking game of Week 4 is to drink every time Ryan Fitzpatrick throws an interceptable pass. Finish your drink every time one of his passes is intercepted.
Related: Buy drinks ahead of time.
Best quote of the week (the Bennett Bros' space)
Eli Manning: Well done.
Bad quote of the week (Russell Wilson's space)
Pete Carroll thinks too highly of Fitzpatrick.