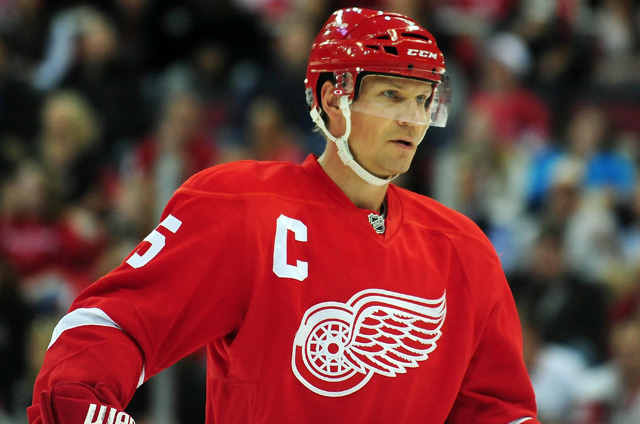 The Hockey Hall of Fame today announced the 2015 class of inductees and is it ever a good one.
Former NHL defensemen Nicklas Lidstrom, Chris Pronger and Phil Housley were all elected this year, as was forward Sergei Fedorov. Angela Ruggiero, a member of the U.S. Women's Olympic Team and one of the United States' most decorated hockey players (man or woman) will be the fourth women's player elected to the Hockey Hall. Additionally, Carolina Hurricanes owner Peter Karmanos and former Calgary Flames president Bill Hay were inducted in the builders category.
Lidstrom, Pronger and Fedorov are all first-ballot Hall of Famers.
Here's a closer look at the players elected to the Hockey Hall of Fame Class of 2015:
Nicklas Lidstrom – Detroit Red Wings (1991-2012) – Simply put, Lidstrom was probably the second best defenseman ever to play the game. Only Bobby Orr had more Norris Trophies than the seven Lidstrom racked up over a career spent entirely with the Red Wings.
A 10-time first-team league all-star (with a pair of second-team nods thrown in), four-time Stanley Cup winner and one-time Conn Smythe Trophy recipient, it's hard to find defensemen more decorated than Lidstrom. He was an impact player from the second he stepped into the league in 1991-92 and finished fifth in Norris voting at age 41 in his last year in the league.
Over his career, Lidstrom appeared in 1,564 games, 10th most in league history. His 1,142 points rank 53rd all-time among all players, with his 878 assists slotting him 22nd.
It's hard to believe it's already been three years since Lidstrom hung up the skates, but there's no doubt he left an indelible impact on the game and should be considered one of, if not the greatest European ever to grace the NHL.
Chris Pronger – Hartford Whalers (1993-95), St. Louis Blues (1995-2004), Edmonton Oilers  (2005-06), Anaheim Ducks (2006-09), Philadelphia Flyers (2009-12) – Pronger is a controversial entry to the Hockey Hall of Fame, not because he doesn't belong (he obviously does), but more because he is still technically an active player. He remains under contract and was actually just traded to the Arizona Coyotes, but he hasn't played in a game since the 2011-12 season while suffering lingering effects from an injury suffered early that year.
He will not be able to resume his career, but hasn't retired due to still having an active contract.
Since he hasn't officially retired, he's not supposed to be eligible for the Hall, but the committee waived the eligibility rules pretty much specifically for Pronger, who has two years remaining on his current contract. 
Technicalities aside, on merit, Pronger is a Hall of Famer with ease. He appeared in 1,167 games over his career and is also the last defenseman to ever win the Hart Trophy as league MVP. He did that while a member of the Blues in 1999-2000. Obviously, he also won the Norris that year as the league's best defenseman. That was his only Norris honor, however.
Pronger won the Stanley Cup as a member of the loaded 2006-07 Anaheim Ducks squad and helped the Edmonton Oilers get to the Stanley Cup Final the year before that. Pronger also went back to the Cup Final as a member of the Flyers in 2009-10.
He finished his career with 698 points and was widely considered one of the most fierce defensemen of his era. He now works for the NHL's Department of Player Safety.
Sergei Fedorov – Detroit Red Wings (1990-2003), Mighty Ducks of Anaheim (2003-06), Columbus Blue Jackets (2005-07), Washington Capitals (2007-09) – One of the dominant forwards of his era, Fedorov took the NHL by storm upon his arrival in 1990. Part of the Red Wings' famed Russian Five unit, the speedster put up 954 points in 908 games with Detroit.
Fedorov won three Stanley Cups with Detroit, he also was the Hart Trophy winner in 1993-94, won the Frank J. Selke Trophy twice as the league's top defensive forward and also took home the since-renamed Lester B Pearson Trophy (Ted Lindsay Award) in 1993-94.
Over his career, Fedorov posted 483 goals and 1,179 points in 1,248 career NHL games.
Fedorov also accrued a number of accolades and titles from his years playing in and for Russia, including three trips to the Olympic Winter Games.
Phil Housley – Buffalo Sabres (1982-90), Winnipeg Jets (1990-93), St. Louis Blues (1993-94), Calgary Flames (1994-95, 1998-2001), New Jersey Devils (1995-96), Washington Capitals (1996-98), Chicago Blackhawks (2001-03), Toronto Maple Leafs (2003) – One of the greatest American-born players to ever play in the NHL, Housley was also one of the most productive despite playing defense.
He finished his career with 1,232 points in 1,495 career games, which makes him the second highest scoring American-born player in NHL history, trailing only Mike Modano. Despite his productivity, Housley never won an individual NHL award, nor did he play for a Stanley Cup champion. The closest he ever got was with the Capitals in 1998 as they reached the Stanley Cup Final.
Despite not winning, Housley was a finalist for the Calder Trophy when he broke into the NHL at 18 years old straight out of South St. Paul High School. He also was a Norris Trophy finalists once.
Housley's best year came in 1992-93 while with the original Jets. He put up 97 points from the blue line that season.
On top of his impressive career in the NHL, Housley represented the United States internationally on numerous occasions, including the 2002 Winter Olympics at age 37. He helped Team USA claim the silver medal in Salt Lake City with five points in six games.
Nowadays Housley is an assistant coach with the Nashville Predators.
Angela Ruggiero – Team USA, Harvard University, Tulsa Oilers – The fourth female player to be inducted into the Hockey Hall of Fame, Ruggiero had about as great a career as a women's hockey player could have.
At age 18, she represented the United States in the first-ever Olympics to feature women's hockey in 1998. Team USA took home the inaugural gold medal that season. Ruggiero would end up adding two silvers and a bronze to her Olympic medal count. She was twice voted the best defenseman at the Olympics by the directorate in 2006 and 2002.
Ruggiero, a star defenseman, won three gold medals at the women's world championship as well and is the all-time leader in games played for USA Hockey. She was voted the best defenseman of the tournament on four occasions.
Additionally, Ruggiero helped Harvard win a women's hockey national title in 1998. She won the Patty Kazmaier Award as the best women's college hockey player in 2004 and received All-America honors in each of her four years at Harvard.
On top of all that, Ruggiero even played in one game in the now defunct men's professional circuit, the Central Hockey League. Playing alongside brother Bill Ruggiero with the Tulsa Oilers, Angela finished with one assist and a plus-2 rating in the game.
Few women's hockey players can match the accomplishments of Ruggiero, who also even found time to compete on the reality show The Apprentice.
Ruggiero has taken on various roles in recent years with the U.S. Olympic Committee and International Olympic Committee.