2013 NBA Third-Quarter Report: Team Grades
Grades for all 30 NBA teams three quarters of the way through the season.
by

Eye on Basketball staff

• 11 min read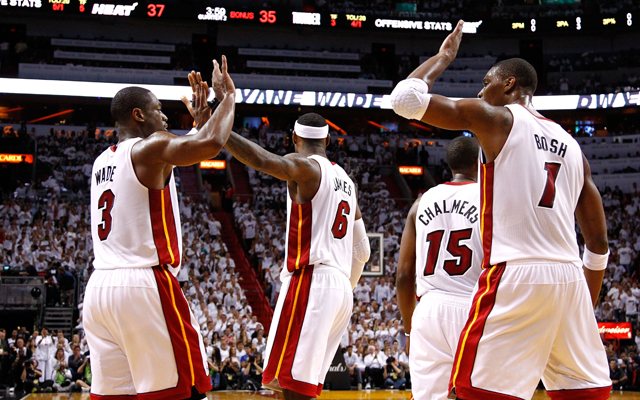 We take a look at the third quarter of the season for all 30 NBA teams and hand out grades as we get ready for the stretch run to the playoffs.
Eastern Conference by Matt Moore
Atlantic Division
New York Knicks
Grade: C-
If this were a parent-teacher conference, we'd be asking if the child had gone through some sort of personal problem. What was such a bright start to the year has quickly faded into mediocrity. The Knicks aren't bad; we need to stress they are not a bad team. They're just not a good one right now. They're fine. They can topple the bad teams and get handled comfortably by the good ones. They're trying to find their magic, and the wand keeps sputtering.
Brooklyn Nets
Grade: B
They're 11-9 through their last 20 games and have kind of settled into themselves. We're giving them a gentler grade here than they'll receive on the year-end report because we're not factoring salary into this one. They paid for a top-caliber team; they got a fancier version of the Hawks over the past four years. But hey, Deron Williams looks alive again, so they've got that going for them.
Boston Celtics
Grade: A+
All the Celtics needed was to lose their best and fourth-best players for them to get serious about the season! Boston's resilience and toughness can't be questioned, and it is honestly inspiring the way its veterans have rounded into shape. Still, you get the feeling this is very "Pistons toward 2009"-ish, with the old band cranking out the same hits even though no one's really feeling it anymore. They're going to have to rely on the "'no one believes in us!' despite everyone believing them" factor to get out of the first round, which is looking more and more possible.
Toronto Raptors
Grade: D+
Remember when Rudy Gay was going to change everything? Not so much. The small forward volume shooter is easily the Raptors' best player, and that kind of tells you a lot about where they're at. Kyle Lowry hasn't given Toronto nearly what they needed from him, and the rest of the roster is just not ready to compete. Notable exceptions: Amir Johnson , who has been fantastic this season;  Jonas Valanciunas , who inexplicably can't get time late in games during what is now a tank year; and Terrence Ross , who's getting lost in the wing logjam.
Philadelphia 76ers
Grade: D
Injuries sometimes show you what you have outside of your best players; they can reveal the character of your squad. And they sometimes show you that you don't have nearly the talent you need. The Sixers are in that latter group. With Andrew Bynum absent the whole year and then Jason Richardson going down, the Sixers unraveled. Can you argue that Bynum is a better player or more pivotal to the Sixers' success than Rajon Rondo is to the Celtics? No. You can argue that the Celtics have a better overall and supporting cast, though, and that's the concern for the Sixers. They need major roster changes in both the frontcourt and backcourt. Oh, and that Bynum guy. Him, too.
Central Division
Indiana Pacers
Grade: B+
The Pacers kicked it into high gear in the third quarter, righting their early-season wonkiness and claiming their spot as the second-best team in the East. The offense is still a disaster, but the defense is so good and the team so versatile, it makes up for it. They're held back from an A grade by a number of bad losses, including a bizarre slip-up against the Raptors featuring a horrible half-court inbounds and a collapse against Boston. Throw in the way that Miami still man-handled them and the Pacers still have some growth needed.
Chicago Bulls
Grade: D
Injuries have caught those Bulls by the horns and wrestled them to the ground. In the midst of the disaster with Derrick Rose (so much for "back by February"), they also lost Taj Gibson and Kirk Hinrich to injuries. Throw in the workload for Joakim Noah and Luol Deng and the weaker bench the Bulls constructed, and you have an 8-12 third quarter. The Bulls don't look vulnerable right now, they look plain bad. This team needs something good to break its way soon.
Milwaukee Bucks
Grade: D
The Bucks faded a bit in the third quarter, landing 8-12 in their last 20 games. There were injury concerns, like Larry Sanders (LARRY SANDERS! as the Internet calls him) missing several games. But compared to their fellow Eastern Conference playoff mates, they've had it easy. The Bucks just don't have enough consistency, and had trouble in close games. They lost games to Detroit, Brooklyn, and Atlanta by a combined eight points. Throw in inexplicable losses like Washington and did we mention Detroit, and here you go. The Bucks need a strong finish for the year to have any momentum going into the playoffs and whatever hope there is to be found there.
Cleveland Cavaliers
Grade: B
We grade based on expectation to a degree around here, and the Cavaliers went .500 in their last 20 games. That's more than good enough to warrant a passing grade. They've been without Kyrie Irving for much of it, lost Anderson Varejao  and finally had to just deal with the young talent. It's worked out well, as Dion Waiters has started to look like a legitimate 2 guard. Their offense has been terrific, even if their defense is what you'd expect from a young roster like this. Strong quarter for Cleveland.
Detroit Pistons
Grade: F
The injury to Andre Drummond does not remove how terrible this quarter was for Detroit. There's no reason this team shouldn't have made a push for the No. 8 seed. The talent is there. They've just played terrible and lost games they should and shouldn't win. The Pistons just unraveled in the third quarter.
Southeast Division
Miami Heat
Grade: A+
Well, they've won 20 straight games and their best player is having the best season by any player since Michael Jordan. So, yeah, they did OK for themselves.
Atlanta Hawks
Grade: C
The Hawks just sort of coasted in the third quarter, which is disappointing to a degree. The rest of the East disintegrated outside of the top teams and Brooklyn, and they could have put separation between themselves and the rest of the pack. Instead, they just went all "Hawks-y," and now they're in the No. 7 seed, looking like they could face Indiana in NBATV's annual "playoff series no one is watching." Such a "meh" quarter for a team that too often falls into "meh" mode.
Washington Wizards
Grade: B-
Not great but certainly passing for what looked like the worst team in the league for most of the year. When they started off so horribly, we thought, "Oh, this isn't all John Wall ; John Wall can't fix this." Well, turns out he can fix a lot of it. The team has played better around him, Bradley Beal looks like a stud after that horrific start, and some of it worked. The problem is they have all these veterans that didn't translate to a playoff berth. Do you go young, again? Or stay old? The young talent hasn't played well this year outside of Wall and Beal. In typical fashion, even the good news for the Wizards is kind of bad news.
Orlando Magic
Grade: C-
Now, winning-wise, the Magic were terrible. But they went young and that was what they needed to do. They needed to learn what young players could play and who could not. And they're finding  Nikola Vucevic is a good player they can build with, Tobias Harris is a good player they can build with, Maurice Harkless is a rotation player. Once they find a way to get rid of the other 1,100 veterans they inexplicably kept this season, they'll be on their way. Wiggins in 2014!
Charlotte Hornets
Grade: F
Not historically bad, so they've got that going for them.
Western Conference by Zach Harper
Northwest Division
Oklahoma City Thunder
Grade: A+
The Thunder have really been incredible this season, which is in-depth analysis, I know. They gave up a guy who has probably moved into the conversation of being a top-10 impact guy in this league and yet their winning percentage went up. Russell Westbrook has improved, Kevin Durant has scarily improved, and the role players are stepping up consistently.
Denver Nuggets
Grade: A-
They had a bit of an early-season hiccup mainly due to the road-heavy schedule they were having to play every night. Now that they've gotten some home games under their belts, the Nuggets are just running teams off the floor. Only the Heat have a better home record, and that's because they've played one more game at home than Denver.
Utah Jazz
Grade: B
The first half of the Jazz season was close to an A when you factor in expectations and holes in the backcourt. They managed to get over having Randy Foye and Mo Williams as main cogs at the guard positions. But since the trade deadline, health has been a big factor against them and they're struggling. The young guys are getting valuable experience, but it may cost them a playoff spot and playoff revenue.
Portland Trail Blazers
Grade: B-
The bench finally caught up to Portland during the season and even though the Blazers acquired Eric Maynor , they can't avoid playing guys who simply don't give them valuable minutes. That's a lot to put on a starting unit that has been great throughout the season, but can't play all 48 in all 82. Add a piece or two and this franchise looks to be back.
Minnesota Timberwolves
Grade: Incomplete; too many absences
Ricky Rubio has been the most consistent part of this season for the Timberwolves and he missed a month and a half to start the season with his ACL injury. Now, he's leading second- and third-stringers who are trying to be starters and second unit guys. If they can get Chase Budinger , Kevin Love , Nikola Pekovic  and Andrei Kirilenko back for the final couple weeks, we can finally see what the future may hold.
Southwest Division
San Antonio Spurs
Grade: A+
What do you say about the team that has everything and has done everything? With a healthy squad, this looks like one of the toughest matchups for anybody at any point in the playoffs. The system is pure and they execute it well. They kill you side-to-side and from distance. They play solid defense and Tim Duncan should make another All NBA First Team with his play. Just a stellar season once again.
Memphis Grizzlies
Grade: A
Gritting and grinding all season long. The Grizzlies have excelled since they jettisoned Rudy Gay to Canada, and the concept of the team and what it wants to do has never looked more crystal clear. With Marc Gasol becoming one of the best big men in the league and the bench finally getting some consistency, does anybody want to play Memphis in the first round?
Houston Rockets
Grade: A-
The Rockets are getting high marks here because if you look at what we thought we knew about this team heading into the season, we really didn't know what to expect. They added James Harden and a bunch of young guys, but we didn't know if they'd learn how to play with each other quick enough. Now? They're one of the most exciting teams in the league and looking like a playoff lock. Incredible work by Kevin McHale and his coaching staff.
Dallas Mavericks
Grade: B
The Mavs are looking mighty dangerous. Dirk Nowitzki getting his groove back with Vince Carter playing incredibly in the sixth man role and Shawn Marion flying all over the court gives them a lot of weapons to use. O.J. Mayo 's play at shooting guard is also ramping up to "finish out the contract year" mode. They're going to be a team nobody wants to deal with at the end of the season.
New Orleans Pelicans
Grade: C-
The Hornets have really tried to have a solid season, but the injuries and the inconsistency has just been too great. Anthony Davis definitely looks like he was worth the top pick, but you'd like to see him used a little more consistently on offense. Eric Gordon isn't passing the ball but he can still score and looks pretty healthy. Greivis Vasquez has been generating as many points as he's giving up. They just need to find a way to make Austin Rivers successful.
Pacific Division
Los Angeles Clippers
Grade: A-
I want to be able to give the Clippers a much higher grade, but they're starting to slip lately. What looked like a lock for a top-three seed is now sliding down the ladder and having to find a way to hop back in front of the Grizzlies. The Clippers need to get their bench healthy and find a way to get Chauncey Billups and Jamal Crawford back into a groove.
Golden State Warriors
Grade: B
This is another team slipping, and we're not quite sure why. Well, we know their defense has been suspect and Jarrett Jack was struggling for a small stretch, but this team was supposed to be scary good once Andrew Bogut came back. Instead, the Warriors have to be a little scared they're in danger of missing the playoffs. The future in Oakland is bright, but I'd love to see this team get back into the groove it showed in the first two months of the season.
Los Angeles Lakers
Grade: C-
I'm barely passing this team because of what it's been able to do the last month as it finally begins to look like a team that should make the playoffs. If Pau Gasol comes back early and the Lakers can work him seamlessly into the mix, maybe they can start thinking first-round upset. However, that injury to Kobe Bryant 's ankle (dirty or not) just threw a giant wrench into everything.
Sacramento Kings
Grade: D
DeMarcus Cousins is getting ejected from games, his teammates are exasperated with him, the Maloofs have muddled an entire business situation, and the team is playing inconsistently. Nothing to see here, folks. Just the Sacramento Kings being the Sacramento Kings in the end of the Maloof era. Just horrible business as usual.
Phoenix Suns
Grade: D-
The Phoenix Suns have to find some bright spot over the last 15 or so games to give them some kind of momentum into the summer when they re-shape their roster. Either do that or just start making viral videos involving twin telepathy starring Marcus Morris and Markieff Morris . Michael Beasley can be the dad they keep trying to trick!
Newest Brooklyn Net isn't concerned with his old organization's leader

The diminutive All-Star was among the league's worst defenders during the 2016-17 season

We've seen huge favorites before, but this is something else
Buddy Hield and Willy Hernangomez round out the first-team selections

Chris Paul and Patrick Beverley complete the first team

Allen Iverson is someone Tyronn Lue would want on his coaching staff