Trevon Bluiett has Michigan, Butler, Indiana in hot pursuit
Trevon Bluiett still has 24 schools on his list -- and he's hoping the perfect fit is among those two dozen options.
• 2 min read
While other players in the class of 2014 are beginning to cut their lists and figure out which schools that they want to visit officially, Trevon Bluiett is still taking his time going through the process.
And for Bluiett, it's certainly going to be a process.
"I'm still at 24," he said.
Ranked No. 46 in the 247 Sports Composite, the 6-foot-5 small forward from Park Tudor High School in Indianapolis is not rushing into any decisions. According to Bluiett, the original plan was to make his college choice before the high school season. Now, that might no longer be the case.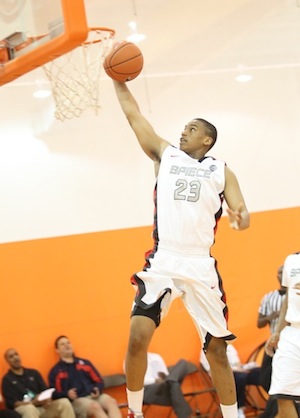 Bluiett averaged 18.5 points in EYBL play. (247 Sports)
"I'm just trying to make the right decision, making sure everything's perfect," Bluiett said.
Some of the schools on his list include Indiana, Purdue, Xavier, Notre Dame, Illinois, Kansas State, Florida, Louisville, Cincinnati, Iowa, Pittsburgh, Northwestern, Georgetown, Butler, Michigan, UCLA and Virginia.
The three schools coming at him the hardest are Michigan, Indiana and Butler.
In Ann Arbor, Mich., the prospect of playing with freedom on the offensive end under coach John Beilein is attractive.
"He just lets his players go," Bluiett said. "He trusts them. Builds them up during the offseason. Instills the trust in them. They're smart enough to make plays, and that's what he does."
Butler, among the in-state schools on his list and located just across town, is pitching its consistent winning ways.
"Coach [Brad] Stevens is a great coach," Bluiett said. "One year, he had a team not really full of known people besides like, two players, and they made it to the Final Four consecutive times. So that's always a good type of coach."
Then there's Indiana, which has been pursuing Bluiett longer than most. The Hoosiers offered him when he was 15, almost three years ago. He has developed a terrific relationship with the coaching staff.
"Coach [Tom] Crean -- I've always loved them," he said. "I watched him coach Steve Novak and Dwyane Wade, and I've always had a good relationship with him over the past four years or so. I've always thought he was a tremendous coach."
Another wrinkle in Bluiett's recruitment is UCLA. When Steve Alford took over in Westwood in late March, the Bruins hired Ed Schilling as an assistant coach. While Schilling is known as a great workout guy nationally and has ties to Adidas, he was also a high school coach in Indiana.
More specifically, he was Bluiett's coach at Park Tudor.
The Bruins offered two months ago and, with Schilling in the mix, are on Bluiett's list.
"I still keep in contact with him a lot. Sometimes we don't talk about recruiting; sometimes we do," he said. "I definitely take that into some thought, because he was my high school coach. He's been my mentor since sixth grade, and I trust in everything he's going to do with the program and what he could do with me if I was there."
While Bluiett still hasn't trimmed his list or decided where he wants to take trips, he hinted that he might not take all five official visits.
"If it's the right college, I won't need to take any other officials," he said.
Bluiett just has to get from 24 to one.
Simons, 18, is a former Louisville pledge who is suddenly eligible for the upcoming draft

The Blue Devils improved to 4-0 in an easy win vs. Southern.

If LiAngelo Ball didn't come from a famous family, we might think differently of him
Ball significantly downplayed President Trump's role in helping get his son back to the U....

Discussing the one-and-done rule -- plus Michael Porter Jr.'s injury and Billy Preston's c...

Even though he's scheduled to graduate in December, the NCAA still won't let Hayes play