The Jonah Keri Podcast is now on CBS Sports! His latest episode with Jayson Stark is now available. Subscribe: via iTunes | via Stitcher.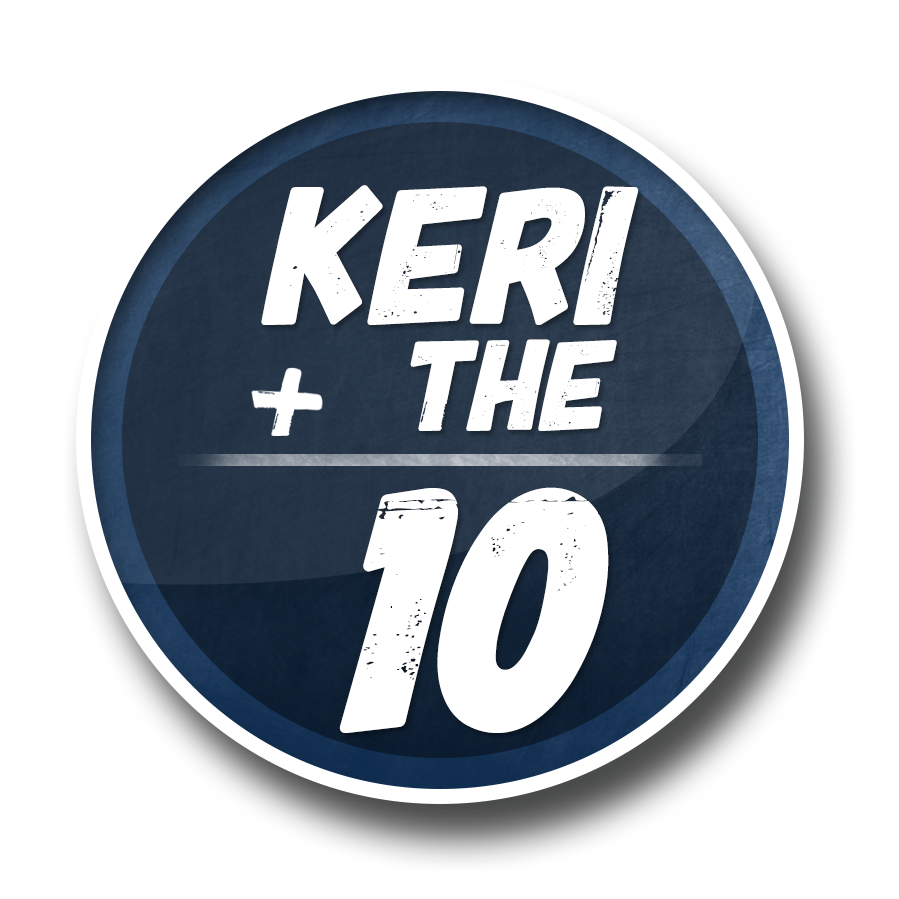 Welcome to this week's edition of Keri The 10! As always, we'll go around the majors with 10 stories that caught our eye from the past seven days. There will be numbers, and occasionally, memes. As always, we will have fun.
1. Young pitchers are landmines, no matter how much you baby them
The baseball world recently celebrated a momentous anniversary. That day, Nolan Ryan fired 13 innings and 235 pitches(!!!) for the Angels (striking out 19 and walking 10), while Luis Tiant hurled 14 1/3 innings and what historians believe was about 180 pitches. Granted, it's more likely that only Ryan, Tiant, and a lanky Canadian baseball nerd noticed ... and given Ryan's no-nonsense persona, even that bout of nostalgia might be a stretch.
However widespread those memories are, though, one thing is certain: anyone currently affiliated with Major League Baseball would recoil in horror at that kind of pitcher workload, even in Game 7 of the World Series. Today, the guardians of the game go to great lengths to count pitches, scrutinize pitch mechanics, and do everything in their power to keep pitchers healthy. When dealing with a top pitching prospect in his teens or early 20s, that vigilance goes up 100-fold.
That's what the Dodgers tried desperately to do with Julio Urias. A precocious left-hander with advanced stuff, Urias made his professional debut in 2013, pitching in the Midwest League at the unfathomably young age of 16. He then proceeded to slice through the competition, making it all the Triple-A just after his 18th birthday. The next season, he was in the big leagues, making his MLB debut at age 19.
But while Urias' huge talent left the Dodgers little choice but to keep promoting him, they also did everything they could to limit his workload. They spotted him in relief. Skipped starts. And when it came to pitch count monitoring, the Dodgers were so cautious, that Ryan vs. Tiant clash looked like 48 straight hours of roof tarring in the desert sun by comparison.
He broke down anyway. Urias will miss the next 12 to 14 months after undergoing surgery to repair his damaged left shoulder. It's possible we won't see him throw another pitch in a major league game until 2019.
The futility of the Dodgers' protective efforts won't mean a return to the meat-grinder approach of the '70s, of course. But Urias' injury is the latest reminder that pitching is an unnatural act, that young pitchers are particularly at risk, and that no one has cracked the code on how to keep pitchers healthy and successful.
2. Bottoms up
This is stellar parenting:
3. Baez gonna Baez
Considering they're coming off a 103-win season and a stirring World Series victory, the 2017 Cubs are easily the most disappointing team in baseball this season. They're just barely keeping their heads above .500, and would be miles out of first place if they played in either of the East or West divisions.  
The good news is they still have Javier Baez. The electrifying infielder made a terrific leaping catch to rob Bryce Harper of a hit on Monday:
As great as the catch was, though, Harper's reaction was even better:
Thursday was a brutal day for the Washington Nationals. First, the most infuriating bullpen in the universe blew another ninth-inning lead, this time falling 5-4 to the Cubs. Then after the game, we learned that young star shortstop Trea Turner had a broken bone in his wrist and would be out indefinitely. Ugh.
The good news is that the rest of the NL East is so bad, the Nats more or less clinched on Opening Day. And while Turner's loss coupled with Adam Eaton being out for the season hurts the Nats' speed and athleticism, they've found an able replacement in Michael Taylor.
Known for his speed and defense and little else coming into this season, Taylor's upped the rest of his game in 2017. He's clubbed 11 homers in just 66 games, putting him on pace to obliterate his previous career high of 14, set in 2015 when Taylor was an everyday player for most of the season. His .514 slugging average smashes anything he's done before in his career. And Taylor has been absolutely on fire since taking over in center field following Eaton's injury, with power numbers that rival the biggest sluggers in the league.
It's tough to know how much longer this will last, given Taylor's shaky batting eye: In 236 plate appearances, he's struck out 76 times and walked just 12 times. Then again, the Brewers have a power-and-speed surprise of their own this season in Keon Broxton, and Broxton actually strikes out even more often than Taylor does; occasionally, raw tools can trump major holes in a hitter's swing. The injury-wracked, bullpen-starved Nationals certainly hope that holds true this time.
5 Best. Obit. Ever.
Just how bad has the Nationals bullpen been? Forget the stats. Patrick Killebrew provides definitive proof.
Or should we say, the late Patrick Killebrew. A hard-core Nats fan, Killebrew recently passed away at age 68. His obituary blasts Washington's bullpen. It's amazing.
6. Stealing their way to success
Weird happenings are afoot in Anaheim. Mike Trout has been out since May 29, yet the Angels sit right in the thick of the American League wild-card race. The Halos are also the surprise major-league leaders in stolen bases, and that's with two teammates actually outstealing Trout this season. And while Andrelton Simmons deserves kudos for an excellent all-around season that includes 13 steals, it's Cameron Maybin who's running wild in 2017, lighting up scoreboards and keeping the Cinderella Angels in the hunt.
One of the most injury-prone players in baseball during his decade in the majors, Maybin's both healthy and finally tapping into his toolsy potential this year. The 30-year-old outfielder leads the American League with 24 stolen bases. Even more impressive, he's amassed those 24 swipes in 25 attempts, putting him on pace for one of the most prolific and efficient seasons anyone has managed on the basepaths in years. Maybin's created ample running opportunities for himself, walking a career-best 13.3 percent of the time and posting a solid .362 on-base percentage.
All of it adds up to great tidings for the Angels, who just wrapped a brutal 20-game stretch against the Yankees, Red Sox, Dodgers, Astros, and Royals and went 11-9. Again, without Trout. Maybin getting on base, stealing more bases than three entire teams, and getting caught about as often as an eclipse, has been a big reason why.
7. Fast company
Speaking of Maybin and his thefts, the good folks at MLB.com have given us another cool new toy, courtesy of their Statcast system.
Sprint Speed measures how fast each runner dashes around the bases, stripping out non-sprinting events like homers and popups to focus on moments where acceleration is required. The framework is simple: 27 feet per second is average, older players and catchers tend to be very slow, and Billy Hamilton, Byron Buxton, and their ilk are very fast. In other words, hunches and data tend to collide.
Still, spend some time flipping through the Sprint Speed leaderboard and you might find some surprises. Like how Indians rookie outfielder Bradley Zimmer is the third-fastest runner in all of baseball. Or that the Blue Jays employ not one, not two, but three players who rate as the slowest in the majors at their respective positions (Justin Smoak, Troy Tulowitzki, and Jose Bautista).
The entire leader is well worth perusing, as is MLB.com writer Mike Petriello's introductory article on Sprint Speed. Go check it out, as fast as you can.
8. Splitsville
From time to time here at Keri The 10, we like to explore individual players' splits. The wider the split, the more it catches our eye. Here, then, is Julio Teheran:
Home: 46 1/3 innings, 56 hits, 13 home runs, 20 walks, 7.58 ERA

Road: 43 2/3 innings, 40 hits, 6 home runs, 14 walks, 2.89 ERA

PS: The Braves' new home, SunTrust Park, ever so slightly favors pitchers. Baseball is weird.
Over the past few weeks, we've seen some well-known baseball pundits wonder aloud if Nationals ace Max Scherzer might've surpassed Clayton Kershaw for the title of best pitcher on Earth. From our point of view, that's a dubious claim: A couple months of slightly better numbers don't trump years and years of Kershaw dominance. Not to mention that Scherzer has made a combined 10 starts against NL East rivals Atlanta, New York, Philadelphia, and Miami, as well as the lowly Giants and Padres -- with none of those five teams ranking in the NL's top five for offense, and the Phils, Giants, and Padres being the three lowest-scoring teams in the league.
Even if Scherzer's merely the second- or third-best pitcher on the planet, though, that's still a hell of a high honor. His 2.06 ERA leads all National League starting pitchers, as does his 35 percent strikeout rate. What's been his secret to success? We posed that question to Nick Pollack, ace analyst at PitcherList.com. Here's what he had to say:
Max Scherzer is having a career year and it's all thanks to altering his approach against left-handers and right-handers with his incredible slider.

First, let's look at the changes Scherzer has made against left-handers. In 2016, Scherzer barely touched the pitch against lefties, utilizing the pitch just 5 percent of the time across all counts and favoring his curveball and changeup instead as preferred secondary options. However, this season is a different story, with that number jumping nearly ten points to 14 percent overall, including a whopping 22 percent mark with two strikes. The result is a massive drop in batting average against, falling from a pedestrian .247 batting average allowed to an elite .199 clip in 2017. Instead of reserving his slider for right-handers, Scherzer has embraced the pitch's ability to miss bats, earning strikeouts at a near 50% rate against left-handers. Take a look at the pitch in action against Justin Bour and you'll understand just how difficult of a pitch it is to lay off with two strikes:
To press the point further, look at his heat map for sliders against left-handers from 2016. They were mostly over the plate and used as a surprise strike that avoids the bottom left corner in and out of the strike zone. Now take at look at 2017's iteration and notice the heavy amount of pitches are located at the ankles of left-handers - falling out of the zone and underneath bats - or landing just inside the strike zone down-and-in. It's a pitch that is impossible to resist off the plate and difficult to make good contact with inside the zone.

Against right-handers, a different tweak was made. Scherzer has increased his zone rate for sliders dramatically this season, bumping the pitch from a 45.7 percent mark in 2016 to a high 52.7 percent clip in 2017 – the highest of his career and first time over a 50 percent zone rate. This becomes most apparent when Scherzer is behind in the count to right-handers. Previously, Scherzer turned to his elite breaking pitch under 30 percent of the time when in a hitter's count, but that number has increased to almost 40 percent of the time this year. Paired with his bump in zone rate, Scherzer is having more confidence throwing Sliders when behind in counts, forcing batters to look for a pitch that isn't a Fastball. Here's an example of Scherzer turning to his slider in a 3-1 count as he faced Logan Forsythe in June:
It doesn't look like much, but you can even see Forsythe prepare for a fastball, then change his body dramatically realizing the pitch is a slider that he wasn't prepared for. Instead of giving into what Forsythe wanted, Scherzer earned himself a 3-2 count, where he was able to get Forsythe looking at a 94 mph fastball. We may look at that heater later, but it's the confidence to throw a 3-1 slider for a strike that set up his 10th strikeout of the game.
Kershaw's still the king of the hill for now, as his 12-strikeout, zero-earned run performance Thursday night reminded us. But less than a month from his 33rd birthday, Scherzer pitching better than he ever has. The prospect of the two aces facing each other in October, potentially with an NL pennant on the line, is almost too mesmerizing to fathom.
10. Burning Question of the Week
Can we call Paul Goldschmidt the best 1B in baseball? Plus is he the best bet to be the next guy to go 40/40? #KeriThe10

— Adam Karoly (@adamkaroly) June 29, 2017
Yes Adam, we can definitely call Goldschmidt the best first baseman in the game. He leads all starters at his position in park-adjusted offense and Wins Above Replacement, supplementing his big bat with the most stolen bases for any first baseman (13) and excellent defense (he ranks second among all first baseman in Baseball Info Solutions' Defensive Runs Saved). And while a 40-40 season might be a stretch, Goldschmidt stole 32 bases last year, and is on pace to top 30 homers and fall just short of 30 steals this year.
Despite all that, he also ranks just third among all NL first basemen in All-Star balloting. A traveshamockery of the highest order.