Stock Watch: Madison Bumgarner rounding into (Cy Young) form
While giving Henderson Alvarez his due, our bulls are Madison Bumgarner, Dexter Fowler and Anthony Rizzo. Bears? Ubaldo Jimenez, Grant Balfour, Devin Mesoraco and Tyler Flowers.
Grading the Week: Felix, Zimmermann shine | Series Rankings: AL West battle

We were all set to lead this version of Stock Watch -- in which I'm humbly pinch-hitting for the esteemed Mr. Jon Heyman for just one week -- with Marlins ace Henderson Alvarez. Yes, he's the ace by default with Jose Fernandez on the shelf for the season after recovering from Tommy John surgery, but it's a title that is well-deserved.
Alvarez took a 21-inning scoreless streak into Sunday's start against the Cubs, when he was tasked with playing stopper to avoid a sweep at the hands of the North Siders. He would post five more scoreless innings before an injury chased him and the bullpen allowed his two baserunners to score, ending his streak at 26 1/3 innings.
On the year, Alvarez has a 2.56 ERA (149 ERA+) and leads the majors with three complete-game shutouts. Though he's no Fernandez, he'll admirably fit the bill of ace for the Fish the rest of the way.
As for the purposes of Stock Watch, I'm no Phil Mickelson, but I'm pretty sure leaving a start with an injury and losing a scoreless streak isn't something that would excite prospective traders. So we'll leave Mr. Alvarez with a special mention at the top. A different 24-year-old pitcher gets top billing below ...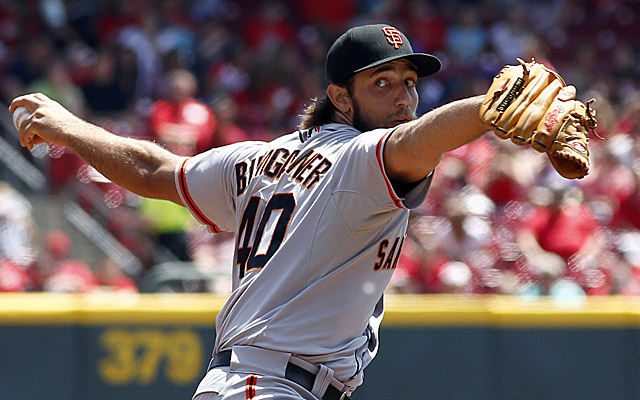 1. Madison Bumgarner, SP, Giants: The lanky lefty had all the makings of a Cy Young contender entering the 2014 season. Though we can't exactly say he struggled early on, he wasn't consistent. Through 10 starts, he was 5-3 with a 3.38 ERA. Six of those 10 starts were statistical quality starts. So this wasn't bad, but we can't exactly call that top of the rotation stuff and it's definitely not Cy Young caliber. Not in this era that pitchers rule.
That all might be a thing of the past, though. In his past three starts, Bumgarner has allowed only two runs in 22 innings, posting a 0.82 ERA and 0.45 WHIP with 25 strikeouts and one walk. Opponents have hit .123/.145/.178 against him in those three starts.
He surely can't keep up this pace, but he's more this guy than the inconsistent one we saw earlier this year. A Cy Young may be in the cards.
2. Dexter Fowler, OF, Astros: A very hot start to the season was derailed just a few games in due to an illness. He has had his ups and downs after his return and was hitting .251/.366/.347 through June 1. Over the course of the past six games, though, he has gone nuts. He is 11 for 21 with two doubles, a triple, a homer, three RBI, six runs and six walks against two strikeouts. That's a .524/.630/.857 batting line, raising his overall line to .277/.393/.395. A 26-point raise in batting average is six days will land you here.
3. Anthony Rizzo, 1B, Cubs: He was 0 for 4 on Sunday and the Cubs lost, but they were still 5-1 on the week in no small part due to Rizzo. During the five-game winning streak, the 24-year-old first baseman hit .421/.500/.842 with two doubles, two homers and five RBI. That includes a walk-off homer in Friday's 13-inning victory. Rizzo in on pace for 32 homers and currently ranks fourth in the NL in on-base percentage. I would say he's back on track after a disappointing 2013.
Honorable mentions: Alex Gordon, OF, Royals; Josh Willingham, OF, Twins; Jordy Mercer, SS, Pirates; Scott Kazmir, SP, Athletics; Fernando Rodney, RP, Mariners; I would have probably gone with Felix Hernandez and Jordan Zimmermann, but they were already covered in Grading the Week (linked above).
1. Ubaldo Jimenez, SP, Orioles: There's no shame in getting knocked around the yard by an offense like the A's. There is total shame in just giving them the game. Jimenez allowed six earned runs Sunday in just 2 1/3 innings of work on only two hits, thanks in part to five walks and a Brandon Moss grand slam. And it seems that every time Jimenez shows hope of a turnaround, he reverts back to poor form. He's now 2-7 with a 5.01 ERA, 1.53 WHIP and an AL-worst 40 walks in 70 innings. He's so inefficient he only averages 5 1/3 innings per start. The worst part? The Orioles are 3-10 when he starts and 28-20 when he doesn't. Is that worth four years and $50 million?
2. Grant Balfour, RP, Rays: On the other hand, the Orioles seem to have dodged a bullet by pulling out of the Balfour deal due to medicals. The 36-year-old closer entered a tie game Sunday and coughed up five earned runs in an inning against the Mariners. He has melted down several times this season -- allowing multiple runs in four of his 24 outings and at least five runs twice -- and now holds a 6.46 ERA. He has walked 20 hitters in 23 2/3 innings while having also hit one guy and uncorked three wild pitches. The Rays, meantime, have lost 12 of their past 13 and have the worst record in baseball.
3. Tyler Flowers, C, White Sox/Devin Mesoraco, C, Reds: This is the "back to Earth" segment of our program.
Flowers got off to a huge start and maintained it for a bit. In fact, through May 10 he was hitting .330/.377/.425. The line now? .267/.326/.384. Since May 25, he's 2 for 31 with 17 strikeouts. The two hits are home runs, but that's about it. Otherwise he's an automatic out.
Mesoraco had a ridiculously hot start to the season interrupted by a hamstring injury, but seemed to pick up where he left off, going 4 for 4 on May 18. After that game he was hitting .500/.541/.870. Since then, though, he's .131/.172/.377. In the past five games? Try 0 for 14 with eight strikeouts.
Dishonorable mentions: Alfonso Soriano, OF, Yankees; Carlos Quentin, OF, Padres; Everth Cabrera, SS, Padres; Justin Morneau, 1B, Rockies.
If the slow-play for Martinez, Hosmer and Arrieta sounds familiar, it should

The Nats will host the All-Star Game in 2018

The Orioles are looking to trade Machado heading into his walk year
The Cardinals have been linked for a while to the Baltimore star

Gallardo spent the first eight years of his career in Milwaukee

MLB revenues are at a record high right now, but teams aren't spending it on players