The Lineup: Kershaw powers Dodgers to sweep; Reds aim for 11th straight
Sunday was chock full of great individual performances. Michael Morse, Anthony Rizzo, Scott Feldman, Jeremy Hellickson, R.A. Dickey and several others missed the cut for 3 UP despite each having a huge game. Also, congrats to the Mariners for a four-game sweep and the Astros for snapping a 12-game losing streak. As for the rest ... It's The Lineup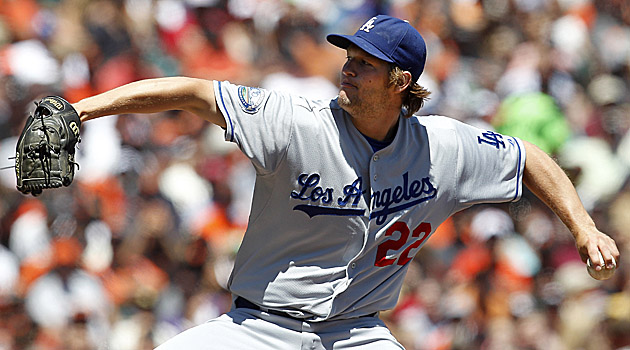 How sweep it is for Kershaw and the

Los Angeles Dodgers

. (Getty Images)


Sunday was chock full of great individual performances. Michael Morse , Anthony Rizzo , Scott Feldman , Jeremy Hellickson , R.A. Dickey and several others missed the cut for 3 UP despite each having a huge game. Also, congrats to the Seattle Mariners for a four-game sweep and the Houston Astros for snapping a 12-game losing streak. As for the rest ...
Full Sunday scoreboard with recaps and box scores for every game








3 UP

Clayton Kershaw , Dodgers: The Dodgers got on the board in the fourth inning on a fielder's choice, and that was all Kershaw needed. He went the distance for a complete-game shutout, striking out seven while allowing only five hits and one walk. With the win, the Dodgers completed a sweep of the San Francisco Giants in San Francisco and moved into a first-place tie with those same Giants.
Matt Wieters / Wei-Yin Chen , Baltimore Orioles : Wieters and Chen propelled the Orioles to salvage one game against the scorching-hot A's. Wieters returned from a biceps injury to come through with a big three-run homer and those three runs were more than enough for Chen. He worked only 5 2/3 innings, but he struck out 12 while allowing only three hits and zero earned runs.

Jhonny Peralta / Doug Fister , Detroit Tigers : They needed this one. After a hot streak had them in first place, the Tigers had lost three in a row and fallen 2.5 games back behind the White Sox in the AL Central. Sunday, Peralta carried the offense with two homers -- which accounted for all four Tigers' runs -- while Fister threw eight innings, allowing only one earned run and striking out nine. Team this victory with a White Sox loss and it's down to 1.5 games in the Central.

3 DOWN

The Cleveland Cleveland Indians : The Tribe was swept in three games by the Minnesota Twins and outscored 28-6. It's tough to win games when neither the pitchers nor the offense are performing. They've lost eight of their last 11 and have fallen to two games under .500 for the first time since April 13, when they were 2-4.

Jason Bay , New York Mets : I normally only put guys in 3 DOWN whose team lost that particular day, but Bay needs mention somewhere. He's hitless in his last 22 at-bats and is hitting .159/.238/.310 on the season. Meanwhile, Kirk Nieuwenhuis and Lucas Duda are in Triple-A (Nieuwenhuis was optioned after Sunday's game) and Bay is still due $16 million from the Mets next season.

Milwaukee Brewers ' bullpen: Cue the broken record. This is pathetic. The Brewers got 5 2/3 innings of good work from starting pitcher Mark Rogers . From there, the bullpen coughed up nine hits, five walks and nine earned runs in 5 1/3 innings, losing 11-10 in 11 innings. The Brewers now have an MLB-high 26 bullpen losses and 20 blown saves (second only to the lowly Colorado Rockies ' 21).








Streaking! The Cincinnati Reds have won 10 games in a row. They'll go for 11 Monday at home against the San Diego Padres . It's Edinson Volquez (6-7, 3.30) visiting his former home for the first time as an opponent. He faced the Reds on July 5 (and pitched brilliantly), but that was in San Diego. Now Volquez heads into a hitters' park against the hottest team in baseball. Mike Leake (4-6, 4.12) gets the nod for the Reds. 7:10 p.m. ET

Wild-card implications in Oakland: The Oakland Athletics are the current AL wild card leader, with the Tampa Bay Rays just two games back of the second spot. The two clubs will square off to start the week. It's AL win leader David Price (14-4, 2.57) against A.J. Griffin (3-0, 2.25). 10:05 p.m. ET

Western rivalry: The A's are very much in the AL West race, too, and the other two teams involved in that race will be facing each other. It's the Los Angeles Angels at the Texas Rangers , with two struggling pitchers getting the call. Ervin Santana (4-10, 6.00) faces off against Roy Oswalt (3-1, 5.22). 7:00 p.m. ET
Monday's probable pitchers








• Career milestone: Chipper Jones hit a home run Sunday, giving him 1,042 career extra-base hits. That moves him past Pete Rose on the all-time list, meaning only Eddie Murray has more career extra-base hits than Chipper, among switch-hitters. (MLB.com)

• Pitching problem: The Colorado Rockies have a pitching problem. Troy Renck of the Denver Post takes a detailed look. Look on the bright side, though, Rockies fans: At least you don't have Ubaldo Jimenez anymore.

• Ongoing feud: Mark Teixiera and Vicente Padilla seem to like each other about as much as most New York Yankees fans and Boston Red Sox fans like each other. The feud continues ... (bostonherald.com)

• Break out the clippers: Reds radio broadcaster Marty Brennaman recently said he'd shave his head if the Reds won 10 games in a row. Sunday, the Reds won their 10th straight game. So is he actually going to go through with it? "I'm a man of my word," he said (MLB.com)

• Stealing home: Why don't teams attempt to steal home with two outs and a fast runner at third base more often? It seems reasonable to take the chance when in need of one run, especially if the guy batting isn't a great stick. Beyond the Box Score has the discussion.
• Slammed: Dodgers farmhand Jerry Sands went nuts Sunday. Check it out:
SANDS! Jerry Sands ties a PCL record with his second grand slam of the game! 'Topes lead game two 10-0 T-4 #doubleheader

— Albuquerque Isotopes (@AbqTopes) July 30, 2012
For more baseball news, rumors and analysis, follow @EyeOnBaseball on Twitter, subscribe to the RSS feed and "like" us on Facebook.
Maxwell joins a growing movement across sports

The Yankees punched their ticket to the playoffs with a win over the Blue Jays on Saturday

Sabathia's stance seems to be an increasingly popular one among athletes
Plus the A's and Brewers have hope, Giancarlo goes deep again, and much more

Matt Chapman and Matt Olson give the A's hope

Despite an awful month, the Dodgers are again NL West champions