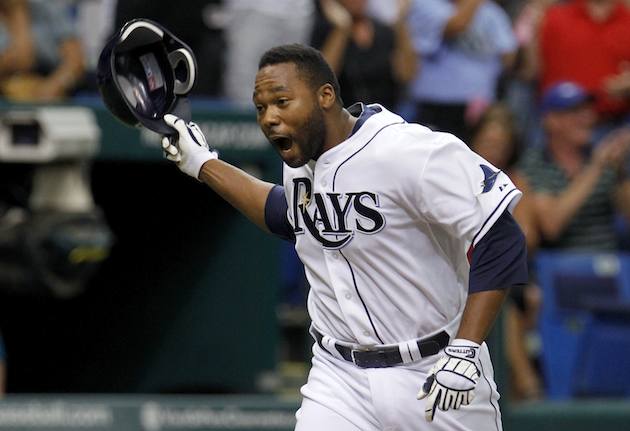 There were just eight games in the majors on Thursday, but we had plenty of action with two walk-offs, another ninth-inning go-ahead homer and several nailbiters. In all, five of the eight games were decided by a run.
Full Thursday scoreboard with recaps and box scores for all eight games
3 UPBrandon Allen, Rays.
Allen has just two plate appearances in less than a week with the Rays and now has three RBI, including a pinch-hit walk-off two-run homer on Thursday. Wednesday he walked with the bases loaded to drive in a run as a pinch hitter and Thursday he did a little better by crushing a 2-2 fastball from
Jordan Walden
into the right-field stands. Allen was hitless in seven at-bats with the A's, but made his first hit of the 2012 season count.
Mark Kotsay, Padres.
Kotsay hit a two-run, pinch-hit double in the eighth inning to give the Padres a 2-1 victory over the
Nationals
, snapping Washington's four-game winning streak. After
Orlando Hudson
walked and
Cameron Maybin
reached on a bunt single, Kotsay hit a double off of
Tyler Clippard
to score both runners. Kotsay entered the game as a career .304/.351/.413 hitter as a pinch hitter and 1 for 4 this season.
Tim Collins, Royals
. The left-hander entered Thursday's game with the
Indians
with bases loaded and no outs, protecting a 4-1 lead. He gave up a sacrifice fly, but got out of the inning and then pitched a scoreless seventh, as the Royals won their second game in a row. It may not sound like much, but consecutive victories are huge when you're coming off of a 12-game losing streak.
3 DOWNHeath Bell, Marlins.
Bell blew his third save of the season and picked up his third loss, as well, as he walked four of the first five batters he faced while trying to protect a 2-1 lead in
New York
, including the tying run. Then with bases loaded and two outs, he gave up the walk-off single to
Kirk Nieuwenhuis
. Bell is 0-3 with a 9.53 ERA and two saves this season, walking seven and striking out five in 5 2/3 innings as a Marlin. Miami was winless in its five-game roadtrip to Washington and New York.
Albert Pujols, Angels.
Pujols finally got a hit -- but got greedy and tried to make his single to center into a double and was thrown out. Pujols snapped his 21 at-bat hitless streak in the sixth inning with a grounder up the middle. He started a new hitless streak in the eighth inning, grounding out for the second out of the inning. The Angels fell to 6-13, their worst start since 2002 when they started 6-14. Take heart Angels fans, that season ended OK.
Sean Marhall, Reds (with some help from umpire Tim Welke).
The Reds closer blew his second save of the season, giving up a three-run homer to
Angel Pagan
in the ninth to deny the Reds of a sweep of
San Francisco
. His 0-2 pitch was a strike to everyone watching, replays, Pitch F/X and just about everywhere but Welke's call. And Welke's call was all that mattered. Give Marshall credit, though, after the game he took full blame for the pitch Pagan did hit out, refusing to blame Welke for missing the third strike. "The ball was borderline. It was close. But the next pitch was the one that mattered," he told reporters (
via MLB.com
).
The last time Welke worked the plate, a blown call
helped the
Rangers
beat the
Tigers
.
AL's best meet.
The Rangers have the best record in baseball at 15-4 while the Rays are 12-7, tied with the
Orioles
atop the AL East standings. Both of the team's pitchers,
James Shields
of the Rays and
Matt Harrison
of the Rangers, are 3-0. Shields has a 2.86 ERA, while Harrison has just a 1.66 ERA and is 7-0 with a 2.24 ERA in his last eight regular-season starts.
8:05 p.m. ETNLCS memories.
The
Brewers
return to St. Louis for the first time since Game 5 of last season's National League Championship Series. Milwaukee's
Yovani Gallardo
has struggled against St. Louis, going 1-8 with a 6.17 ERA in 12 regular-season starts against the
Cardinals
, including an opening day loss earlier this month. The Cardinals also tagged Gallardo for four first-inning runs in Game 3 of the NLCS at Busch Stadium last season.
8:15 p.m. ETNL's best meet.
Two lefties take the mound at Dodger Stadium tonight between the 13-6
Dodgers
and the 14-5 Nationals. While everyone knows Los Angeles'
Clayton Kershaw
is pretty much awesome (1-0, 1.61 ERA), Washington's
Ross Detwiler
is off to an impressive start. The 26-year-old Detwiler is 2-0 with a 0.56 ERA in three starts, striking out 15 in 16 innings. He's allowed just one earned run, but five overall. A week ago, Detweiler gave up just three hits and in six scoreless against the Marlins.
10:10 p.m. ET
Full schedule for Friday's games
• FIP flop?
Does
Zack Greinke
's fascination with FIP (Fielding Independent Pitching) actually hurt him?
An interesting look at that question from Glenn DuPaul of Beyond the Boxscore
with the theory that because hitters know Greinke's going to throw them strikes to try to get strikeouts and lower his FIP, they're swinging more and having more success with balls in play. It's a fascinating hypothesis and an interesting read at the very least.
• Buchholz's changeup in strategy.
The
Red Sox
right-hander has seemingly abandoned his changeup, perhaps his best pitch.
Scott Lauber of the Boston Herlad asks why.
• Not so bad.
On air,
Cubs
braodcaster Bob Brenly has repeatedly said he was a terrible hitter.
FanGraphs.com's Bradley Woodrum shows why Brenly shouldn't be so hard on himself
-- showing Brenly was in the top third of catchers in the history of the game, at least when it comes to offensive numbers.
• Rays revolution.
No team shifts more than the Rays, and no team is more successful. This could be one of the next revolutions in baseball. [
MLB.com
]
• Best nicknames.
ESPN.com's Jerry Crasnick ranks his top nine nicknames
among current players. He has
David Ortiz
No. 1, but I've got to go with Lance Berkman.
• The Curse of Chief Wahoo.
A history of the Indians' use of the Chief Wahoo mascot, as well as its nickname. [
Cleveland Scene
]