Injuries put coal in NBA's Christmas stocking
Three marquee Christmas Day games have been marred by injuries to key players, but there's no data to suggest long-term injuries are on the rise in the NBA. So what's happening? It's worth a closer look.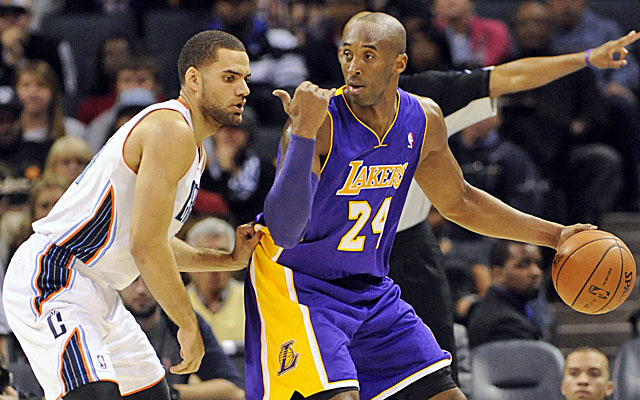 There's no bigger day on the NBA regular-season schedule than Christmas. That's why the 2011 lockout ended just in the St. Nick of time so the league could enjoy its annual day in the spotlight. 
David Stern, regardless of his religious affiliation, figured out a long time ago that families can only spend so many hours opening presents, eating, drinking and arguing on a major holiday. At some point, everyone needs a diversion. Thus, the NBA brings you nonstop basketball -- from noon ET, when the Chicago Bulls and Brooklyn Nets tip off at Barclays Center, until about 1 a.m. in the East, when the Golden State Warriors and Los Angeles Clippers wrap up the nightcap.
By then, all the egg nog will have been drunk and we'll be left to A) wonder why Aunt Bev saw fit to buy us a singing toothbrush this year, and B) contemplate the basketball games we just witnessed. And this year, whether due to a stroke of bad luck or something more sinister, we will have witnessed a watered-down Christmas Day extravaganza. The reason? Injuries.
The Bulls-Nets game lost its luster for many other reasons, such as the fact that the Nets -- supposed challengers to Miami in the East -- have twice as many losses as wins. But the biggest reason you would rather go wait in line to return all the inappropriate gifts you received than watch this fiasco is simple: no Derrick Rose , who for the second year in a row is out with a season-long injury. The Nets have lost Brook Lopez indefinitely with a broken foot, though they may have Andrei Kirilenko on Wednesday for the first time since Nov. 8.
Oklahoma City Thunder - New York Knicks ? Talk about a lump of coal. The Knicks aren't just bad, they've been overwhelmed by injuries, too. Raymond Felton is out again, as is Metta World Peace (who wasn't playing, anyway), Pablo Prigioni and Kenyon Martin . Carmelo Anthony is questionable with a sprained ankle. Amar'e Stoudemire will be questionable for the rest of his career. Tyson Chandler just returned from a 20-game absence due to a fractured leg.
Then comes the showcase game, the 5 p.m. ET tilt between the Miami Heat and Los Angeles Lakers . Ah, nothing says Christmas like Kobe vs. LeBron. Except this year, it will be Xavier Henry vs. LeBron James . Not really the same thing. At all.
And on down the line. The Houston Rockets ( Patrick Beverley ) and Clippers ( J.J. Redick ) have their share of injury woes, but at least the final two Christmas games won't be marred by an absence of stars. Still, this apparent uptick in injuries -- injuries to stars, long-term injuries -- would seem to warrant further investigation.
Actually, sources say there has been some conversation among team executives about bringing the injury dilemma to the attention of the league office to see if there's anything to it -- and if so, discuss solutions. No teams have formally complained to the league as of yet about injury concerns, but sources say that's coming after the New Year.
Here are the facts, as we know them: Although there is no complete data on the subject and more study is required, there is no preliminary indication that injuries resulting in 10 or more games missed are on the rise, league sources say. In fact, at roughly the one-third mark of the regular season -- through games of Dec. 23 -- injuries resulting in 10 or more, 20 or more and 30 or more games missed are all at or below the recorded figures at the same point in the previous four seasons (excluding the lockout-shortened year of 2011-12).
Of course, figures recorded in an arbitrary midseason snapshot are not terribly valuable, as there are a lot of games to be played. Also, there's a certain amount of guesswork involved. For example, a player who is currently expected to miss more than 10 games may miss fewer; a player expected to miss fewer than 20 games may miss more.
The point is, any statistical snapshot at a given point in the season is, by definition, incomplete. But taking all those flaws into account, long-term injuries at this point in the regular season do not appear to be up. If anything, they may be down.
So why does it seem like half the league is injured? Why does it seem like every time you look at Twitter, you read about another star going down? There could be a perception vs. reality thing playing out, or there could be a trend developing that we can't quantify yet.
Either way, if at some point there is data to support the hypothesis that players are getting hurt more often and missing more games than in the recent past, it isn't like it would behoove the NBA to cover that up. The NBA is now a $5 billion business, but it wouldn't be much of a business without the players -- specifically the stars. Didn't we learn that from the NFL's debacle with concussions? Or did we simply learn that a sports league could exploit its athletes for decades and make a huge profit doing it?
In some ways, the perception among team executives -- and perhaps fans -- that the NBA has become a minefield for injuries is similar to what happened when several players tore their ACLs in succession in the spring of 2012. Rose and Iman Shumpert went down with the injury on the same day during the first round of the playoffs, and Baron Davis went down a few days later. The following season, the league lost five players to ACL tears.
ACLs in the NBA were all anyone was talking about, except that the five ACL injuries during the 2012-13 season were about the norm. According to league data, the league average for the previous seven seasons was 4.5 ACL tears -- with no fewer than three and no more than five in a season.
The numbers highlight two things: 1) Sometimes a trend isn't as dramatic as it seems, and 2) The snapshot you take sometimes defines the results. For example, Ricky Rubio tore his ACL a month before Rose did in 2012. So if your snapshot is from March 2012 to March 2013, the NBA had eight torn ACLs in that span. ( Danilo Gallinari tore his in April 2013.) So it depends on when you start and finish your analysis.
The bottom line? Trends aren't always what they seem to be, but there's too much at stake not to take a closer look. Even if the data aren't conclusive, there's no harm in bringing the issue of injury prevention to the floor at the next competition committee meeting. There are plenty of smart people to consult about training methods, preventive rehab, scheduling, practice time, travel, diet -- any and all factors that could contribute to injuries. Get some smart folks in a room and figure it out.
Unless, of course, Xavier Henry vs. LeBron James gets your blood boiling. I would rather go stand in line and return Aunt Bev's singing toothbrush.
Collins has been working as a broadcaster, and previously coached the Bulls from 1986-89

Before accounting for revenue-sharing payouts, 14 of league's 30 teams reportedly lost money...

Howard considered calling it quits after his second season with the Houston Rockets
Bogut, coming off a broken leg he suffered with the Cavs last season, reunites with Luke Walton...

The incident occurred in Phoenix when the twins were both playing for the Suns

Fredette's shoe is with the Chinese brand 361