Kevin Durant, LeBron James headline 2013-14 All-NBA First Team
The NBA has announced the All-NBA First, Second, and Third teams with Kevin Durant leading the way as the top vote-getter.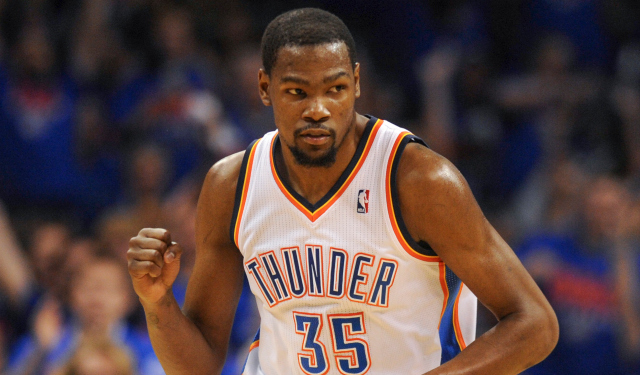 More postseason coverage: Playoff schedule, results | Latest news, notes
With a unanimous outpouring of top votes for Oklahoma City Thunder's Kevin Durant, the 2013-14 MVP headlines the All-NBA First Team for this season. Durant received 125 first place votes, one more than fellow All-NBA First Team member LeBron James of the Miami Heat, to be the top vote-getter when the league announced the winners for the All-NBA teams. Rounding out the first team with Durant and James are Chris Paul of the Los Angeles Clippers, Joakim Noah of the Chicago Bulls and James Harden of the Houston Rockets.
The second team comprised Stephen Curry of the Golden State Warriors and Tony Parker of the San Antonio Spurs as the guards, Kevin Love of the Minnesota Timberwolves and Blake Griffin of Clippers as the forwards, and Dwight Howard of the Rockets as the center. LaMarcus Aldridge of the Portland Trail Blazers, Paul George of the Indiana Pacers, Al Jefferson of the Charlotte Bobcats, Goran Dragic of the Phoenix Suns, and Damian Lillard of the Blazers were given the honor of All-NBA Third Team.
The media voted on the All-NBA teams with five points going for first-team votes, three points for second-team votes, and one point for third-team votes.
All-NBA First Team
Forward: Kevin Durant, Thunder (125 first-team votes, 625 points)
Forward: LeBron James, Heat (124 first-team votes, 623 points)
Center: Joakim Noah, Bulls (101 first-team votes, 551 points)
Guard: James Harden, Rockets (73 first-team votes, 502 points)
Guard: Chris Paul, Clippers (86 first-team votes, 540 points)
All-NBA Second Team
Forward: Blake Griffin, Clippers (5 first-team votes, 350 points)
Forward: Kevin Love, Wolves (2 first-team votes, 237 points)
Center: Dwight Howard, Rockets (9 first-team votes, 226 points)
Guard: Tony Parker, Spurs (14 first-team votes, 210 points)
Guard: Stephen Curry, Warriors (65 first-team votes, 489 points)
All-NBA Third Team
Forward: LaMarcus Aldridge, Blazers (2 first-team votes, 159 points)
Forward: Paul George, Pacers (4 first-team votes, 171 points)
Center: Al Jefferson, Bobcats (4 first-team votes, 191 points)
Guard: Goran Dragic, Suns (1 first-team votes, 115 points)
Guard: Damian Lillard, Blazers (2 first-team votes, 115 points)
Also receiving votes for All-NBA teams:
Carmelo Anthony, New York, 86 (1 First Team vote); John Wall, Washington, 70; Tim Duncan, San Antonio, 63 (1); DeMar DeRozan, Toronto, 56; Anthony Davis, New Orleans, 40 (1); Dirk Nowitzki, Dallas, 37 (1); Russell Westbrook, Oklahoma City, 32 (1); Kyle Lowry, Toronto, 29; DeAndre Jordan, L.A. Clippers, 21; Roy Hibbert, Indiana, 17; Marc Gasol, Memphis, 16 (2); DeMarcus Cousins, Sacramento, 14 (1); Kyrie Irving, Cleveland, 7; Dwyane Wade, Miami, 6; Mike Conley, Memphis, 4; Serge Ibaka, Oklahoma City, 4; Zach Randolph, Memphis, 4; Joe Johnson, Brooklyn, 4; Lance Stephenson, Indiana, 3; Ty Lawson, Denver, 2; Paul Millsap, Atlanta, 2; Chris Bosh, Miami, 1; Andre Drummond, Detroit, 1; Monta Ellis, Dallas, 1; Kawhi Leonard, San Antonio, 1.
A report last week indicated Charlotte is looking to move Walker, along with one of its hefty...

Barea responds by claiming that none of Wall's teammates like him; the Wizards continue to...

Cousins finished with 44 points, 24 rebounds, and 10 assists
Love left Saturday's game, which the Cavs lost 148-124, due to illness

Kidd was fired by the Bucks on Monday afternoon

We've got all the scores, highlights and news from an NBA Monday