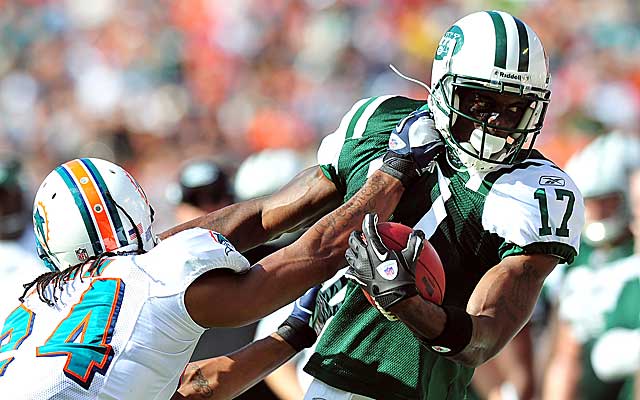 Plaxico Burress may be the shot in the arm the Steelers need. (US Presswire)
Week 12 will end the dream of the playoffs for a number of teams if it hasn't ended already.
The other day I pointed out that the 40 teams with six or more losses over the past three seasons at this point in the season produced one playoff team, the 2009 New York Jets. The 2012 Jets notched their seventh loss on Thanksgiving and are done.
Dallas and Detroit joined the six losses or more teams as well and only a miracle will keep them afloat. Sunday, eight teams are facing unofficial elimination with a loss.
Mark my words. They will play their hearts out just like the Lions did on Thursday, but the reality is just like the desperate teams on Thursday the end is near.
As for the officiating I hope Sunday goes better than Thursday. It was a shame to see Jim Schwartz throw a challenge flag when he shouldn't and the correct ruling was a touchdown when the whole football world knew it wasn't. Another reason the booth official needs to be the guy that gets it right and not leave a stadium bewildered.
MICHIGAN STATE TO THE RESCUE
Many teams are in trouble with injuries and roster depth being challenged all over the league. The Pittsburgh Steelers are no exception and they turned to two Michigan State alumni to help them out.
Plaxico Burress is a former Steeler and was recruited by the team last year before he signed a one-year deal with the Jets. Pittsburgh told me at the time that they offered him a two-year deal feeling he needed at least a year to get back into football shape. Now they get Burress for the second year of that two-year deal after catching eight touchdowns for the Jets last year.
He will be able to help right away, especially in the red zone. Reports out of Pittsburgh are that his workout the other day was impressive.
As for QB Brian Hoyer, also of Michigan State, there is a lot more risk with him on the field any time soon. Hoyer is a solid prospect and the Steelers are lucky to have him, but he is one injury to Charlie Batch away from having to play this week against division rival Cleveland. The Browns sacked Tony Romo seven times last week and hit him another 10 times. I don't think Batch could withstand that kind of punishment at 37 years old.
TIME TO SOLVE THE ROAD WOES
Right now the Seattle Seahawks would be in the playoffs if they started this weekend, but of course the playoffs are seven weeks away. Seattle is 1-4 on the road and traveling on the longest possible trip in the NFL this weekend when they head to Miami. Rookie quarterback Russell Wilson has been brilliant at home, where he has led his team to wins over Dallas, Green Bay, New England, Minnesota and the Jets without throwing an interception.
Wilson has eight interceptions and just four touchdown passes on the road and only generates 12 points a road game. The Seahawks are on the road again next week in Chicago, so a win is all important this weekend in Miami. The Dolphins may have good run-defense numbers for the season, but over the last five weeks they are giving up 132 yards a game on the ground and I expect Marshawn Lynch to lead the team to this win or we will be talking about the Bucs, Vikings or even the Saints moving into a playoff spot.
BACKUP QUARTERBACKS
For weeks I have been discussing the concussion protocol as the biggest reason for teams to have the best possible backup quarterbacks money can buy and they should never go into games with just two quarterbacks on the roster. Just ask the Steelers, who are already down to their third.
This week backup quarterbacks are on the field all over the NFL. By the end of the weekend there could be seven or eight backups trying to win games. Last week Chad Henne (Jacksonville), Byron Leftwich (Pittsburgh), Nick Foles (Philadelphia), Jason Campbell (Chicago) all lost and only 49er backup Colin Kaepernick won his game.
What some teams wouldn't do for Kyle Orton, Matt Hasselbeck or even Matt Flynn coming off their bench. Week 12 we are going to see Brady Quinn (Kansas City), Foles (Philadelphia), Ryan Lindley (Arizona), Charlie Batch (Pittsburgh), Henne (Jacksonville) and maybe Jason Campbell (Chicago) and I'm not sure many of them will lead their team to a win.    
RAIDERS GOING EAST AGAIN
I have to say whether you are a Raiders fan or not does it seem fair they are once again heading to the East Coast for a 1 p.m. start? The Black and Silver are not done with this trip because they come back in December to play the Carolina Panthers.
Oakland has lost all three games on the East Coast scoring just 53 points (18 per game) and is 2-14 in their last 16 trips. Of course this game has special meaning as Carson Palmer returns to Cincinnati for the first time since he was traded to the Raiders. Palmer is on pace to break the all-time Raider passing yardage for a season, but the team's 3-7 record and  a defense that has given up 135 points in the last three games overshadows everything else.
Palmer and company have a big mountain to climb to spoil the Bengals' playoff dreams this week, but keep in mind Cincinnati is 1-3 at home in their last four home games.
CAN LUCK ANSWER?
Two weeks ago it was looking like Andrew Luck was a lock for rookie of the year as he leads his team to a 6-4 record and a playoff contender. In the last two games Robert Griffin III responded with eight touchdown passes, two wins and the Redskins are back in contention.
It is an exciting race and the dark horse is Russell Wilson as he keeps the Seahawks in the playoff race.
Luck is at home Sunday against the Buffalo Bills and he needs a strong performance after the Thanksgiving performance of RG3. Buffalo's defensive front played well last week, but I think Luck will play well and maybe even match the four touchdowns the Redskins QB threw this week.
Keep your eye on south Florida as Wilson tries to add to his 15 touchdown passes. What a great year for rookie quarterbacks!