NHL Daily Fix: Sunday Jan. 27: Predators' Hornqvist out indefinitely
The NHL Daily Fix is your morning wakeup call with news and notes for the day's hockey action. Here's what's going on Sunday, including the Preds losing Patric Hornqvist indefinitely.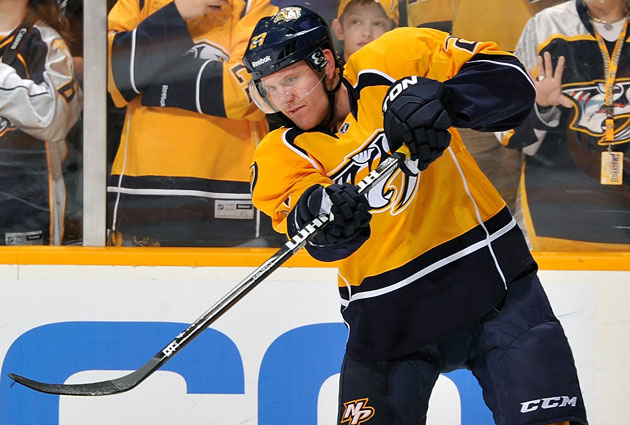 Hornqvist had 27 goals, 16 assists last season. (Getty Images)
More NHL: Scores | Standings | Odds | Fight-O-Meter | League Leaders | Rumors

The NHL Daily Fix is your morning wakeup call with news and notes for the day's hockey action.
•  The Nashville Predators  went down to the Anaheim Ducks on Saturday night (via another shootout) and lost forward Patric Hornqvist in the process. Barry Trotz didn't say how long he'll be out, just indefinitely with a lower-body injury. He's one of Nashville's top forwards so the team will hope it's not bad. (On The Forecheck)
•  Speaking of injuries to productive forwards, the Columbus Blue Jackets placed young Cam Atkinson on the injured reserve because of a groin issue. Fortunately it doesn't look like he'll be out long; he's eligible to return Jan. 30. (Aaron Portzline)
•  The Buffalo Sabres were just swept in a back-to-back with the Carolina Hurricanes and that has coach Lindy Ruff already thinking changes. With only one of four lines producing offense, he's taking a shot at trying to spread the wealth around. (Buffalo News)
•  Instead of a 10-game tryout, rookies this season are getting just a five-game look before their entry-level contracts start rolling. With a plethora of rookies playing out there, here's a look at some of the players teams will have to make decisions on about where they will play the rest of the season. (NHL.com)
•  The Minnesota Wild have responded to winning their first two games by losing their next two. Still, coach Mike Yeo isn't discouraged as his team is controlling the puck a lot more than it was when winning in the early going last season. Meanwhile, Ryan Suter is off to a slow start but he's not offering up any excuses. (Minneapolis Star-Tribune)
Buffalo Sabres at Washington Capitals (3 ET)
Pittsburgh Penguins at Ottawa Senators (5 ET)
Philadelphia Flyers at Tampa Bay Lightning (6 ET)
New Jersey Devils at Montreal Canadiens (6 ET)
Detroit Red Wings at Chicago Blackhawks (7 ET)
Minnesota Wild at St. Louis Blues (8 ET)
New York Islanders at Winnipeg Jets (8 ET)
Vancouver Canucks at San Jose Sharks (8 ET)
For more hockey news, rumors and analysis, follow @EyeOnHockey and @StubitsCBS on Twitter, subscribe to our YouTube account and like us on Facebook.
Players are set to give personalized messages for Adidas' former hockey equipment brand

The 40-year-old center is returning to the Wild after a successful run in Pittsburgh

Edmonton locks up its 21-year-old RFA a month after McDavid's historic extension
Even with a new coach and added veteran help, the Canucks have a long road ahead

Unlike expansion teams before them, the Knights have enough talent to entertain right away

Brian Lawton says he 'would not be surprised' if Boston deals its young star to end contract...