August 30 Prospect Watch: Arizona Fall League rosters announced
Rosters for the 2014 Arizona Fall League season were announced this week. Let's break them down.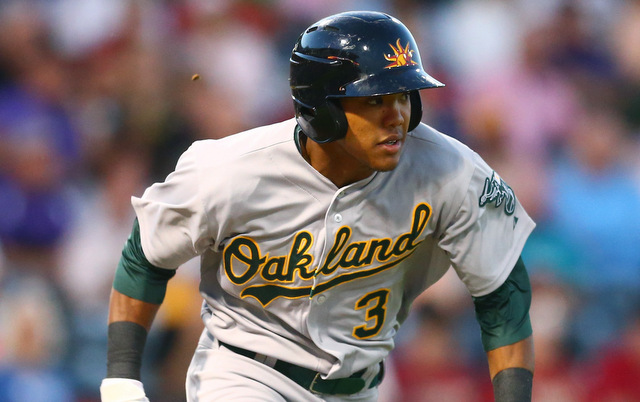 The 2014 Arizona Fall League rosters were announced earlier this week. The six-team circuit features a 31-game schedule from early October through mid November, and the league always features some of the top prospects in the game. Clubs use the AFL as a way to get their top prospects extra playing time, to let players make up time lost to injury, or to simply evaluate players who are on the roster bubble going into the offseason.
The player eligibility rules for the AFL are fairly straight forward. Each AFL club receives players from five MLB teams, usually 6-8 players per team. All Double-A and Triple-A players are eligible, plus each team can send one player who spent the year below Double-A. Players with one full year of MLB service time are not eligible for the league. Sometimes these eligibility rules are bent and exceptions are made, but those are the general guidelines.
The AFL is a fantastic spot to catch many of baseball's top young players all in one place. The league is traditionally very hitter friendly due not only to the stadiums, but also because not many top pitching prospects are assigned to the league. They're usually bumping up against their innings limit for the season by time October rolls around. Here's a breakdown of the top prospects assigned to each of the six AFL clubs this year. Keep in mind the rosters will change between now and the start of the season as players get hurt or simply drop out.
GLENDALE DESERT DOGS (roster)
Top Prospect: Dodgers SS Corey Seager
Other Notables: White Sox SS Tim Anderson, Tigers 2B Devon Travis, Tigers OF Steven Moya
Seager is simply one of the best prospects in all of baseball, and not only because he's hit .344/.395/.591 with 49 doubles and 19 home runs in 114 games between High Class-A and Double-A. He projects to be an impact middle of the order hitter who, at worst, will have to slide over to third base if he can't stick at short. Anderson and Travis are major tool sheds and Moya has big power, swatting 34 home runs in 131 Double-A games.
MESA SOLAR SOX (roster)
Top Prospect: Cubs SS Addison Russell
Other Notables: Cubs RHP C.J. Edwards, Blue Jays OF Dalton Pompey, Athletics 1B Matt Olson
Mesa was all but guaranteed to have a strong roster since they received players from the Cubs. Russell, who went to Chicago in the Jeff Samardzija trade, is one of the five or six best prospects in the game and may be a better long-term shortstop than either Starlin Castro or Javier Baez when it's all said and done. He's hitting .296/.337/.553 with 12 homers in 46 Double-A games since the trade. Edwards will be making up for the time he missed while dealing with a shoulder injury this year and Pompey is one of the summer's top breakout prospects. Olson is a classic Athletics-type masher, hitting 36 homers with 112 walks and a .942 OPS in 134 High Class-A games this year.
PEORIA JAVELINAS (roster)
Top Prospect: Royals SS Raul Mondesi Jr.
Other Notables: Royals 3B Hunter Dozier, Royals OF Bubba Starling
The Javelinas roster is headlined by a trio of Kansas City prospects. Mondesi is the youngest player currently on an AFL roster, and although his season .216/.262/.363 batting line (106 games in High-A) is unimpressive, his all-around tool set still has him considered one of the best prospects in the game. He'll look to finish the year strong in the desert. Dozier was a somewhat surprising first round pick that was part of the draft pool-saving move to help land LHP Sean Manaea. Starling has an elite athlete with high-end tools who has yet to put together any kind of dominant performance.
SALT RIVER RAFTERS (roster)
Top Prospect: Twins OF Byron Buxton
Other Notables: Astros RHP Mark Appel, Diamondbacks RHP Archie Bradley
This was a brutal season for Buxton, who came into the year as the consensus top prospect in baseball. He was limited to 34 games, first by a nagging wrist problem and then by a concussion suffered in an outfield collision. His stock hasn't necessarily dropped -- his impressive tools are still there -- but he missed quite a bit of time at age 20 and will look to make some of it up in the desert. Bradley is arguably the top pitching prospect in the game and will be making up some innings after dealing with an elbow problem this year. Appel has had a brutal season (6.86 ERA) after being the first overall pick in the 2013 draft, but he has been better since a promotion to Double-A (3.15 ERA in six starts) and will look to build on that success with the Rafters. This club is filled with players coming off injuries or poor performance looking to rebuild their stock.
SCOTTSDALE SCORPIONS (roster)
Top Prospect: Phillies SS J.P. Crawford
Other Notables: Pirates RHP Tyler Glasnow, Pirates RHP Nick Kingham, Pirates OF Josh Bell, Yankees OF Aaron Judge, Mets OF Brandon Nimmo
The Rafters roster is loaded, thanks mostly to the Pirates. Glasnow and Kingham are two of the top 25 or so pitching prospects in the game and Bell is an offensive dynamo who hit .325/.375/.459 with 22 doubles and nine home runs in 108 games split between High Class-A and Double-A. He'll play first base exclusively in the AFL. The best prospect on the team is Crawford, however. He's a standout middle of the diamond player who hit .286/.377/.410 with 23 doubles and 11 home runs in 120 games between Low and High Class-A as a 19-year-old. Judge is a brute masher, Nimmo more of a high on-base player.
SURPRISE SAGUAROS (roster)
Top Prospect: Reds OF Jesse Winker
Other Notables: Mariners IF D.J. Peterson, Padres OF Hunter Renfroe, Padres SS Trea Turner
There is no clear top prospect for the Scorpions like there is with other teams. Winker hit .287/.399/.548 with 20 doubles and 15 home runs in only 74 games between High-A and Double-A before a hand-injury sidelined him in July. He'll be making up for lost at-bats in the AFL. Peterson hit 31 doubles and 28 home runs in 119 games between High-A and Double-A this year while Renfroe is a polished college bat. Turner was one of the most polarizing draft prospects this year, though he's answered his critics by hitting .326/.406/.453 with 22 steals in 65 pro games since being the 13th overall pick.
The two teams are going about things in very different ways

The Marlins are indeed in teardown mode under new ownership

The Marlins still have more attractive pieces
The A's need outfield help, and the Cardinals have a glut

Minnesota has designs on the best starting pitcher available on the free agent market

The Cardinals have long coveted the Miami outfielder