MLB trading deadline: Impact players, where they may go (or have gone)
Jeff Samardzija's deal didn't even make it to the deadline. Dealt from the Cubs to the A's, he's symbolic of the MLB trading deadline in 2014 -- lots of strong arms and not many bats among our top 60 trade-available players.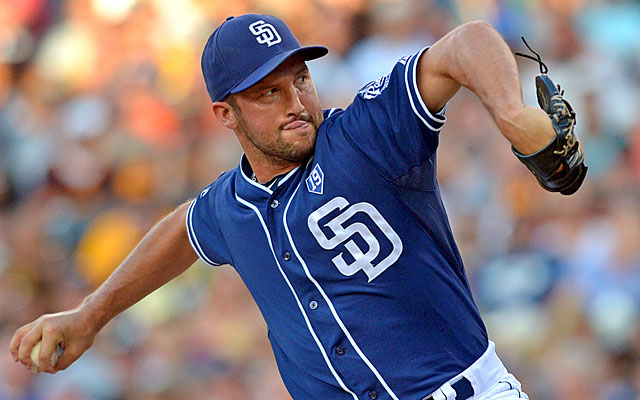 More MLB: Trade Market Stock Watch | A's land Samardzija, Hammel | Latest news
This season's list of guys on the non-waiver deadline trading block is noticeably heavy on pitchers, light on hitters. And the trade market got going quick (so quick, in fact, we've already had a blockbuster and two smaller trades before this annual list made it to the Internet). Despite only a few committed sellers in this year of parity, it hasn't hurt the market. The Cubs and Diamondbacks, two teams realistic about where they stand, acted decisively and appropriately.
Those two teams have even more to sell (especially the D-Backs), and at least the Rangers and Padres appear to be moving into sell mode, too. The Astros surely will be a seller, too, but with a roster filled with mostly cost-efficient, young players, they don't have much to move.
The Mets, Twins and Rockies -- at the least -- could join the sellers. And the Rays might, too, though they aren't a team that acts hastily and could wait longer.
The Phillies have the potential to hold an interesting sale if they choose to shop some of their longtime stars. At the very least, they're likely to offer closer Jonathan Papelbon and much of their mostly unproductive outfield. The Red Sox could consider moving a minor piece or two. But don't expect major moves by Boston, and that includes Jon Lester, who the Red Sox want to keep long-term.
Here are 60 players who could go in trade, including four who already have. (Order is based on impact, interest and the player's chances to be traded; in other words, the players who will create the most headlines are higher on the list).
1. David Price, SP, Rays: After early velocity questions, he's pitching as well as anyone in the AL. The Rays aren't in it, the value is high and the Rays presumably can't afford his expected $20M price tag next season, so it makes sense he goes. But it's less than a guarantee he will since the Rays have a history of big winter trades (James Shields, Matt Garza) and they're playing better. They probably would like to deal with prospect-rich teams like the Dodgers, Red Sox and Rangers, but Boston and Texas are having rough years, and the Dodgers already have the best rotation in baseball (though they should not be ruled out). The Rays haven't wanted to trade in their division. The Cardinals and both Bay Area teams can't be ruled out.
2. Jeff Samardzija, SP, Athletics (traded from Cubs): The A's are a now team and enhanced their deep list of starters by adding a marquee man who needed to leave his original team. Oakland probably needed inning insurance, considering their rotation was being fronted by kids Sonny Gray and Jesse Chavez, plus Scott Kazmir, who appeared to be retired a couple of years ago.
3. Jason Hammel, SP, A's (traded from Cubs): He was always the pitcher most likely to go, and he gives the A's experience and more depth.
4. Huston Street, RP, Padres: New club president Mike Dee complicated matters by saying aloud he expected Street to stay in a Padres uniform, which of course makes no sense since he's a closer with a good contract and real value on a team that's out of it. The Angels, Tigers, Mariners, Orioles and Blue Jays are among contenders looking for bullpen help.
5. Jonathan Papelbon, RP, Phillies: He's having a nice year despite reduced velocity, and the Phillies really need to trade him because he doesn't appear to be a clubhouse fit. They could use the $12 million a year in relief, too. With that salary, he could be an August trade, but the sooner he moves, the better. The Phillies also happen to have a closer in waiting, Ken Giles (no relation to longtime Phils owner Bill Giles), who can throw 99 mph and may carry the potential to be their Craig Kimbrel, or at least a reasonable facsimile.
6. John Danks, SP, White Sox: Chicago is looking for younger players as it continues its logical rebuilding path. He should be movable because he's pitching well enough in the second year after Tommy John surgery. The Yanks would work for Danks.
7. Cliff Lee, SP, Phillies: The contract is heavily backloaded, so he ain't cheap. But with only a couple years left, he may be worth the risk as a rare true No. 1 pitcher -- provided he's healthy. The Yankees have coveted him for years.
8. Jorge De La Rosa, SP, Rockies: He didn't help matters with a 7.11 ERA in June, but he has generally been a very good starter for Colorado and should be of interest. With bigger names out there, he may not bring the haul they would like, which could result in De La Rosa signing back with the Rockies.
9. Cole Hamels, SP, Phillies: One GM thought the Phillies might listen on Hamels, if only because he would bring the best return of anyone on the roster. He has performed brilliantly but looks a bit frustrated at times with the lack of support. He has a limited no-trade clause.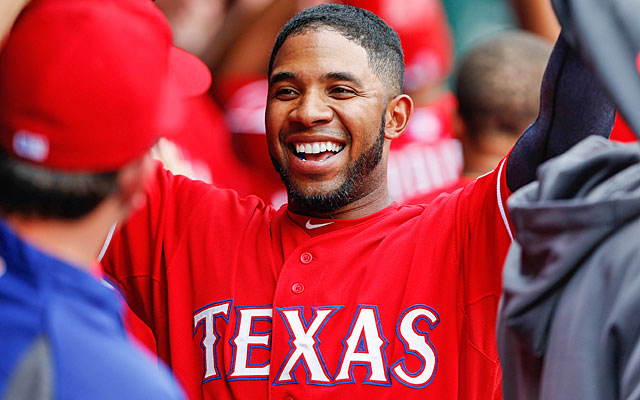 10. Elvis Andrus, SS, Rangers: Texas will listen on most and may be willing to trade just about anyone during its star-crossed season. Some may not love his $15 million salary, but shortstop isn't easy to fill. Texas has potential replacements with Luis Sardinas and Jurickson Profar. Potential issue: Hard to think of contenders in need at shortstop.
11. Joaquin Benoit, RP, Padres: He has performed superbly in San Diego, nicely setting up the Padres for a decent deal. The Angels, Mariners, Orioles, Tigers, Yankees, Blue Jays and Marlins need relief.
12. Alex Rios, OF, Rangers: At different times during his seven-year, $70 million contract originally signed with the Blue Jays, Rios looked unmovable (including even when then-ChiSox GM Kenny Williams claimed him and did take it). But now, with a 2015 club option at $12 million, he should be coveted, especially in a weak hitting market. Texas could keep him and pick up that option, but his sudden value may dictate a trade.
13. Bartolo Colon, SP, Mets: He has been a very good signing for the Mets, consistently putting up professional efforts. But he'll be 42 next year, when Dillon Gee, Noah Syndergaard and most significantly Matt Harvey should add rotation depth.
14. Josh Willingham, OF/DH, Twins: A right-handed power bat, even one that's currently cool, should have value in a market oddly weak on bats. The Mariners and possibly Red Sox, if they are not out of it, could make sense.
15. Michael Cuddyer, OF/1B, Rockies: He would be huge as a trade piece considering his terrific hitting and versatility, but his return date from a shoulder injury is unknown, and word is upper management in Colorado loves and wants to keep him.
16. Jon Lester, SP, Red Sox: While he won't re-sign in Boston before season's end (he told the Red Sox he wants to table talks for now), Boston aims to keep him long-term, and there's little sense to throw another monkey wrench into talks. As things stand, they can at least extend him the qualifying offer, which aids their cause a bit.
17. Marlon Byrd, OF, Phillies: Word was the Phillies were open to talking about any of their outfielders, and Byrd is having the best year of the bunch. He would fit Boston's current need, but of course he was awful there the first time.
18. Yu Darvish, SP, Rangers: While the Rangers would talk about nearly anyone, Darvish and 3B Adrian Beltre are said to be on "another level," and understandably so. And Darvish is probably even on a level higher than Beltre. One of the best pitchers in baseball. A 500-1 shot he's traded.
19. Alexei Ramirez, SS, White Sox: The White Sox are said to have put a high price on him last year, high enough he didn't go anywhere. They like him and their whole Cuban connection. Unlikely to go.
20. Brandon McCarthy SP, Yankees (traded from Diamondbacks): A sabermetric favorite, he never quite fit in Arizona. Better than his 3-10 record (a non-saber stat if there ever was one), McCarthy's good groundball rate may give the Yankees hope for a turnaround.
21. Carlos Quentin, OF/DH, Padres: He's willing to waive his full no-trade for the right AL team. Smart enough to realize his future is as a DH. Needs to hit more to draw interest, though.
22. Jason Castro, C, Astros: As we know from Houston's leaked notes, there have been talks about Castro. The value may be down a bit (.669 OPS is well below his norm) but there could be interest.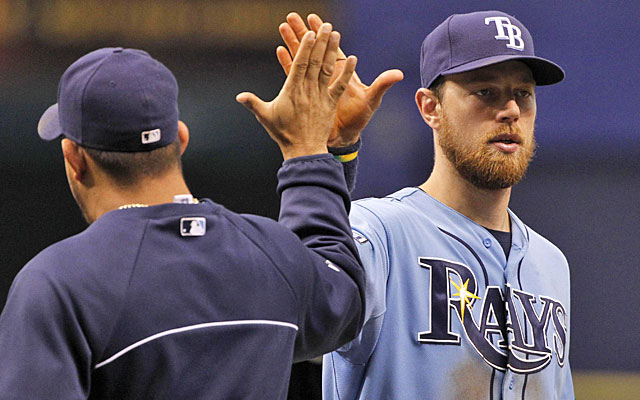 23. Ben Zobrist, INF/OF, Rays: With a year to go on his deal, hard to see the Rays moving him. Hasn't hit in the clutch but he's a very valuable piece thanks to his versatility, as Tampa astutely realized early. If they did entertain offers, he would fit any of 20 teams.
24. Ian Kennedy, SP, Padres: He could be a decent mid-rotation pickup for someone after a bit of a revival in San Diego.
25. Gerardo Parra, OF, Diamondbacks: Beloved by the saber crowd for his great defensive metrics (and he is a very good outfielder).
26. Joakim Soria, RP, Rangers: He's as good as ever after a return from a second Tommy John surgery. Who would have thought he would be the lone Ranger (yes, that's an exaggeration) left standing this injury-filled season? Less likely to go than some other Rangers relievers, as he has a year to go on this contact.
27. Chase Utley, 2B, Phillies: He doesn't want to go and the Phillies don't want to trade him. Would help the Jays and maybe the Orioles. Big, big long shot.
28. Wade Miley, SP, Diamondbacks: His name will come up, but Arizona would have to put a steep price on a young, cost-efficient solid starter. Likely to stay.
29. Martin Prado, INF/OF, Diamondbacks: Arizona has a "middle-infield glut," in the words of a rival GM, but it is said to be less than eager to move Prado, too. Could help many, including Yankees.
30. Daniel Murphy, 2B, Mets: Toronto seems unconvinced he has made a turnaround at second base, though others see progress. Good hitter but needs a compass on the basepaths. Could still help the Yankees.
31. Chad Qualls, RP, Astros: Solid back-end bullpen piece has another year to go at $3M per.
32. Addison Reed, RP, Diamondbacks: He has done OK closing in Arizona but recent struggles may limit value.
33. Adam Dunn, DH, White Sox: Big power and better production this season, but still seen as overpaid. Maybe after July, as he could clear waivers.
34. Chase Headley, 3B, Padres: He needs to show his back is healthy and he can be productive again. The Blue Jays have checked in, and the Padres will try the Yankees, but a deal may have to wait for his production to catch up to his track record/rep. With a qualifying offer all but out ("No way they can give him the qualifying offer," one rival GM opines), San Diego needs to deal him. Maybe Jedd Gyorko will hit better if he's back at third base, his natural position.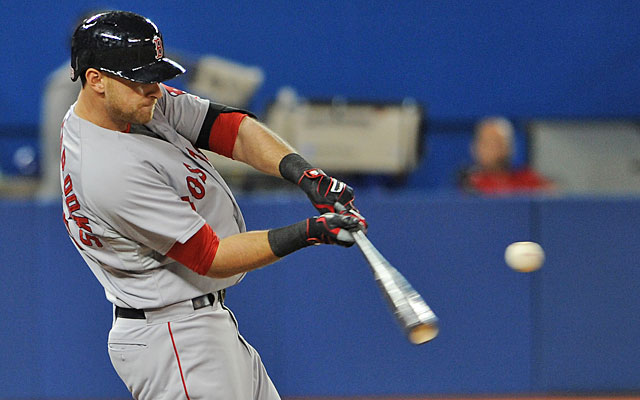 35. Will Middlebrooks, 3B, Red Sox: He's being scouted by teams viewing him as a change-of-scenery type guy, and several have asked about him. But the Red Sox would be hard-pressed to give up rare big-time righty power. If anything, they may want to hold their chips for something bigger later (Giancarlo Stanton?).
36. Ross Detwiler, SP, Nationals: A starter for the United States in the World Baseball Classic, he has been squeezed out of a rotation job in Washington, but could start for most.
37. Nate Schierholtz, OF, Cubs: If he were playing like he did last year, he would be coveted.
38. Bronson Arroyo, SP, Diamondbacks: He was pitching well when he suffered perhaps his first-ever injury. Battle-tested pitcher could help someone, if healthy.
39. Kevin Correia, SP, Twins: He's available, though in a market thick with starters, he won't necessarily be easy to move.
40. Jonathon Niese, SP, Mets: GM Sandy Alderson said a few days back they'd be "hard-pressed" to trade Niese, their best active pitcher and their one lefty -- at least until Steven Matz is ready in a couple years. Niese also just went on the 15-day DL, making it even more unlikely.
41. Scott Feldman, SP, Astros: He just got there, and with his $30 million, three-year deal, it seems less than likely he's going anywhere.
42. Jimmy Rollins, SS, Phillies: He doesn't seem enthused about a trade (though he has said he might consider one), and his standing as the all-time Phillies hit leader seems to register in Philly. Top prospect J.P. Crawford might be ready in two years, which may be Rollins' more probable exit time. Beyond all that, it would probably take an injury for there to be real interest in his $11M salary.
43. Gordon Beckham, 2B, White Sox: He has failed to live up to earlier promise (the White Sox held him out of potential big trades at one point) so it should be time to move on. He's having a solid season with an OPS+ of 102 that's second only to his rookie season (106), but still short of stardom. Fits the Yanks.
44. Jake Peavy, SP, Red Sox: A big deadline pickup last season, he has lost a career-high seven straight. Boston could go a number of ways.
45. Junior Lake, OF, Cubs: Obvious change-of-scenery candidate. The Cubs have superb positional prospects coming, and his year has been a disappointment, especially to folks who value walks. Edwin Jackson is another Cub who may need a change, but would require absorbing a high contract in the deal.
46. Felix Doubront, P, Red Sox: He has been demoted to the bullpen and may not fit as a starter in Boston, which has high standards. Boston has received calls.
47. Aaron Hill, 2B, Diamondbacks: Unfortunately for Arizona, he has dropped off from last season. But he should go, and likely will.
48. Dayan Viciedo, OF, White Sox: Great power potential but not consistent. Another change-of-scenery guy. Gordon Edes of ESPNBoston.com mentioned the Mariners and Red Sox. Alejandro De Aza is a White Sox outfielder with ability to flash power and speed but probably isn't seen as a starter at this point.
49. Tony Sipp, RP, Astros: Useful lefty having a nice season.
50. Oliver Perez, RP, Diamondbacks: He has reinvented himself as a bullpen piece, but is not cheap ($4.25M deal expires after next year).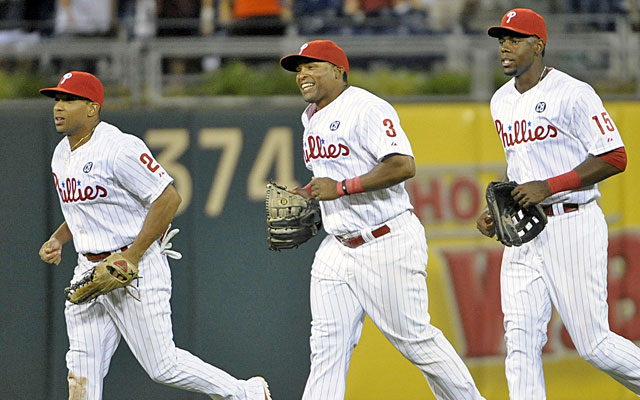 51. John Mayberry Jr., OF, Phillies: Like we said, Philly will talk about its outfielders. Mayberry seemingly has been on the block forever.
52. Domonic Brown, OF, Phillies: Mayberry's teammate possibly could go too, as a change-of-scenery candidate.
53. Ben Revere, OF, Phillies: He might interest someone looking for a leadoff hitter and speed (possibly the Giants if it's determined Angel Pagan won't return from a back injury soon).
54. Desmond Jennings, OF, Rays: Yet another change-of-scenery candidate.
55. Jason Frasor, RP, Rangers: Another excellent bullpen piece, and one of the rare healthy Rangers. Same can be said for lefty Neal Cotts, who gets credit for career resurrection.
56. LaTroy Hawkins, RP, Rockies: Great clubhouse presence continues to be effective into his 40s. Another veteran Rockies righty, Matt Belisle, is a control specialist.
57. Brad Ziegler, RP, Diamondbacks: Good personality (and Twitter account) is a small bonus for this veteran reliever.
58. Chris Denorfia, OF, Padres: Folks like him beyond his stats. Solid fourth or fifth outfielder for a first-division club. Remember, the A's tried to acquire him in Moneyball.
58. James Russell, RP, Cubs: Veteran lefty could be coveted. Wesley Wright is another Cubs lefty.
59. Dale Thayer, RP, Padres: Another Padres reliever having a nice year. At least third on their relief trade totem pole (unless they really refuse to trade Street).
60. Joe Thatcher, RP, Angels (traded from D-Backs): Angels badly needed this veteran, who had been available since spring -- before he put together a nice first half.
The Nats will host the All-Star Game in 2018

The Orioles are looking to trade Machado heading into his walk year

The Cardinals have been linked for a while to the Baltimore star
Gallardo spent the first eight years of his career in Milwaukee

MLB revenues are at a record high right now, but teams aren't spending it on players

Chicago added Tyler Chatwood earlier this offseason but might not be done adding to the ro...