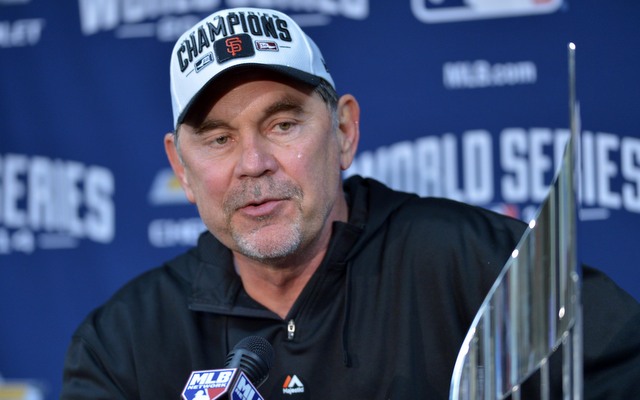 Earlier this week the four-person 2015 Hall of Fame class was announced, with Craig Biggio, Randy Johnson, Pedro Martinez and John Smoltz all being elected to Cooperstown. It was the first time four players were elected in one year since 1955.
Over the last few days my colleague Matt Snyder looked at active players on their way to the Hall of Fame, including those who are already locks to get in and those on the Hall of Fame track, but with work left to do. There are a few players in the league already destined for Cooperstown. But what about managers?
There are currently 23 managers in the Hall of Fame after three -- Bobby Cox, Tony La Russa and Joe Torre -- were elected unanimously by the Expansion Era committee last year. Twelve of the 23 have been elected since 1990, so there's been something of a rush of managers lately. That said, it's clearly a very exclusive club.
One of the current 30 MLB managers is already in the Hall of Fame: Phillies skipper Ryne Sandberg was inducted as a player in 2005. Among the other 29 managers, I see one no-doubt future Hall of Famer, one on the cusp, and two others well on their way to Cooperstown. Some others are currently building a nice Hall of Fame foundation.
Let's look at the potential Hall of Famers currently calling shots around MLB.
The Shoo-In
Bruce Bochy, Giants: Evaluating managers is a very subjective thing, but Bochy is already 18th on the all-time managerial wins list with 1,618 -- more than 11 Hall of Famers, including Tommy Lasorda (1,602) and Earl Weaver (1,480) -- with three World Series rings (2010, 2012, 2014) to his credit. The 1996 NL Manager of the Year is the man in charge of San Francisco's modern age dynasty, and, at age 59, Bochy has plenty of time left to add to that career win (and ring!) total. That said, he'd be elected into Cooperstown if he retired today. Bochy's a no-doubter.
A Ring And He's In
Buck Showalter, Orioles: A three-time AL Manager of the Year (1994, 2004, 2014), Showalter has a well-earned reputation for turning franchises around, which he did with the Yankees, Diamondbacks, Rangers and O's. He's won 1,259 games in his career with an impressive .520 winning percentage considering he's taken over bad teams at each stop, though he has yet to win a World Series. That's holding Showalter back more than anything. In fact, it wasn't until last year's ALDS that his team even won a postseason round (not counting the 2012 AL wild-card game). If Showalter wins a World Series at some point, I think he's a lock for Cooperstown. Hard to see a ring-less manager getting into the Hall of Fame though.
Strong Cases
Terry Francona, Indians: Francona, 55, already has 1,206 career wins and one AL Manager of the Year award (2013), though his Hall of Fame case will be built around being the manager to end the Curse of the Bambino. Francona led the Red Sox to the 2004 World Series title -- their first in 86 years -- during his first year behind the bench in Boston. That is one heck of a Hall of Fame case building block. Francona also guided the Red Sox to the 2007 World Series title. His teams have finished no worse than eight games over .500 during his last 10 years as manager and he's got plenty of time to bulk up his win total.
Mike Scioscia, Angels: Scioscia, a two-time AL Manager of the Year (2002, 2009) is an icon in Anaheim and is arguably the most recognizable person in franchise history. (Mike Trout figures to change that when it's all said and done.) The 56-year-old has one World Series title (2002) and a career .548 winning percentage (1,331-1,099), tied for the 33rd best in history. The Angels have finished below-.500 only three times in Scioscia's 15 years behind the bench while winning six division titles. Another ring figures to push him into no-doubt Hall of Famer territory.
Building Cases
Joe Girardi, Yankees: Girardi leads all active managers with a .560 winning percentage (min. 500 games) plus he already has 726 wins, one World Series title (2009) and one NL Manager of the Year award (2006) after only eight years behind the bench. Girardi just turned 50 and has lots of time left to pad his win total.
Clint Hurdle, Pirates: Hurdle led the Rockies to the 2007 NL pennant and has also been behind the bench for the Pirates' recent revival. He was also named the 2013 NL Manager of the Year. Hurdle's career record is still below-.500 (867-940) because some of those Colorado clubs were really bad, however.
Joe Maddon, Cubs: Leading the (Devil) Rays out of the gutter and into a prolonged stretch of contention is the foundation of Maddon's Hall of Fame case. If he now leads the Cubs to their first World Series title in over a century, forget it. He'll be a lock for Cooperstown. Maddon's won 781 games in his career and twice been named the AL Manager of the Year (2008, 2011).
Mike Matheny, Cardinals: Matheny has a higher career managerial winning percentage than Girardi (.566), but he's only been behind the bench for three years and 486 games. During those three years, he's won two division titles and the 2013 NL pennant. Matheny still has a lot of work to do before being Cooperstown worthy, but his managerial career is off to a very nice start.
Bob Melvin, Athletics: Like several others, Melvin is missing the World Series ring necessary to enhance his case, but his teams have won 818 games in his 11 years and Melvin is one of only six managers to be named Manager of the Year in both leagues (NL in 2007, AL in 2012), joining Cox, La Russa, Jim Leyland, Lou Piniella and Davey Johnson. Melvin has also led three teams (Mariners, D-Backs, A's) to 90+ win seasons. He still has work to do, but Melvin's case is sneaky good.
Although he is no longer managing, ex-Pirates, Marlins, Rockies and Tigers manager Jim Leyland deserves a mention. He retired last year with 1,769 wins (15th all-time), three Manager of the Year awards (1990, 1992, 2006) and one World Series title (1997). Leyland has a very strong case for Cooperstown.