For the Nets and Knicks, what's the plan?
The Nets and Knicks have a lot in common so far this season, namely being their horrendous records and the stupid amount of money they've spent to be horrible. But there's another common theme between them: Neither appear to have a plan B.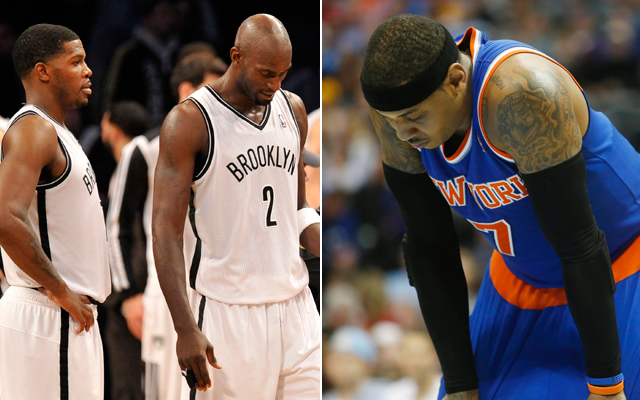 The Nets and Knicks have a lot in common so far this season, namely being their horrendous records and the stupid amount of money they've spent to be horrible. 
But there's another common theme between them: Neither appear to have a plan.
What I mean is this: Heading in to their Thursday matchup, the Nets are 5-13, the Knicks are 3-13. Now look at their rosters. The Knicks are $30 million over the cap, the Nets are $44 million over. And neither team has much discernable youth to develop, and both have given away their draft picks for almost the next decade. 
Outside of crossing your fingers and hoping to magically play better, how do you fix it?
In today's NBA, there are really three building strategies: 1) the tank and asset model; 2) the cap space model or 3) the big spender model. The Nets and Knicks are trying to claim model No. 3, but ask yourself: Is it working? And has it ever worked?
Look at the Isiah Thomas years. The Knicks had the biggest payroll in the league, and one of the worst records. Throwing money at a burning building doesn't put the fire out. Try to name a team that has actually succeeded just by spending over the last 20 seasons.
The champions that have been crowned have mostly been grown organically, with pieces being added to existing developed rosters. There are two exceptions: The Heat and the Celtics.
But LeBron James is an exception to everything and they still had Dwyane Wade in place. They just added two really good free agents, Chris Bosh being the other. The Celtics rebuild in 2007 was only possible because of steady acquisition of young talent and draft assets. They wouldn't have been able to bring in Kevin Garnett and Ray Allen unless they had stockpiled a few valuable things other teams want. 
The Nets have Brook Lopez (who is 25) and Deron Williams (who is 29), so they aren't all geezers. But other than that, their youth is Mason Plumlee and Tornike Shengelia. Those two players are the only ones on the roster under the age of 25. The Knicks have two young players -- Iman Shumpert (23) and Tim Hardaway Jr. (21), unless you count Chris Smith, but come on. 
And here are their draft pick situations: The Nets don't have a first rounder in 2014, 2016, or 2018 (all unprotected), and they can have their first rounder swapped in 2015 and 2017 for a lower pick. The Knicks don't have one in 2014 or 2016, and their 2015 and 2017 one will surely be in grave danger on draft night.
When the Knicks acquired Carmelo Anthony, swapping youth and assets, the plan was clear -- they were trying to build around a superstar. When the Nets spent big this summer giving away virtually every draft pick they have for the next 50 years, the plan was clear -- try and go for it this season with a highly veteran roster. 
What's interesting is how the Nets were celebrated in the offseason for "going for it," for spending the apparent money necessary to try and win it all. In "going for it" though, they shed all of their valuable future assets to acquire a guy that is 37 years old, and another guy that is 36 years old. 
Now that neither plan is working, there's no exit strategy. If you stink and you're the Bucks, the Kings, the Jazz or the Magic, you understand the plan. There's talented youth on the roster, growing cap space and draft assets. It may not necessarily work out because every draft doesn't have a LeBron or Kevin Durant, but at least the vision is clear.
But if you stink and you're the Knicks or Nets, what do you do next?
Nobody wants your washed up players, you don't have any youth to develop or trade, and you don't have any picks to use or deal. You can just let your roster's contracts expire and try and start over in a few years, but until then, you're essentially a tanking team that has nothing to tank for. 
Both franchises seem to think everything is going to work out because they've got the money to spend, and because of where they're located. But guess what? A zip code isn't a plan. It's one of the reasons that despite the system being backwards and mostly working against them, small market organizations like the Thunder, Spurs, Trail Blazers and Pacers are thriving because they've been forced to think. They've been cornered and it's either figure it out, or be the Bobcats. What are the big markets doing? Throwing money at problems.
Even the Lakers, notorious for choosing the big spender approach, this season appear to have a plan -- though it's iffy whether or not it'll work.
They've got a bunch of one-year contract which will open up ample cap space in the summer of 2014. They've got two players under contract for next season: Steve Nash and Kobe Bryant. But unless you're signing LeBron, that model really hasn't been all that successful for building. The Lakers haven't used a draft pick in the first round since 2007 (Javaris Crittenton) and haven't picked in the lottery since 2005 (Andrew Bynum). So when Kobe moves on, what's their plan? Just sign people because they're the Lakers? 
At some point even the big markets have to look at the model that's working. It's about drafting and developing youth, and using your money as a means to keep and fill in around them. How did the Lakers get Kobe? On draft night. And it seems their current plan is to sign the next Kobe, rather than find him in the draft, and develop him into a franchise star.
What's fairly sickening about it all is that the large markets have such an advantage in this system, if only they'd use it. Imagine the Nets in Oklahoma City's position a year ago with James Harden. You know what Mikhail Prokhorov would've doneJames Harden? Paid him and then paid him again. He would've given Harden's beard its own max. Big money owners and big money markets bring with them an expectation to win, and win now, which is great, unless you're losing. And because of it, what's lost is any shred of patience and planning. 
Both teams will have an opportunity to go a new direction in a couple of years. The Knicks only have $13 million committed for the 2015-16 season, the Nets could start rehauling in 2016-17 where only Williams is under contract. But will they though? Will they have the financial discipline and principled decision-making to start planning for their future instead of pouring it out on the sidewalk?
Because otherwise, how do the Knicks and Nets get out of this hole they've dug? The sad truth is, they're doing step one right-- sucking horribly with a franchise-changing draft coming -- but neither have a ticket to that party. 
So what's the plan?
Gobert, who missed 11 games earlier this season with a knee injury, will have an MRI

Get all the latest scores, news and highlights from Friday's NBA games

Porzingis is questionable for Carmelo Anthony's return to MSG on Saturday
The Spurs and Rockets will renew their in-state rivalry on Friday night

Anthony will play at Madison Square Garden on Saturday for the first time since being trad...

SportsLine's Mike McClure, a DFS pro with more than $1M in winnings, gives optimal lineup...