Monday Musings: Mike Wallace shows he's worth Dolphins' cash
Mike Wallace had a big game against the Colts to show all the heat he took was unwarranted.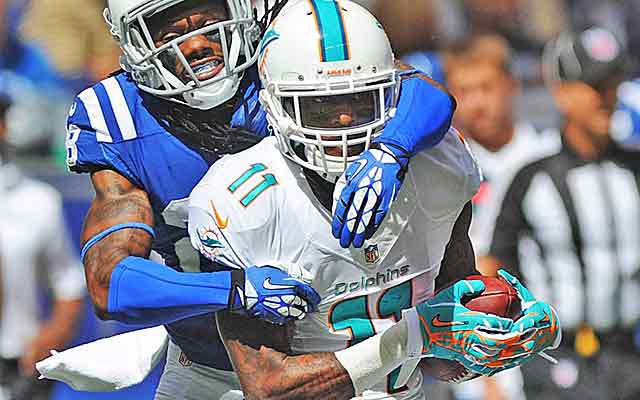 We were supposed to bury Mike Wallace after Week 1. Not worth the money, they all said. I never did. Speed kills. He has it.
The Miami Dolphins have been a different offense in 2013, and it's because of Wallace. When you add his speed dimension to the offense, it opens things up for others. He scares down the field. You can't just squat on everything. So when Wallace caught only one pass in the opener, I still thought he helped open other guys up, notably Brian Hartline. Well, against the Colts we saw Wallace's true value. He had nine catches for 115 yards and a touchdown. Quarterback Ryan Tannehill threw for 319 yards, his second consecutive good game. Wallace is a big reason why the Dolphins are better on offense. Time will tell if he's worth the $60 million deal he got as a free agent, but I am one who thinks it will work out for the Dolphins.
• The flip side on the speed talk at receiver: Anquan Boldin. He was coming off his huge first game against the Packers, which led to plenty of raves (here included), but he followed that up with a one-catch game in the 49ers' loss to the Seahawks on Sunday night. Why? He can't run. Richard Sherman, the Seahawks' top corner, took Boldin out of the game and then said after the game that Boldin's catch wasn't on him. Boldin is a hell of a player. He knows how to use his body and his hands to make plays. But one thing he can't change is the fact that he can't run that well. When a top corner like Sherman can play just as physical, it's going to be a tough game for Boldin.
• One thing that I can't figure out is the amount of crap San Diego quarterback Philip Rivers takes on a yearly basis. He is a damn good quarterback -- maybe not up with the top-tier guys -- but no matter what he does he never gets his due. Rivers threw four touchdown passes in the opening loss to the Texans, yet got ripped for his one pick that was returned for a score. So what did Rivers do? He comes back to throw for 419 yards, three touchdowns and no interceptions to lead the Chargers to a 33-30 victory over the Eagles in Week 2. Rivers took a beating in 2012, which inspired his critics, but he stood in and tried to play behind a horrible line with few weapons. Beating up on Rivers is a sport of sort, which I don't get. The guy competes. He stays out of trouble. He's a good dude. Why does he take so much heat? Anybody?
• When Alterraun Verner returned an interception for a touchdown to put the Titans up 24-16 on the Texans, it might have been wise for the Titans to go for two. There was 4:58 left. If they go for two, and don't get it, and the Texans score they still kick the extra point. If they get it, they go up nine points and it's a two-score game. The risk is worth the reward there because there really isn't a risk. The only think you bank on by kicking is that you can stop their two-point play. But I think the value in getting to a 9-point lead outweighs that. When Houston went down and scored and got a 2-point conversion, the game went to overtime. The Texans won 30-24 by scoring a touchdown on their first possession. Think about my scenario. It makes sense, right?
• If Maurice Jones-Drew has a serious ankle injury, it could be the end for him in Jacksonville. I thought he looked a little slow to the hole before his injury and he wasn't running anybody over like he used to do. Jones-Drew has been a great player for the Jaguars, but it appears his time is coming to an end. I can't imagine the team re-signing him when his deal expires after the season.
• Losing safety Charles Godfrey for the year with an Achilles tendon injury is a huge hit for the Panthers. They weren't good back there to begin with, and he was their best safety. Carolina's secondary figures to be a season-long problem.
• Call me crazy, but I actually came away from the Patriots victory over the Jets thinking good things about their receivers. Yes, they dropped some passes, but those young players got open. That's the hard part. In six games, Kenbrell Thompkins and Aaron Dobson will be doing some really special things. I also thought Tom Brady missed some throws against the Jets. Nobody said it, but he did. Don't worry about New England. The Patriots and Tom Brady will be fine.
• The Eagles' starting safeties, Nate Allen and Patrick Chung, aren't very good. They don't have the ball skills or the range needed to play the back end. That will be a season-long problem for the Eagles. Earl Wolff could be on the field a lot more.
• Keep an eye on Falcons rookie linebacker Joplo Bartu, who was not drafted. He started in place of Stephen Nicholas on Sunday and had six tackles, two for loss. The Falcons staff raved about him this summer and hinted that he would eventually take over for Nicholas, who had a rough go of it in the playoffs last season. Bartu impressed against the Rams.
• Cleveland's offensive line has struggled, giving up 10 sacks in two games. The Ravens had five Sunday, and had 12 hits on the quarterback. The Browns' tackles, Joe Thomas and Mitchell Schwartz, were supposed to be a strength. But the edge rushers of the Ravens ate them up this week.
• EJ Manuel drove the Bills 80 yards in a 1:36 to the winning touchdown against the Panthers. The amazing thing about that: His longest completion was 14 yards. Why did the Panthers play it so soft? Give Manuel credit, he got it done. But if a penalty doesn't wipe out an interception he threw, his fourth quarter would have included two of them. Even so, he has been impressive at times.
• I didn't like the end-of-half decision by Saints coach Sean Payton to go for it on fourth down. The Saints kicked a field goal to make the score 13-7, but the Bucs were called for being offside on a fourth-and-goal from the 2. With the ball moved up a yard, Payton opted to go for it and took the points off the board. Mark Ingram was stuffed on the play, and the Saints ended up getting no points. Does a yard really make you change your mind there? It could have cost him too. Until their field goal to win it on the last play of the game, the Saints trailed by one. If you kick on fourth-and-goal from the 2, keep the points.
• Mario Williams can still play. He had 4½ sacks for the Bills on Sunday and showed he could still get after it. Williams has been blistered since signing his free-agent deal with the Bills last year. But that's the type of performance that gets people talking about him again.
• Read-option health: Slowly dying a torturous death. Admit it. Gone by November.
• Are they really starting the Tim Tebow talk again in Jacksonville? It's done. It's over. He isn't going there. As bad as Blaine Gabbert and Chad Henne have been, it's not happening. And it shouldn't. He is worse than either of those two. Stop it.
• Rising star spotlight: Dontari Poe. The Chiefs nose tackle has had two big games. He had two sacks against the Cowboys on Sunday.
After an injury to Trevor Siemian, Brock Osweiler entered the game and helped the Broncos to...

The 32-year-old running back is done for the year

Brandon Williams was involved in a scary situation in the first half against Denver
The Broncos are turning back to Osweiler after an injury to Siemian

The Cowboys legend admits he's not on 'great' terms with the Cowboys suspended running bac...

Here's the latest information on injured Steelers linebacker Ryan Shazier