Monday Observations: As bad as it is, Jets need to stick with Geno
The Jets' offense is offensive, but that doesn't mean Rex Ryan should bail on Geno Smith now. Also, eight wins might enough for the final AFC wild card.
• 10 min read
Rex Ryan, after another abysmal performance by his offense, would not commit to a starting quarterback for the Jets. And, after having to watch three more hours of the dreadful unit, up close and personal from the sidelines, on Sunday, I can understand the head coach needing some time for pause.
But there really is only one decision here. You stay with Geno Smith. You just drafted this kid in the second round, and following the Mark Sanchez disaster and the Brett Favre disaster, and, well, a disastrous -- or at best, undesirable situation at quarterback for as long as I can remember -- this franchise is in no position to chuck a rookie after 12 games and go chasing waterfalls with some other unproven prospect who won't have any better chance of success, himself, I suspect.
This was always going to be a year of transition and discovery for the Jets. Even in this watered-down AFC, they can't pass for a playoff team. It was going to get uncomfortable at times -- probably for long stretches -- and while that mini-surge in October was cute and all, let's not forget most people had this outfit pegged for 3-6 wins before the season began. By that measure, they have already overachieved at 5-7, and, while I will join in the chorus documenting just how bad Smith has been the last few weeks, let me first state a few things about this ball club.
THEY DON'T HAVE ANYTHING ON THE OFFENSIVE SIDE OF THE BALL. NOTHING. There ain't a playmaker in this bunch. In fact, having now watched three-quarters of this 2013 season play out, I feel really safe in saying the Jets are more bereft of talent on offense than any other team in the league. They don't have a wide receiver to speak of (though I applaud the effort and professionalism of David Nelson). They don't have a tight end. They don't even have some kind of gadget/read-option/gimmick/wildcat weapon. Nada.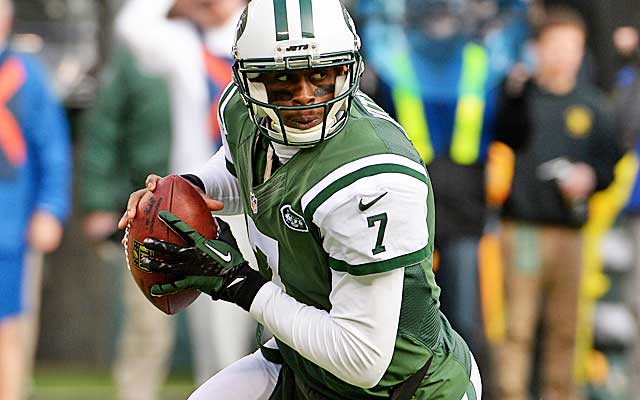 This would be enough to sink most any passer, much less one as raw as Smith. No one is going to thrive with this cast. Anyone thinking Matt Simms (a 2012 undrafted free agent) had some magic elixir, or that his insertion into this woebegone huddle was going to spark something, had that disproved Sunday, as the Jets were still overwhelmed by the Miami defense and could not put points on the board.
It's bad. It's not going to get better quickly, and now is not the time to bail on Smith. The upside in shelving him in no way justifies the potential damage. Use all 16 games to evaluate the young man to obtain as much information as you can -- particularly in these down times -- before assessing your needs and options in the 2014 draft.
As much as I was in favor of Ryan sitting Smith at halftime on Sunday, I'm even more in favor of sticking with Smith now. The Jets were being dominated in every facet, yet Miami only led, 6-0 and this was a last-ditch desperate ploy to try to cull something new out of the offense and try to steal a game and salvage some postseason hope. You had to roll that dice, but after 30 more minutes of a cold dose of reality about the plight of this offense, you might as well try to rally behind Smith and see what he can do from here on out.
Now, as to how bad Smith was, well, it was brutal. He missed receivers on the sidelines -- ridiculously wide-open receivers -- by 3 yards or more. There was an early pass on a third-and-12 that was just difficult to watch. On a third-and-8, backed up deep, he nearly threw a pass to Nelson in another zip code.
In his past four games (since the start of November), Smith has completed 29 passes, total, for 374 yards with no touchdowns and five picks.
Amazingly, the Jets won one of those games, over New Orleans no less. But the defense is playing much less air-tight than it did in the first half of the season and the lack of talent has caught up to them and the Jets look a helluva lot more like a team that should be competing for the first-overall pick than they do one that should be calculating December playoff permutations.
This isn't a situation where the Jets have some veterans the rest of the team is rallying behind or some other viable option at this position. If you're going to have a quarterback controversy you need at least two quarterbacks and right now they might not even have one. So start with just trying to find that out. Work with Smith, give him every single valuable rep with the starters in practice, keep trying to find out what he is best equipped to do right now, and try to restore some confidence and empower him in so much as you can.
If you want to draft someone or if you go through another set of OTAs and offseason work and you think Simms has something, then, hell, do whatever you think you have to do. But you've come this far with Smith, and it's the final month of the season, and if some thought maybe Smith needed some humbling, well. There's been plenty of that. We all learn from adversity, and holding a clip board while Simms takes the snaps strikes me as short-sighted and likely to cause more harm than good.
Eight may be enough in AFC
The more I watch the AFC, the more I think 8-8 gets it done, with the right set of tiebreakers. None of these teams fighting for the sixth seed seems capable of sustaining any sort of meaningful winning streak. They all have some major warts and to me it's a real stretch to think that any of them sitting with five or six wins right now is going to get to 9-7.
In fact, if the Ravens continue their winning ways at home and beat Minnesota in Week 14, moving to 7-6 and retaining their hold on the sixth-seed, I figure they need just win one more all season and they'll be OK. It's a tough stretch -- at Detroit, New England at home, at Cincinnati -- but it's hardly an impossibility, either. The Bengals' offense remains suspect, the Patriots might not have much to play for in Week 16, and the Ravens are built to knock them off, as they've done more than once in big games.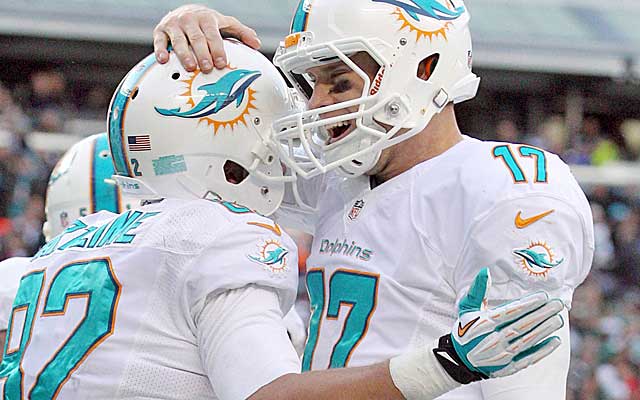 I'm sorry, but Tennessee is done. Pittsburgh has been erratic as heck and its weak offensive line is now riddled with another set of injuries. The Chargers are the Cowboys of the AFC -- win one; lose win. The Jets are done. The Ravens have a win over Miami already, so if they both go 8-8, the Ravens are in.
With Pittsburgh and New England the next two weeks, the Dolphins could easily be at 6-8. The Steelers face the Dolphins, Bengals, Packers and Browns, and would have to win three of four just to get to eight wins, and if they lose either game against a divisional foe then the best they could do is 3-3 in the division ... which at best would tie them with Baltimore in that big tiebreaker.
So I guess what I am saying is that I expect this to be ugly right to the bitter end, with none of these teams particularly worthy of a postseason berth, and the final playoff squad in this conference might be more by default than actually finishing with a burst and fighting its way in.
Palmer, Fitzpatrick lay big eggs
At their worst, Carson Palmer and Ryan Fitzpatrick revert into a turnover machines, coughing the ball up on successive drives, crippling their teams with their mistakes, doing too much damage to overcome. That's how it was on Sunday, and, in absolutely critical games for both teams, it just might end up being a primary reason they don't make the playoffs.
The Titans were dictating play at Indianapolis for the bulk of the game (they eventually lost, 22-14), and were pretty stifling defensively, forcing field goal after field goal, and moving the ball well enough. Then with about 30 seconds left in the first half Fitzpatrick threw a horrible pick on a pass he never should have attempted, around midfield, and the Colts ended up getting a field goal because of it (with an assist from a stupid personal foul.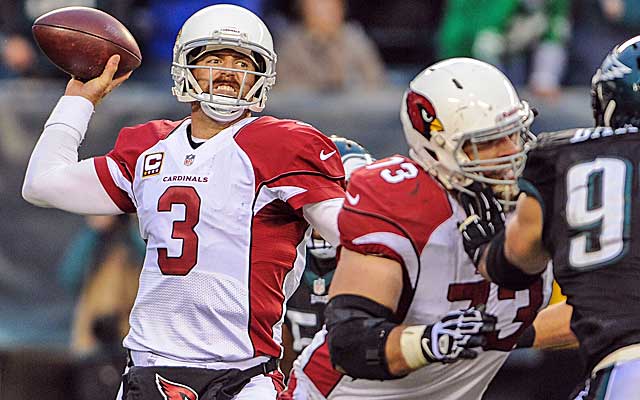 Early in the second half Fitzpatrick's fumble gave the ball back to the Colts. That led to another Indy field goal. And on the next drive, Fitzpatrick struck again, with a pick, and then, with the Titans moving to the Colts' 37 in the dying seconds, the game ended with a pick.
Tennessee had 12 possessions; Fitzpatrick ended a third of them with turnovers. That can't happen. At 5-7, any hopes of a division title are now gone, while a wild-card spot the Titans had the inside track on last Sunday looks more remote as well.
Palmer began the season turning the ball over all over the place, but had settled down in November and was playing winning football. But with the Cardinals facing the Eagles in what could be a direct tiebreaker for a wild-card spot, on a day when the Panthers and 49ers also won, Palmer's problems had everything to do with a 24-21 defeat.
Palmer was stripped of the ball on Arizona's opening drive, giving the Eagles the ball at the Cards' 25, which led to a Philly touchdown. He was picked off on the next drive, and he threw a pick in the third quarter as well. Arizona had 13 possessions and three of them ended with Palmer turning the ball over. The Cardinals trailed from the onset and never quite got back, and while Palmer got better, the Eagles never gave the ball away and as we know, that decides football games, and in these cases, perhaps, seasons.
Extra points
• I Loved what I saw from Case Keenum again Sunday. He's been up and down and endured some rough times in his brief stint as the Texans starter, and yes, the team has lost 10 games in a row, but this kid still gives them a pulse. He had plenty to improve on, including accuracy at times, but he has a little something there too and is a natural-born playmaker. Andre Johnson certainly isn't playing like someone nearing the end of his career playing on a hapless team, and Keenum is feeding him the ball all over the place. The Texans' brutal defense let them down again, unable to hold a lead, and Keenum, if anything, was infectious with his play, I thought.
• The Colts still strike me as a team in peril. Andrew Luck's lack of protection is scary and I have a hard time seeing how little these guys are getting from their free agent class.
• I thought it was a no-brainer that Colts coach Chuck Pagano should have gone for two, already up by seven, late in the game. Luck is your best player, your defense is middling at best, and let Luck make a play to make it a two-possession game under two minutes. Try to render the Titans having to make a two-point conversion to tie, irrelevant. Worse case is you get tied and go to overtime and with these new rules, you should have a chance to win either way.
• Furthermore, why Bears coach Marc Trestman -- no longer riding a hot hand and whose decisions have been backfiring lately -- would try a 47-yard field goal in a must-win game in overtime ON SECOND DOWN, baffles me. Especially on a day when they were moving the ball well on the ground, and while facing a poor Vikings defense. He has been pretty aggressive in general as a rookie coach and then he goes all neo-con here in overtime with the season perhaps in the balance. Seemed to me to be an odd message to be sending to his club, and now, with a 2-3 divisional record, they are in trouble.
• A month ago I wrote that Cam Newton was going to be a real factor in the MVP race, and while Peyton Manning pretty much already has the thing won, Newton was going to end up getting a bunch of votes and be in the conversation. So, um, yeah, I still think that.
The Colts traded for Brissett prior to the start of last season due to health concerns for...

Colvin was a big part of Jacksonville's defensive improvement but is likely moving on

Vinatieri is about to finalize a deal to return for his age-46 season
Freddie Roach is one of the most decorated boxing trainers there is

Gruden knows about the pressure of his new gig, and he isn't shying away from it

Miami is one of the half-dozen most intriguing teams this offseason amid free-agent and trade...