The Lineup: Uggla, McCann power Braves; Brewers creeping into wild card conversation
It's the Sunday morning version of The Lineup, starring Dan Uggla, Brian McCann, Jason Kubel, Jurickson Profar, Justin Verlander, Jeremy Affeldt, Sam Fuld, the rising Brewers and much more.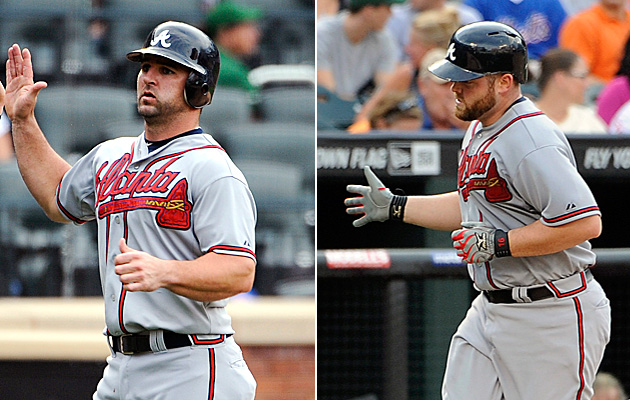 If these two guys get hot, the

Atlanta Braves

look pretty scary. (Getty Images)


From the Stephen Strasburg shutdown to the blown call at the end of the New York Yankees - Baltimore Orioles game to the Los Angeles Angels winning their fifth straight and ninth out of their last 10 games, it was a very eventful Saturday. Let's get after it ...

Full Saturday scoreboard with recaps and box scores for every game








3 UP

Brian McCann / Dan Uggla , Braves: The Braves have been firmly planted in playoff position through much of the season. After Saturday's action they're actually six games better than the first team left out. And they've done that with two key members of the offense underachieving throughout the season in McCann and Uggla. Saturday, McCann went 4-for-5 with a double, homer, three runs and four RBI. Uggla went 3-for-3 with two walks and three runs scored. Friday night, Uggla doubled and homered. If these two guys got hot, the Braves' lineup looks pretty stacked.

Jason Kubel , Arizona Diamondbacks : The 30-year-old outfielder's previous career high for homers in a season was 28. Kubel had 27 heading into Saturday night's action. He went 2-for-4 with a pair of home runs and three RBI. Setting the new career high with 3 1/2 weeks left is pretty good work, especially for a free agent signing that caused many in the sabermetric community to scoff.

Jurickson Profar , Texas Rangers : It's been a pretty good year for 19 year olds, eh? Profar only got one hit Saturday, but it was a go-ahead RBI double in the top of the 10th inning against the Tampa Bay Rays . In only nine plate appearances, Profar has two doubles and a homer, good for a beautiful .889 small-sample slugging percentage.

3 DOWN

Justin Verlander , Detroit Tigers : Yes, he was facing the red-hot Angels, but Verlander is supposed to be the stopper of the staff. He coughed up four runs in the first inning and six earned runs on nine hits in his six innings overall. The Tigers are now two games behind the White Sox in the AL Central and 4.5 out in the wild-card race (with two teams to leapfrog).

Jeremy Affeldt , San Francisco Giants : He only faced three batters in the ninth inning. Among them, Adrian Gonzalez tripled and Hanley Ramirez doubled, the latter of whom drove home the go-ahead run in a 3-2 Los Angeles Dodgers win.

Sam Fuld , Rays: He's only here for one reason, which is that he was caught stealing by former teammate Geovany Soto . Since joining the Rangers, Soto had only thrown out two attempted basestealers in 24 attempts before nailing Fuld.








Don't forget about the Brew Crew: With the Brewers win over the Cardinals Saturday night, they have now pulled to within five games of the second wild-card spot. Yes, the Pittsburgh Pirates and Dodgers are still between the Brewers and Cardinals, but five games is certainly a workable margin with 3 1/2 weeks left. Sunday, the Brewers could cut their deficit to either four or 4.5 games (the Dodgers are only a half-game behind the Cardinals, so if they win and the Brewers win, Milwaukee Brewers is 4.5 out). Shaun Marcum (5-4, 3.53) gets the ball for the Brewers while rookie Joe Kelly (5-6, 3.54) gets the nod for St. Louis Cardinals . 2:15 p.m. ET

Battle for AL East, Take IV: After three games of a four-game series, the Orioles have taken two of three from the Yankees, which means the two clubs are tied atop the AL East with Sunday's matinee determining which club escapes with the lead. It's Freddy Garcia (7-6, 5.09) against white-hot Orioles' lefty Zach Britton (5-1, 4.15). Britton is 4-0 with a 0.94 ERA and 0.98 WHIP in his past four starts. He's also struck out 29 hitters in 28 1/3 innings in that span. 1:35 p.m. ET

Double-dip in Philly: Due to a rainout Saturday night -- unbelievably the only one, though there were myriad delays -- the Philadelphia Phillies and Colorado Rockies will play a split doubleheader Sunday. 1:05 p.m. ET and 6:35 p.m. ET

Sunday's probable pitchers








• Subtle Santo tribute by The Boss? Friday night, Bruce Springsteen put on a show in Wrigley Field, and he appears to have made a silent tribute to late Hall of Famer Ron Santo. During "My City of Ruins," the flag bearing Santo's number (like all Cubs players with retired numbers have) was illuminated with a yellow light, according to Chicago Side Sports. After the song, the light went off and didn't shine again the rest of the night.

• New York Mets fan rant on Chipper Jones being honored: The headline is "Mets Honoring Chipper is a joke." From there it gets stronger. My favorite line -- being that I'm an Indiana boy -- is this one: "I'm pretty sure you will never see ... Reggie Miller getting an on the court tribute from the Knicks." Good stuff from NY Sports Day.

• Rays playfully mock Rodney: Fernando Rodney is one of baseball's best closers in 2012. He also has the tendency to wear his hat a bit sideways and tilt his head back and to the side. So his teammates made fun of him in a team picture (I wish the shot was more close up, but oh well).
We took the team picture today. This version was a tribute to our closer. twitter.com/RaysJoeMaddon/…

— Joe Maddon (@RaysJoeMaddon) September 8, 2012


• Pacheco's bats getting treatment: Rockies infielder Jordan Pacheco is having a very solid rookie season, but he went 0-for-6 Thursday and Friday combined. Evidently that was enough for him to declare his bats ill. Here's his funny tweet on the situation:
This is what happens when your bats get sick.. They need treatment.. Thanks to a great training staff.. twitter.com/JstyleP/status…

— jordan pacheco (@JstyleP) September 8, 2012


• Access Denied! We'll leave you with a denial caught on camera. C'mon, girl, just accept the kiss.


For more baseball news, rumors and analysis, follow @EyeOnBaseball on Twitter, subscribe to the RSS feed and "like" us on Facebook.
Also, how much did the Cubs increase their chances?

Los Angeles will have another chance to close the series out on the road

They're alive in the NLCS after their Game 4 win over the Dodgers
You never know what you might get from Arrieta, but what we got was brilliance in Game 4

The 2017 World Series begins Oct. 24

There will be a Game 5 after all on Thursday night