10 games to watch during the 2013 season
The NHL schedule was finally released on Saturday evening, and here are 10 games you should be watching for in 2013.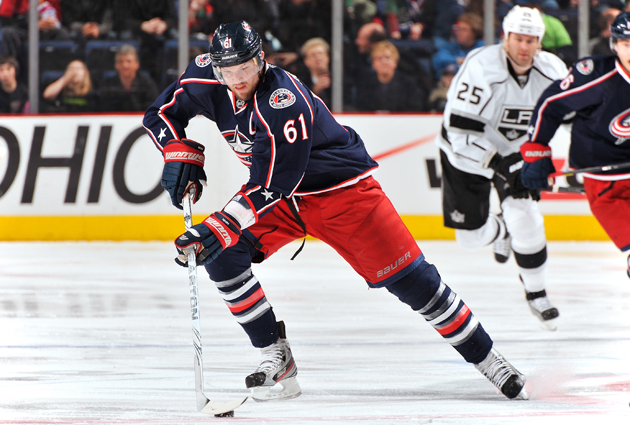 Rick Nash's debut with the New York Rangers is one of the many games worth watching this season. (Getty Images)
Season preview: Team previews | Expert picks | 50 things to watch | Top 50 players
After two weeks of leaked schedules and formats, the NHL finally released its 48-game schedule for the 2013 season on Saturday night.
Hockey fans had to wait longer than they would have liked to see it, but it sure beats the alternative (which is no schedule and no hockey at all this season).
It all begins on Saturday, Jan. 19, and as we start the countdown to the return of hockey here are 10 games that stand out that should be worth watching, including some debuts by new faces in new places, former players returning to their old stomping grounds, and perhaps even a couple of goodbyes for some of the greatest players in NHL history.


Kings banner raising, season opener
Jan. 19 Chicago at Los Angeles (3 p.m. ET)

Los Angeles Kings fans have had to wait since 1967 (assuming they were born at that time) to see their team win the Stanley Cup and hang a championship banner in the rafters, and now that it finally happened they had to wait even longer to see the banner go up thanks to a lockout.
Hey, when you had to wait more than 40 years to see a championship, what's another 100-plus days to finally see the banner go up?
The Kings title defense begins on Saturday against the Chicago Blackhawks.




Minnesota debuts its new stars
Jan. 19: Colorado at Minnesota (9 p.m. ET)

One of the biggest days in the brief history of the Minnesota Wild came on July 4 when they out of nowhere and signed the two biggest free agents on the market in Zach Parise and Ryan Suter. They make their Minnesota debuts on Jan. 19 against the Colorado Avalanche.
After a hot start last season, the Wild collapsed down the stretch and ended up being one of the worst teams in the league and obviously needed some significant changes.
These would qualify as significant changes. Minnesota still has too many holes, especially offensively, for the additions of Parise and Suter to make them a Stanley Cup contender, but they should be enough of an improvement to at least make the Wild a contender for a playoff spot.
Minnesota hasn't made the playoffs since the 2007-08 season.




Ryan Suter's return to Nashville
March 9: Minnesota at Nashville (8 p.m. ET)

And speaking of Ryan Suter, he's going to have to make a return to Nashville and will do so on March 9 when the Wild visit the Predators.
For years, Suter, the Predators' first-round draft pick back in 2003, was a key cog on Nashville's blue line and helped form one of the best defensive pairings in the NHL alongside Shea Weber.
General manager David Poile did everything he could to keep Suter in Nashville, but in the end the 13-year, $100-million offer the Wild presented to him, as well as the opportunity to join his friend Zach Parise, proved to be too much to turn down.


Rick Nash's debut in New York
Jan. 20: Pittsburgh at New York (7 p.m. ET)

The New York Rangers and Columbus Blue Jackets worked on this trade for months. There were rumors, and proposals, and rejections, and the saga finally came to an end six months ago when the Blue Jackets agreed to send the best player they've ever had to New York for a package that included Brandon Dubinsky, Artem Anisimov, defense prospect Tim Erixon, and a first-round draft pick.
Nash is supposed to be the missing piece for the Rangers. Another big-time goal-scorer that will give them the offensive upgrade they need to push them into the Stanley Cup finals.
They had the goaltending last year. They had the defense. They didn't have enough offense. Will Nash be enough to get them there? Or will his recent goal-scoring decline continue into his days with the Rangers?
Although the Rangers open their season on Saturday in Boston, Nash will make his debut at Madison Square Garden one night later against Sidney Crosby and the Pittsburgh Penguins.


Nail Yakupov and Justin Schultz debut in Edmonton
Jan. 20: Edmonton at Vancouver (9 p.m. ET)

The Edmonton Oilers probably won't win a ton of games again this season but there should be some excitement around that team coming into the season.
For one, they have a ton of young talent at forward with Taylor Hall, Ryan Nugent-Hopkins, and Jordan Eberle, and they spent a lot of time playing together in the American Hockey League during the lockout.
They also, for the third straight year, will be debuting a No. 1 overall draft pick as Nail Yakupov joins there core. Along with him: Defenseman Justin Schultz, a free-agent signing in the summer, who was dominating the AHL during the lockout. Their defense and goaltending is still very suspect as a group, but there's a lot of offensive talent on this team that should at least make their games entertaining.
It all starts on Jan. 20 against the Vancouver Canucks.


Our first look at the the new-look Dallas Stars
Jan. 19: Phoenix at Dallas (8 p.m. ET)

The Dallas Stars are one of the more fascinating teams in the NHL after their offseason moves.
Coming to Dallas are Derek Roy (via trade) and free-agent additions Ray Whitney and Jaromir Jagr.
The latter two should help boost what was a dreadful Dallas power play last season (worst in the NHL) while this could, in theory, be Jagr's final dance in the NHL. He had a fantastic start in Philadelphia last season before fading down the stretch, so perhaps Dallas is one of the teams that will benefit from having a shorter schedule.


Jordan Staal returns to Pittsburgh
April 27: Carolina at Pittsburgh (7 p.m. ET)

Jordan Staal was a franchise player in Pittsburgh for six years and helped the Penguins win a ton of hockey games, including a Stanley Cup back in 2009.
The Penguins made him a 10-year, $60-million offer this summer and after he rejected the team wasted little time in trading him rather than risk losing him in free agency after this season. They sent him to Carolina for a package that included center Brandon Sutter, defenseman Brian Dumolion, and the No. 8 overall pick in the draft, which the Penguins used to select defenseman Derrick Pouliot.
He will be making his return to Pittsburgh on April 27 -- the final day of the season -- when the Hurricanes visit for the first time. How will the Penguins fans respond? He was a popular player during his time there, and a damn good one. But he ended up signing in Carolina for the same contract he rejected from the Penguins.


Penguins vs. Flyers: Any of them, but especially the opener
Jan. 19: Penguins at Flyers (3 p.m. ET)

Whenever the Penguins and Flyers get together it's pretty much anarchy on ice, and last year's Eastern Conference quarterfinal series (which the Flyers won in six games are jumping out to a commanding 3-0 series lead) was a perfect example.
From the line brawls, to the back-and-forth, up-and-down action that resulted in one of the highest scoring playoff series we've seen in recent years, it was complete madness, and we get it four times this season.
And that includes on the NHL's opening day in Philadelphia.
No better way to kick off the season than with one of the best rivalries in the league.


The potential last game for Teemu Selanne
April 27: Phoenix at Anaheim (10 p.m. ET)

Teemu Selanne could probably keep playing until he's 50 if he wanted to -- and we wouldn't complain about it -- and he's yet to decide if this season will be his final one, but it's very possible that the Ducks' game on April 27 could be the final curtain call for one of the best players in NHL history.
Before the lockout came to an end, Selanne said that if the 2013 season was canceled that he would call it a career, so it stands to reason that this really could be it for him.
He enters the season with 663 career goals, 12th on the all-time list. Depending on how many goals he scores this season he could crack the top-10.




Martin Brodeur's last game in Montreal?
Jan. 27: New Jersey at Montreal (6 p.m. ET)

Martin Broduer is another future Hall of Famer who could be taking part in his final NHL season, and the Devils' Jan. 27 game against the Canadiens could be extra special for him as it could be his final game in his hometown.
Coming into the season, 43 of Brodeur's 656 career wins have come against the Canadiens. He's only defeated four teams (both New York teams, Pittsburgh, and Philadelphia) more often.
There was speculation after the Stanley Cup Final that Brodeur might not come back this season (or that he could even test the free-agent market) but the 40-year-old is back for at least one more season. Along with Johan Hedberg he's helping to form one of the oldest goaltending duos the NHL has ever seen.
For more hockey news, rumors and analysis, follow @EyeOnHockey and @agretz on Twitter and like us on Facebook.
Rage is all the rage in Montreal

Buffalo's 20-year-old phenom pulls off the highlight of the night against Vancouver

The North American love affair with Edmonton's superhuman center continues to grow
The defending Western Conference champion Predators are also heating up early in the year

The Oilers' young star remains seriously unfair

David Kelly, a Toronto-born hockey analyst, has strong advice for Edmonton vs. Chicago game...