Ranking the best 15 center fielders in Major League Baseball for 2016
Mike Trout is an easy call for the top spot in our center fielder rankings for the 2016 season. Who's after him?
As we continue with our series ranking each position (Previous rankings: C | 1B | 2B | SS | 3B | LF), we now move on to center field.
As was the case with previous rankings, let's keep these things in mind:
1. We are ranking the players based upon which ones we'd most want to have for the 2016 season only, ignoring salary. Quite simply, if money were no object and you were trying to win the World Series this season, which player would you most want to have?
2. These are subjective, as voted on by Matt Snyder, Dayn Perry and Mike Axisa. We ranked the players at each position individually and averaged out the results.
3. These aren't fantasy baseball rankings. All-around play matters.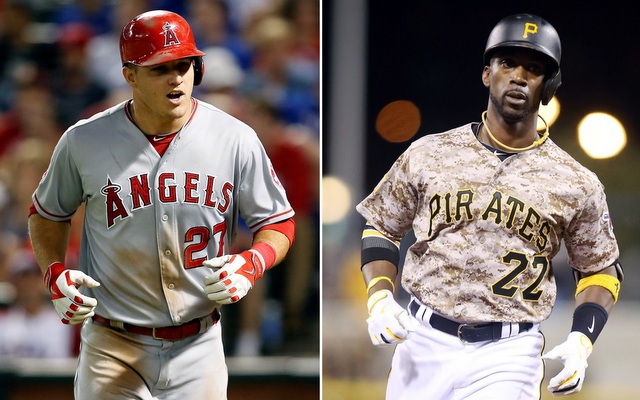 You weren't expecting someone else, were you? Trout is the best player in baseball and has been for several years now. Amazingly, his worst full season is 2014, when he was worth 7.9 WAR and was named AL MVP. Yes, Trout was the league MVP in his worst season. He's that good. And he's still only 24. It's hard to believe. Despite all the great center field talent in baseball right now, there is no argument to be made against Trout as the No. 1 guy.

The No. 2 spot was a relatively easy call as well. If it wasn't for Trout, we'd be talking about McCutchen as the best player in baseball. At the very least, he would be in the conversation. Here's the MLB WAR leaderboard since 2012:

Trout - 37.3
McCutchen - 26.3
Robinson Cano - 26.0

McCutchen is an all-around great player and a super likeable guy as well. He's a franchise player in every single way.

Cain shed the "defense-first" label last season by hitting .307/.361/.477 (126 OPS+) with 34 doubles, 16 homers, and 28 steals. Add his elite glovework, and the end result was 7.2 WAR and a third place finish in the MVP voting. Cain is only 29, and there's no reason to think he doesn't have a few more great seasons in him.

I'm not sure any player had a more under-the-radar great season in 2015 than Pollock. He hit .315/.367/.498 (132 OPS+) with 39 doubles, 20 homers, and 39 steals to go along with his outstanding center field defense. Pollock turned 28 last month, so he's just entering what should be the prime of his career.

Right now the Cubbies are planning to play Heyward in center field even though he's spent the majority of his career in right. He's certainly good enough defensively to handle it -- Heyward is the best defensive right fielder in the game -- and he is still only 26, so the expectation is he will improve upon last year's .293/.359/.439 (116 OPS+) batting line with the move into cozy Wrigley Field.

No, he doesn't draw many walks, but Jones hits 25-plus homers per season like clockwork -- he hit 27 in only 137 games in 2015 -- and he's a very good defensive center fielder. Better than the defensive stats give him credit for. Simply put, Jones is a proven and reliable above-average two-way player.

When he gets hot, Cespedes is capable of single-handedly carrying a team, as we saw last August. He's an excellent source of power but won't post high on-base percentages. Not to mention, he's a left fielder playing center. Cespedes won't kill you in center defensively, but he's clearly better in left.

Does he get on his opponent's nerves? Yup. That's a feature as far as I'm concerned, not a bug. An oblique injury prevented Gomez from reaching 20-plus homers and 30-plus steals for the third straight season in 2015. That power-speed ability and top notch defense land him firmly in our top 10.

Eaton hit 14 home runs in 2015 after hitting 15 total (majors and minors) from 2012-14. That was the result of an approach adjustment that allowed him to hit more fly balls -- Eaton upped his fly ball rate from 20.2 percent in 2014 to 27.3 percent in 2015 -- so there's reason to believe the power is here to stay.

A knee injury spoiled his 2015 season. But when healthy, Ellsbury is a hellraiser atop the lineup. He impacts the game at the plate, on the bases, and in the field. He just needs to stay healthy. That's been a challenge at times in his career.

The only player on our list who is unemployed. Fowler is not the best defensive center fielder, but he consistently gets on base and chips in more than a few home runs and stolen bases each season.

Based on both stats and the eye test, Kiermaier is the best defensive center fielder in baseball today. He also stole 18 bases and hit at a near league-average clip last season (97 OPS+). Expect more of the same in 2016.

About eight months ago we all would have expected Pederson to rank much higher on this list. The 23-year-old had a monster first half in 2015 (20 HR and 139 OPS+) but faded big time after the All-Star break (6 HR and 71 OPS+). Pederson can still play the heck out of center, but I'm not sure anyone really knows who he is at the plate.

The Marlins have tried to trade Ozuna all offseason, which is understandable following his disappointing 2015 campaign (90 OPS+ and 0.4 WAR). Still, he is one year removed from hitting 26 doubles and 23 homers with a 114 OPS+ and 4.5 WAR. Ozuna has power and plays strong defense, and his arm is a cannon. Plus he's only 25.

Inciarte, 25, hit .303 last season with 21 steals and a 101 OPS+, and his strong defense led to 5.3 WAR. The low ranking has more to do with his lack of track record (one full season) than anything. Decent chance we're underrating him.
Also receiving votes: Kevin Pillar, Blue Jays
Coming Monday: The top right fielders for 2016.
In the last two votes, Clemens has gained nearly 17 percent in Hall of Fame voting

The results of the BBWAA Hall of Fame vote are revealed Wednesday, Jan. 24

Does the Jackson signing mean the Giants are out on Lorenzo Cain?
Acuna edged out Shohei Ohtani and Vladimir Guerrero Jr.

There's no reason to run over the cases for and against Bonds, so let's have fun instead

The coveted right-hander would certainly be a fit in Milwaukee