Stock Watch: Fish tales boost Trout, but truth is Miggy is still better
Heyman: Mike Trout's a marvel, but is he a legit MVP threat? That's stretching the truth. In the NL, another fish -- Marlins ace Jose Fernandez -- is the Rookie of the Year favorite.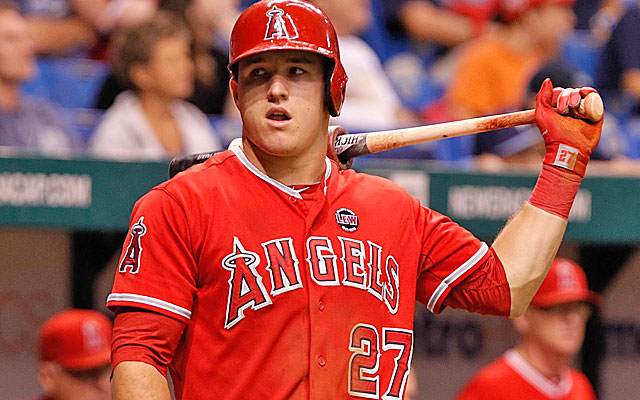 The love for Mike Trout among hardcore baseball fans and especially stat lovers is understandable. He does everything well, even exceptionally well.
And that is undeniable.
But the adulation gets a little bit crazy at times, crazy enough that even some of the most knowledgeable baseball writers stretch to make him seem even better than he is.
Maybe they love his WAR, his way, I'm not sure. Maybe they just want another great MVP debate.
One of the more creative stat guys recently pointed out that Trout reached base nine times via error while MVP favorite Miguel Cabrera had yet to reach base by error. Aha, cried a few of the other stat guys! Reaching base by error is a "quantifiable" skill, they said. More applause for Trout. More evidence of Trout's superiority.
Trout is a great player, and that's inarguable. And maybe his 9-0 "win" over Cabrera in reaching base by error is another reminder that speed pays off in ways you don't often think about.
But does anyone really believe Trout's MVP candidacy is enhanced even a little by those nine extra times he reached base via error? If someone were to write a 50-volume story of the 2013 baseball season, I would hope that tiny bit of trivia doesn't even make it in.
Trout's 8.6 WAR, a number that attempts to compute a player's total value based on all the other numbers, including defense and base running, once again leads all of baseball by a lot. And of course that means he leads AL MVP favorite Cabrera, whose not-all-that-close 6.9 WAR is second best in the league.
Maybe this shows Trout is the best player again. But maybe WAR is still being perfected as a measure of all-around play. WAR seems to underrate great defensive catchers (NL MVP candidate Yadier Molina 's WAR is 5.0), as even the stat guys will admit. The problem with WAR and catchers apparently is the range factor, which leads to an under-grading of some catchers. But is it possible the range factor leads to an over-grading of some center fielders, as well? WAR requires personal judgments, and may need some refining. Check out the WAR of Carlos Gomez (6.7, fifth best in baseball) and Gerardo Parra (5.1, tied for 20th best). Now it's possible they are indeed the fifth- and 20th-best players in baseball this year. But I doubt it. According to these figures, Parra is tied with Adrian Beltre and ahead of a plethora of other stars despite his mundane .725 OPS, and Gomez (.832 OPS) is ahead of everyone but Trout, Andrew McCutchen , Cabrera and Robinson Cano -- and he's barely behind Cabrera and Cano at that.
Even within the center-field ranks, WAR looks pretty suspect. Shin-Soo Choo , who has helped make the Cincinnati Reds go with his second-in-the-NL .425 on-base percentage, has a 3.7 WAR. One spot ahead of Choo is New York Mets rookie Juan Lagares , at 3.8.
Now Lagares is pretty terrific defensively in center field while Choo is merely adequate (though with a great arm). But Lagares' OPS is exactly 200 points lower than Choo's (.696 to .896) and Lagares has come to the plate almost 300 times less, which matters since WAR is a cumulative stat. Lagares has just 324 at-bats and 15 walks, Choo 516 at-bats and 97 walks.
So with barely more than half the plate appearances, Lagares has managed to contribute more than Choo. At least if you believe WAR, he has.
Trout's own 8.6 is also quite a bit lower than his 10.7 figure as a rookie despite having better offensive stats in virtually the same number of games -- 138 so far this year to 139 total last year. I suppose it's possible Trout is 24 percent worse this year in base running and defense alone. But I doubt it.
Any way you look at it, Trout is a marvel. He's hitting .338 with 23 homers, 84 RBI and a 1.011 OPS. He has been quite a bit better in the second half, with a .378 batting average and 1.113 OPS (see below).
He's something to behold. But once again, he's just short in the American League MVP race.
If Trout has been as good as he was last year (and I tend to think he has been, despite a lower WAR), Cabrera has been even better. Cabrera is hitting .353 with 43 homers, 133 RBI and a 1.113 OPS (the same as Trout's second-half total) and quite a bit higher than his .999 in his MVP season a year ago. He would be in position to win a second straight Triple Crown if Baltimore Orioles slugger Chris Davis wasn't doing his best Roger Maris impersonation, though I agree that a Triple Crown (or near triple Crown) isn't an automatic MVP win.
It also does matter that Cabrera is helping his team into the playoffs again, while Trout's great year is happening for the eminently disappointing also-ran Los Angeles Angels .
That's no knock on Trout, and if the award were simply for the "best" player, he would have a better case. But it's for the "most valuable" player, and precedent tells us the hitting and fielding exploits that led to wins ultimately mean something significant. That means the playoffs.
Rare MVPs such as Andre Dawson (1987 Chicago Cubs ), Cal Ripken Jr. (1991 Orioles) and Alex Rodriguez (2003 Texas Rangers ) have come from losing teams. But they have come in years when their seasons were so much better than anyone else's.
That isn't the case this year, not unless you believe Trout's season is really 24.6 percent better than Cabrera's, as WAR would have you believe. Or that, somehow, some way, those nine times he reached base by opponent error in meaningless games indeed put Trout over the top.
Trout does make the Bull Market in this week's Stock Watch as he continues to make us marvel. Here are the other Bulls and Bears in another awards edition.
1. Jose Fernandez , SP, Miami Marlins : The just-turned-21 rookie has been the best pitcher in baseball in the second half, so hitters aren't coming close to figuring him out. With a 6-1 record, 0.79 WHIP and 1.33 ERA since the All-Star Game, where he was the youngest pitcher, he has stamped himself as the Rookie of the Year favorite, even ahead of that Los Angeles Dodgers igniter Yasiel Puig . It should be Fernandez's award to lose, considering he looks like a likely second- or third-place finisher for the NL Cy Young Award, too. In a year with several special pitching performances in the league (including Adam Wainwright , Cliff Lee , Francisco Liriano , Patrick Corbin and Craig Kimbrel ), Fernandez and currently sidelined Mets star Matt Harvey should be runners-up to Clayton Kershaw .
2. Mike Trout , OF, Los Angeles Angels : What a brilliant second half it has been for the incredible 22-year-old talent. He's hitting .378 since the break with a .513 on-base percentage, .591 slugging percentage and 1.113 OPS. He has put himself in position for a likely second-place finish for AL MVP. Too bad he's going up against the incomparable Cabrera.
3. Martin Perez , SP, Rangers: In a blink he may have positioned himself to possibly nab the AL Rookie of the Year award, practically out of nowhere. As recently as a couple weeks ago, his name had been mentioned so infrequently for the award that some were still questioning whether he even qualified as a rookie. He does, and he's now right in the thick of things with a 6-0 record and 2.43 ERA over his past six starts. What's more, the past four wins have come over Bartolo Colon , Chris Sale and Felix Hernandez (twice).
1. Yu Darvish , SP, Texas Rangers : A week after becoming the darling of the #killthewin folks as the main contender to AL Cy Young favorite Max Scherzer and his 19-1 (now 19-2) record and topping the Stock Watch, one bad outing has derailed his candidacy and helped him take top (bottom?) honors here. He asked not to be judged, but sorry, that's what Stock Watch is all about. The five-inning, six-walk, five-run debacle in an 11-4 loss to main rival Oakland dealt a serious blow to his candidacy in a competition that looks all but over now.
2. Paul Goldschmidt , 1B, Arizona Diamondbacks : He may finally be getting tired of carrying the Diamondbacks, who have watched the Dodgers blow past them. He hasn't homered in 17 games since Aug. 20 as Pedro Alvarez nudged ahead of him for the home run lead (32-31). He still leads the NL in RBI with 107, but he hasn't had a hit in seven of his past nine games as his average has dipped to .293. He should still get heavy NL MVP support but doesn't look like a threat to win at the moment ( Pittsburgh Pirates star Andrew McCutchen is the favorite at this point).
3. Francisco Liriano, SP, Pittsburgh Pirates : He's still having a great year, and he's still maybe the best buy of the winter ($1 million guaranteed, plus a lot of incentives). But his Cy Young standing took a big hit this week. First, he was unlucky enough to miss the rival St. Louis Cardinals , who he has dominated this year (3-0, 0.75 ERA). Second, he turned in one of his rare bad outings of the year, allowing seven runs and seven hits in a 9-3 defeat at also-ran Milwaukee.