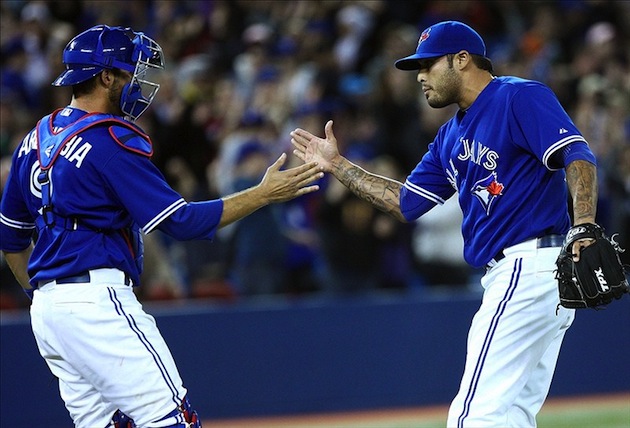 With the Twins' victory over the
Angels
and the
Diamondbacks
' loss to the
Padres
, there are no more winless or undefeated teams in baseball.
3 UPSergio Santos, Blue Jays
. While plenty of people in
Toronto
were calling for Santos' job following blown saves in his first two chances -- and he was probably looking over his shoulder at
Francisco Cordero
and his 327 career saves -- he got it done on Wednesday. After Toronto starter
Ricky Romero
walked two batters in the ninth, Santos came in with one out and runners on second and third and struck out
Kevin Youkilis
and got
David Ortiz
to ground out to earn his first save with the Blue Jays.
Chris Heisey, Reds.
Opposing manager may want to see Heisey in the starting lineup, because if you see him late, you could be in trouble. Heisey's pinch-hit single in the ninth inning on Wednesday scored
Joey Votto
from second and gave the Reds a 4-3 victory over the Cardinals. The 27-year-old now has 67 plate appearances as a pinch hitter in his career and is hitting .356/.403/.729 with six homers and 20 RBI. This season he's 2-for-2 with RBI in each of his pinch-hit opportunities.
Ike Davis, Mets.
Johan Santana
got plenty of help from his first baseman in the fifth inning, as Davis made two catches of foul balls that ventured outside of the playing field -- first over the railing by the camera well, the second, for the third out, into the stands in shallow right. Two years ago Davis made a name for himself by flipping over the railing for a catch twice -- he didn't need to flip this time, but still made the catches.
3 DOWNBrett Pill, Giants.
There's plenty of blame to go around for the debacle in Denver -- but Pill has as ugly a play as you'll ever see on a baseball field in the Rockies' seven-run fifth. With two on and
Colorado
leading 12-7,
Ramon Hernandez
hit a single to center. Center fielder
Angel Pagan
fielded the ball and threw home, but Pill, the cutoff man as a first baseman, had the ball bounce off his glove, allowing Hernandez to get to second. The Giants then got
Michael Cuddyer
hung up in a rundown, and again, Pill had a throw bounce off his glove, allowing Cuddyer to score. Hernandez then advanced to third on a nifty slide. Giants third baseman
Pablo Sandoval
held onto the ball too long before throwing to Pill, but he still should have caught the ball. He was charged with two errors on the play.
Jonathan Broxton, Royals.
Broxton became the first pitcher since Sept. 2, 1966 to end a game by hitting two batters in a row. Broxton wasn't helped by Alcedes Escobar's one-out error, but he followed that with two walks -- and it got worse from there, when
Coco Crisp
grounded out to drive in the tying run and then he hit
Yoenis Cespedes
and
Jonny Gomes
with his next two pitches, scoring the winning run. With
Greg Holland
waiting in the wings, it'll be interesting to see how long Broxton holds on to the closer's spot.
Astros defense.
Poor
Wandy Rodriguez
. In each of his two starts so far this season, his teammates have committed three errors, while he's committed one in each of his starts to boot. All eight of the Astros' errors this season have been in Rodriguez's starts. Rodriguez and shortstop
Marwin Gonzalez
had errors in the
Braves
' three-run fourth
• Rubber match:
The Rays and
Tigers
have split their first two games of a possible ALCS preview, with the rubber match coming Thursday with both team's fifth starters making their season debuts.
Tampa Bay
will send right-hander
Jeff Niemann
, who won a fierce spring battle for the team's fifth starter spot, while lefty Drew Smyly will be making his big-league debut. 1:05 p.m. ET
• Nats home opener:
Gio Gonzalez
pitch in the Nationals' home-opener against
Mat Latos
. Both were part of big offseason trades and struggled in their debuts. Gonzalez lasted just 3 2/3 innings in his first National League start, Saturday at
Chicago
. In his
Cincinnati
debut, Latos lasted a an inning longer than Gonzalez but also allowed four runs on seven hits. Both have the ability to shutdown an opposing lineup and will hope for better outings today. 1:05 p.m. ET
• Looking for a streak:
Now that
Minnesota
has picked up its first win of the season, the team is now looking for its first winning streak of the season. The good news is the Angels'
Dan Haren
wasn't very good in his first start of the season, getting knocked around for five runs on 11 hits in just 5 1/3 innings in a loss to the Royals. The bad news is Twins starter
Francisco Liriano
was even worse in his first start of the season, lasting just four innings, allowing six runs (five earned) on eight hits in a loss to the Orioles. 1:10 p.m ET
Thursday's full schedule
• Rangers, Hamilton talking again:
The Rangers have contacted
Josh Hamilton
's agent, Mike Moye. [
Ft. Worth Star-Telegram
]
• Berkman on the mend:
One of the concerns about the Cardinals this season is their age and the possible health of key players. As great as the team has started off,
Lance Berkman
has already been sidelined with a muscle strain in his left leg. He said Wednesday that he's "doubtful" for the team's first series at Busch Stadium. [
St. Louis Post-Dispatch
]
• Shipping up to Philly:
The Dropkick Murphys said they didn't want
Jonathan Papelbon
to come out to "Shipping Up To
Boston
" now that he's a Philly, so Papelbon had to go searching for a new entrance song. Monday Papelbon came out for his first save at Citizen's Bank Park and over the loudspeaker was Alice in Chains' "Man in the Box." While it seems odd for a pitcher to have a theme song about being in the box, since the batter is actually the man in the box, it does have the line, "Won't you come and save me." [
NJ.com
]
• Framed:
They study everything nowadays, including catchers' ability to frame pitches. J.C. Arencibia apparently worked on it this past offseason and has improved so far this season. [
Mop-Up Duty
]
• Do you like me? Check yes or no:
Are the Nationals the "least liked" team in baseball? One look at their Facebook likes, as well as another looking at the Twitter numbers, say so. [
Washington Post
]
• Looking good:
Count Blue Jays general manager Alex Anthopoulos among those happy to see the Jays return to a more tradition logo. He called the team's old uniforms "brutal," "awful," and "embarrassing." [
CBC.ca
]
• Batman banned:
The guy who ran onto the field at the Orioles' home-opener last week wearing a cape and Batman underwear has been banned from Camden Yards for life.
CBS in
Baltimore
has tracked down the unmasked man.