Monday Observations: Flacco, Ryan taking their lumps in a lost season
Joe Flacco and Matt Ryan aren't hurting for money, but it's been a painful season for both $100M QBs, whose struggles can't all be blamed on bad run games and a lack of targets.
• 8 min read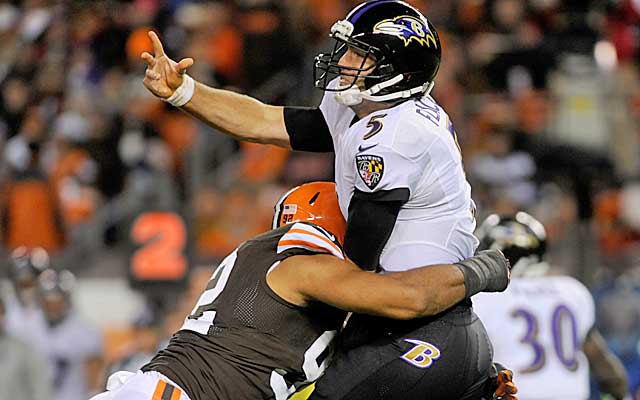 Joe Flacco and Matt Ryan will always be linked together. They were the first two quarterbacks taken in the 2008 draft, they both enjoyed immediate success and reached the postseason with regularity, and, this past offseason, they signed $20-million-a-year deals within a few months of each other.
The comparisons will never end. To this point, Joe Flacco's superior play in a Super Bowl run last season, which culminated with a Lombardi Trophy and a Super Bowl MVP performance, makes him stand out from Ryan. And this season, they can again be lumped together … for all of the wrong reasons.
The Baltimore Ravens and the Atlanta Falcons are reeling, both looking capable of falling dreadfully below expectations as we inch past the halfway point of the 2013 season. And Flacco and Ryan have looked awful at times, forced to run for their lives with woeful protection, both lacking anything resembling a consistent running game and short on pass-catching targets. Flacco, of course, has dealt with less-than-ideal options on offense through much of his career, but for Ryan the abrupt change seems jarring.
He's tossing the ball up for grabs all over the place, looks rattled at times and, rather than step up with his team losing Julio Jones and Roddy White , has wilted, instead. Ryan has thrown seven interceptions and just two touchdowns the past two weeks, with the Falcons now at 2-6 and their season essentially over. Yes, he has faced quality defenses, but the lack of burst from this once-potent offense has been a complete change from the past.
The Falcons were pounded by the Carolina Panthers on Sunday. Ryan's passer rating the past two games are 47.2 and 70.4 -- add them together and that's a ho-hum outing for Peyton Manning . Ryan has been sacked five times in those two games, though that doesn't adequately represent the amount of pressure he has faced at key junctures.
While clearly he isn't getting much help, when you sign a $100-million contract, well, you're going to fall under a certain amount of scrutiny at times like this.(Atlanta's running game, by the way, reached 78 yards Sunday -- its highest total since Week 3 -- and Atlanta has a total of 245 rushing yards the past five games, less than 50 a game.)
Of this pain, Flacco knows plenty.
His offensive line has been a total train wreck in run blocking and pass protection pretty much all season, and the Ravens run game is an abject failure with a single-game high of 3.3 yards per carry in a game this season. It managed an average of 2.62 yards per carry in Sunday's loss to the Cleveland Browns , a team Baltimore had beaten 11 straight times. Flacco and his head coach, John Harbaugh, are about to miss the playoffs for the first time at 3-5, I suspect, and this team has been utterly incapable of scoring first-half points all season long.
Flacco losing his top two weapons -- the traded Anquan Boldin and the injured Dennis Pitta -- has been a crushing blow to a team already short on weapons, but Flacco has still held the ball too long at key times, and tried to force things downfield when the offense has sputtered. He is suffering through what seems destined to be his worst season as a pro, and has been the victim of dropped balls with stunning regularity, too.
For the season, Flacco is completing less than 60 percent of his passes, with just 10 touchdowns to go with nine interceptions. Baltimore is on a three-game losing streak -- something unimaginable during Harbaugh's regime -- and is no longer dominant at home. It has averaged just 17 points a game during this losing slump.
Based on what we've seen to this point, its naïve to think Flacco is going to be able to put this franchise on his shoulders like he did in the postseason and will it back to the playoffs. He doesn't have enough around him, and there have been no signs of an overall offensive improvement from week-to-week, not even coming out of the bye Sunday.
Ditto for Ryan. This isn't his year. It surely isn't the Falcons' year, and this duo is gaining attention for all of the wrong reasons on the field now. Both are still just entering their prime, and better days are surely ahead for such strong franchises, but that's probably not until 2014. And there could be more second-half pain ahead before they get there.
Who's for real in AFC?
The Ravens weren't the only team to blow an opportunity this weekend. With the Cincinnati Bengals and San Diego Chargers losing in fairly heartbreaking fashion in overtime, the chance was there for teams to make moves in the AFC playoff picture.
Baltimore faltered, and Pittsburgh did them one better, having a historically bad day on defense and getting blown out by the New England Patriots . Both are probably done.
However, the Tennessee Titans rediscovered a productive run game (everyone seems to do that against the St. Louis Rams ) and pulled back to .500. The New York Jets came up with the upset of the weekend, shocked the New Orleans Saints at home with a bruising rushing attack (more on that later), to move to 5-4 and stay within shouting distance of New England.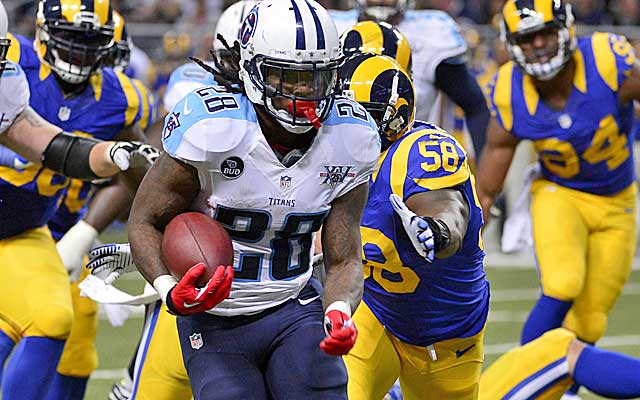 Miami, under duress both internally and externally, pulled off that upset of the Bengals Thursday night that could have opened the door for others, of course. With the general consensus that at least two teams are coming out of the AFC West -- the Kansas City Chiefs are 9-0 and the Denver Broncos are 7-1 -- it stands to reason right now that either the Jets, Titans, Chargers (4-4) or Miami Dolphins are going to be that second wild-card spot.
Perhaps, the outcomes of Week 9 might propel one team forward. It certainly seems to have doomed at least a few clubs.
Cam for MVP?
Could Cam Newton enter the MVP equation at some point here? He keeps this up and I will have a hard time not giving him some consideration.
Newton is simply making plays on a weekly basis that others just can't duplicate. Suddenly the Panthers are dropping big points on opponents, and he is the catalyst for all of it. His presence is unique and his game-changing ability goes well beyond what you see in any boxscore.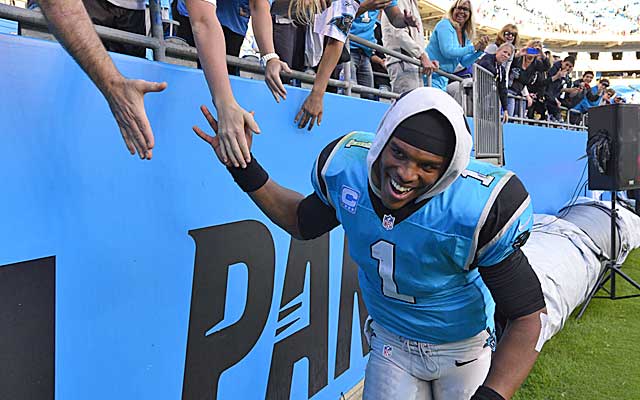 He made a play on third-and-12, early in Carolina's win over Atlanta, when the game was close, where he ran through two tackles, darted outside to run away from another defender, sprinted to the clear and threw a dart to Steve Smith for the first down. Newton is just extending drives, making things happen, keying the run game and making sound decisions.
When he did throw a pick on Sunday, it was his first interception in 83 attempts. He did throw another pick in the game -- Falcons rookie corner Robert Alford made about as beautiful catch as you will ever see from a defensive back in the back of the end zone -- ending a stretch of three games without an interception.
During Carolina's four-game winning streak, Newton is completing over 72 percent of his passes, with seven touchdowns and two picks and a 110 quarterback rating (and that doesn't even account for his three rushing touchdowns in that span). If he can keep this up next week, at San Francisco, perhaps he will start receiving more of the credit he deserves on a national level, while oh so many have been oh so quick to pile on the young man when things have gone poorly for him and the Panthers since he entered the league the first-overall pick in 2011.
Extra points
• I love to have a little fun at the expense of the NFC East, so let me tip my cap to them after Week 9. Earlier this season the AFC West had their way with them, but on Sunday the Skins pulled out a game in overtime thanks in large part to a goal-line stand in the final seconds, the Philadelphia Eagles got a record seven touchdowns from Nick Foles in a rout of the Oakland Raiders , the Dallas Cowboys escaped, barely, with a win at home over the hapless Minnesota Vikings (they pulled off a late-game drive to win, so give credit for that), and the New York Giants , well, they were on the bye which constitutes a good week given how the bulk of 2013 has gone for them.
• I'm astonished at how many of Robert Griffin III 's passes get knocked down at or near the line of scrimmage. It led to a touchdown for the Chargers on Sunday and seems fairly persistent. As does the abuse he takes. He shunned getting out of bounds a few more times this week and was absolutely blown up, again, several times, including a hit where he went head over heels, landing on the top of his back near his neck quite awkwardly. The accumulation of that kind of abuse has to take a toll.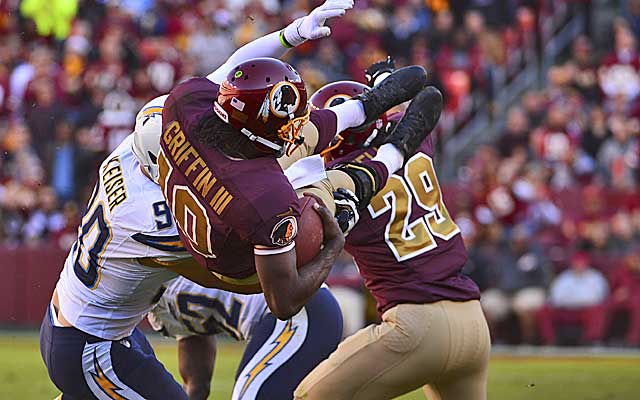 • The Buffalo Bills really were the better team for a good chunk of Sunday, but undrafted rookie quarterback Jeff Tuel l, with massive errors in critical situations, was their undoing. His pick that was returned over 100 yards for a score turned that game for the worse, and the Chiefs have had plenty of good fortune to this point. They're also creating a ton of their own breaks and have established a vibe that's conducive to winning.
•  Chris Ivory is my player of the week. The Jets running back -- stuck for so long behind others in New Orleans -- got a crack at his old team Sunday. And, like we always hear, he wasn't motivated to play them, of course not, just another game, all that stuff. Well, except it wasn't. I love the way this man runs angry and Sunday he was running possessed. He tore the hell out of his old team, and, finally, might get more of a load with the Jets, because frankly I was shocked that Bilal Powell saw so much more of the ball than Ivory did in the first half of the season. He changed the game when, with his team backed up near its goal line, he ripped off a 52-yard run. Overall, Ivory carried 18 times for 139 yards -- 7.7 per carry -- with four runs of 10 yards or more and a touchdown and picking up five first downs. It was just the second time he has carried more than 12 times in a game this season.
• All the best to Broncos coach John Fox with his heart surgery this week and a speedy and full recovery to him. I have a feeling, if anything, his absence and health situation will bring out the best in his team, as the Indianapolis Colts rallied behind Chuck Pagano a year ago, and with Peyton Manning under center, I think they'll be just fine until coach Fox is back sometime late this season.
Check out the uniforms that Kansas City and Oakland will be wearing on Thursday

Cliff Avril's NFL career might be over

Oct. 18 is a very special day in NFL lore
The Falcons should not be making any plans for Minnesota in February

The Colts star quarterback could end up missing the entire 2017 season

Not even two Super Bowl wins is enough to get Eli Manning any respect