Weekend Watch List: Georgia has a lot to lose against South Carolina
Dodd: A loss to the Gamecocks could all but seal the Dawgs' fate in the SEC East, while Michigan could regain its rightful perch against Notre Dame.
A wise coach -- making much less than $5 million per year -- once said the most improvement is made between Week 1 and Week 2.
If that's the case, these teams, coaches and players have the most at stake on Saturday:
Georgia Bulldogs
Tyler in Atlanta had it right, they must become the Desperation Dawgs against South Carolina Gamecocks . The loser is in a huge hole in the SEC East, essentially two games behind the winner. (Ties, of course, are broken by head-to-head results.) The Dawgs don't want to tempt fate for the second straight year -- losing to South Carolina and having to rally back to win the division. Georgia went through this in '11 when it led off by losing to consecutive ranked teams ( Boise State Broncos and South Carolina). Tyler became a national celebrity this week when he cried after the Clemson Tigers loss, "Our whole season's gone." Not quite, but it's close.
Jadeveon Clowney
If South Carolina's much-dissected defensive end isn't properly motivated this week, something is really wrong. Last week against North Carolina Tar Heels he was tired, out of shape and sick. If Clowney isn't energized, fit and healthy against the Dawgs, NFL scouts won't be the only ones dissecting his game.
Michigan Wolverines
I want to see Devin Gardner dominate a dominant Notre Dame Fighting Irish defense. I want to see Greg Mattison's defense make Tommy Rees look like the 2011 version (19 turnovers) rather than the clean, polished version that beat Temple Owls last week. I want to see Michigan win at Penn State Nittany Lions , Michigan State Spartans , Northwestern Wildcats and Iowa Hawkeyes . I want to see Michigan beat Ohio State and go to the Big Ten title game -- and play Ohio State in the Big Ten title game the next week. By God, I want to see Michigan become Michigan again. I'm no fan boy. It's just that we're all better off as human beings when Michigan matters. The Wolverines stunk last year against Notre Dame and haven't so much as shared a Big Ten title since 2004. Is this a rant? Sure. Do I need a Xanax? Possibly. Does Brady Hoke need to step up and smack down ND for the good of humanity? Absolutely.
Louisville Cardinals
Teddy Bridgewater is fantastic, the Cards could go undefeated. But you can already see a national discussion lining up against The 'Ville, which hosts Eastern Kentucky Wildcats . Yes, the American Athletic Conference winner is guaranteed a BCS berth. Anything less than an undefeated season and the Cardinals could be in trouble. The combined record of its opponents after Week 1 is 1-7 against BCS competition. The only BCS win was Cincinnati Bearcats over Purdue Boilermakers .
Johnny Footloose
Taking over/under bets on the first "cash money" gesture. Playing Sam Houston Cougars State, the scrutiny will be on how Johnny Scoreboard acts, not so much how he plays.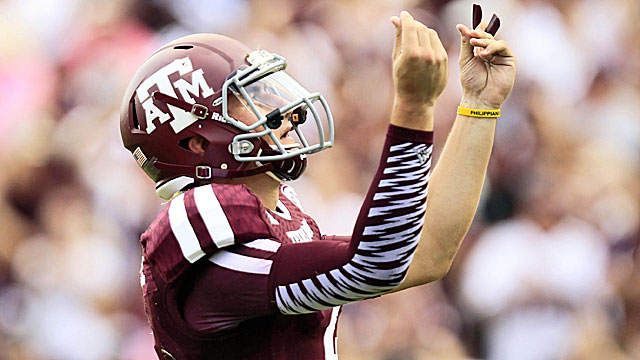 Miami
The Canes are 1-10 vs. top 12 teams since late 2005. Stephen Morris 0-4 against ranked teams. Yeah, beating No. 12 Florida Gators would restore some Miami credibility.
BYU and

Texas Longhorns
It's strange watching the Cougars with such a clunky offense. Offensive coordinator Robert Anae has promised a shake-up in the line after a putrid showing against Virginia Cavaliers . The Cougars ran 93 plays but averaged only 3.89 yards per snap. Quarterback Taysom Hill completed only 13 of 40. It's stranger watching Mack Brown defend himself because of another quarterback he didn't sign. An 0-2 start for BYU would be its first since 1995. Texas last visited Provo 25 years ago, losing by 41.
GP and CP
TCU Horned Frogs 's Gary Patterson and Boise's Chris Petersen have never each lost their opener in their combined 19 years as head coaches. Until last week. The former Mountain West rivals have never started 0-2. They won't -- or shouldn't -- with each playing FCS teams this week.
Bowling Green Falcons
One of the buried storylines from Week 1 was BG's shutout of Tulsa Golden Hurricane . It was the first zero for the Falcons over a legit FBS opponent since 2004. (BG shut out UMass last year in its first year of FBS membership.) Dave Clawson's "Clawfense" is humming again and revenge is in the air this week at Kent State Golden Flashes . The Golden Flashes beat BG last year, keeping the Falcons from the MAC championship game.
Tennessee Volunteers
There is little upside to hosting Western Kentucky Hilltoppers . If the Vols cover the 13 1/2 points, no one notices. If Bobby Petrino beats his second straight SEC team with the Hilltoppers it may lead SportsCenter, Fox Sports 1 and CBS Sports Network's "Fast Football." By the way, Petrino has won 12 of his last 13 games against SEC opponents -- eight in a row against the SEC East. It would be in the Vols' best interest to win big with a trip to Oregon Ducks looming.
Willie Taggart
How would you like to be the South Florida Bulls coach right about now? The energetic, upcoming force of nature with the Stanford Cardinal background, did everything right including being the subject of an offseason funny. In his debut last week, the Bulls gave up their most points ever at home to McNeese State. Now Taggart's bus drives to Michigan State. This could get ugly quickly.
Ejection reaction
Ten players were ejected last week due to the new adjustment in the targeting rule. Three were overturned after replay. At least one of those ejected was an offensive player, Alabama-Birmingham tight end Kennard Backman . See if you agree ...
Say goodbye to a great sellout streak
Virginia Tech Hokies 's 15-year streak of 93 consecutive sellouts should end this week, according to AD Jim Weaver. It's a combination of several factors: Quality of opponent. (Western Carolina) The Hokies are coming off their worst season in 20 years (7-6 in 2012). Plus, the home schedule doesn't inspire one to separate cash from wallet. Going forward: Marshall Thundering Herd , North Carolina, Duke Blue Devils , Pittsburgh Panthers and Maryland Terrapins . ...
Arizona Wildcats (at UNLV Rebels ) has lost what could have potentially been a set of future starting linebackers to concussions. Rob Hankins, who would have been a junior in 2013, gave up the game a year ago. This week Rich Rodriguez revealed sophomores Dakota Conwell and C.J. Dozier -- his first two recruits a year ago -- retired from football due to multiple concussions. They will keep their scholarships. ... Iowa should end a losing streak that is tied for sixth-longest in the nation (seven games, tied for third-longest among BCS schools) by beating Missouri Tigers State. We think. ... Mack Brown can tie Woody Hayes for career victories by beating BYU. ... Oregon hasn't played this far east (at Virginia) since going to Army West Point Black Knights in 1970.
Crummy trip of the week
Alabama-Birmingham will bus six hours to Baton Rouge to play LSU Tigers . Should be a pleasant trip back assuming the Tigers cover the 34 1/2-point spread.
Crummy week, period
Thirty-three of the 75 FBS games this week involve an FCS opponent (44 percent).
Your moment of Johnny Football Zen
 Eight days out from the Cage Match In College Station, yes, he's on the cover of Time.
Show Comments
Hide Comments
Twenty-eight of 95 early entry prospects went undrafted

The SEC and Michigan each had great weekends in the 2017 NFL Draft

Rawleigh Williams III left the field on a stretcher after a neck injury
Jim Harbaugh wants more college football programs to embrace the international trip

It seems there's a lot of talent in the SEC

There are all sorts of drafts out there and these are my favorites