Grading the first half: A's flying
What if we gave grades to every single team for the first half of the 2014 season? The A's would come out on top, that's what.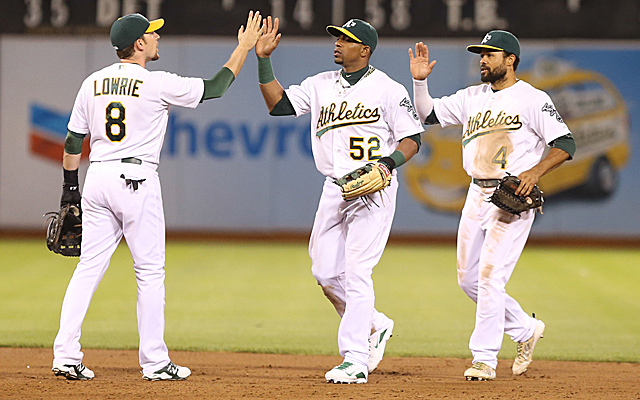 More MLB: Power Rankings | Expert Picks | Latest news & notes | Fantasy news
Though we're technically past the literal halfway point (81 games) of the season, the All-Star break is now upon us, which means the "first half" of the MLB season is now in the books. So let's dole out some first-half grades for all 30 teams.
Something to keep in mind: Expectations matter. If a good team was supposed to be better than they actually are, they might have a lower grade than a bad team that is playing better than expected. Let's not be simple-minded enough to think we should just copy the standings with an A for first place, B for second, C for third and so on. Got it? Good, let's have at it.
Team
Grade
Analysis
A
An off year for

Chris Davis

, a season-ending injury for

Matt Wieters

, an injury and a slow start for

Manny Machado

, a change at closer due to underperformance and overall not very good pitching ... and they're in first place. That's pretty impressive. Yes, a few things have obviously gone well, too, but to survive all the bad listed above is pretty amazing.
B-
Coming into the season, if you told

Toronto Blue Jays

fans their team would be over .500 heading into the All-Star break, surely they would have been happy, but after winning 20 of 24 at one stretch only to fall apart like they have merits a downgrade.
C+
The injury to Masahiro Tanaka is worthy of a pass, but the rest of the roster was fragile heading into the season and there hasn't been enough depth to compensate. They are just an old, fragile team. Also, they are mediocre.
F
They aren't quite as talented as last season, but they still have too much talent to be this far below .500. Lots of underperforming here, teamed with a pretty bad offseason by general manager Ben Cherington.
D
A recent hot streak saves them from an F, but this team had playoff aspirations (as usual) and at one point was 18 games below .500 and now they could be parting with

David Price

.
A-
A great team destroying the rest of its division, looking a cinch to cruise into the playoffs again. Why the minus? Well, they had that terrible stretch from mid-May to mid-June and there's at least some cause for concern with

Justin Verlander

.
C
At one point, they would have had an A, but they've been completely buried by the

Detroit Tigers

in the AL Central and will have to again focus on the wild card to break their MLB-long playoff drought.

Mike Moustakas

and to a lesser extent

Eric Hosmer

still not being quality middle-of-the-order types hurts them, too.
C
The very definition of a C is this

Cleveland Indians

team. They haven't been able to get more than two games over .500, but have never dropped below six under .500. They are just treading water right in the middle of the curve.
B
Though not a good team, there are moments when it's among the most exciting in the league, especially when

Chris Sale

is pitching or

Jose Abreu

is batting. Coming off a brutal 2013 season, this campaign has been a pleasant surprise in many ways.
D+
The

Minnesota Twins

were on the fringe of contention for a while, but have fallen a bit back. The

Ricky Nolasco

signing thus far is a disaster and

Joe Mauer

is underperforming to the point that he said he doesn't blame the fans for booing him and his Grandpa said he needs to play better.
A+
They lost

Bartolo Colon

from the rotation in free agency before also losing

Jarrod Parker

and

A.J. Griffin

to Tommy John surgery. No matter, the A's have been the best team throughout most of the season and recently upgraded their rotation. Easy A+.
A
After an 0-3 start caused many fans and local media to overreact, the

Los Angeles Angels

have been one of the best teams in baseball throughout the first half. The only thing keeping them from first place is being in the wrong division.
A-
Though the offense needs to be a lot better, the

Seattle Mariners

surely would have taken their standing heading into the All-Star break if offered as much during the spring. The

Robinson Cano

addition has helped greatly, but

Felix Hernandez

is having perhaps his best season ever and helped weather an early storm of rotation injuries.
B
Similar to the

Chicago Cubs

(see below), there are many reasons to call the

Houston Astros

season a success.

Jose Altuve

is amazing. To different degrees,

Dallas Keuchel

and

Jarred Cosart

have proven they can stick in the rotation long-term while

Brad Peacock

has a chance to do the same.

George Springer

and

Jon Singleton

have shown they can anchor the lineup in the future, too. It's a rebuilding project, so ignore the W-L total and realize 2014 has been a good year for Houston.
F
Injuries, underperformance and a lack of big-league depth have made the 2014 season an absolute disaster. Just two years ago at this time they were one of the best teams in baseball, too. Easy F here.
B
Being nine games over .500 and tied for first place after losing 40 percent of its rotation in the spring due to Tommy John surgery is pretty good. The offensive inconsistencies are too troubling to merit an A, though. They need to be able to count on more than three hitters.
B
Injuries hurt for sure, as much of the offense was on the shelf in the first half. So in light of that, being tied for first place definitely warrants a good grade. Still, an argument could be made they didn't do enough to take advantage of the

Atlanta Braves

 struggles before the recent red-hot surges by both teams.
C

Giancarlo Stanton

has been outstanding,

Henderson Alvarez

is a deserved All-Star and there has been plenty from

Christian Yelich

and

Marcell Ozuna

to excite. Before his crushing injury,

Jose Fernandez

looked like one of baseball's best pitchers. Overall, though, it has been a subpar season and until there's talk of a contract extension with a no-trade clause, there's little reason to believe Stanton's first true pennant race will be with this team. Specifically, the difference in the

Miami Marlins

compared to the

Houston Astros

and the Cubs is we don't know if the development of youngsters will actually benefit the Marlins in the future.
C+
It has been a roller-coaster of a first half in Queens. I would like to see better development from

Zack Wheeler

and

Travis d'Arnaud

, but there have been some positive signs from each. I thought heading into the season that a 2015 breakout (with

Matt Harvey

back and a few of the prospects more established) was likely and while that's still possible, I feel like we need to see a bit more to believe that at this point.
D
Lots of disappointing seasons here, notably

Domonic Brown

and this relatively old and overpriced roster continues to flounder. General manager Ruben Amaro has his work cut out for him in reshaping the roster, unless he's fired before the offseason.
A
The sequencing of how their first half went was far from ideal, but put it this way: If, before the season, someone told you the

Milwaukee Brewers

would be 10 games over .500 and in first place, you would say they deserve an A, right? Absolutely. They weathered some injury adversity, too.
B-
The defending NL champs and consensus NL Central favorites head into the break one game back of Milwaukee, which definitely isn't bad, but it's not where they intended to be. The power outage on offense and rotation injuries are a concern moving forward, but not nearly as much as missing

Yadier Molina

for at least two months.
B+
The

Cincinnati Reds

went through some rough patches this season, but considering all their injury woes -- pretty much to every aspect of the club -- it's remarkable they are right in the contending mix. I think the fans should be ecstatic with the current record considering what the team has gone through.
B
They were eight games below .500 on May 20, so heading into the break three games over is definitely a good thing for Pittsburgh. The offense has been good and the addition of

Gregory Polanco

gives the

Pittsburgh Pirates

an unbelievable outfield that is under team control for years. The pitching, though, has been disappointing.
B
They can't get an A due to being in last place, but when judged against the expectations for the season, the 2014 campaign has been a good one for the Cubs.

Anthony Rizzo

and

Starlin Castro

are both All-Stars, the farm system might be the best in baseball -- with several at the upper levels in the minors and soon to help in the bigs much like

Arismendy Alcantara

already is -- and they got a great return for

Jeff Samardzija

and one-year flier

Jason Hammel

.
B
They played very poorly for a while and much of their record came from beating up on the hapless

Arizona Diamondbacks

, however, they head into the break in first place. They were expected to be better than this, so the A eludes them for now.
B+
Much like I said with the Brewers, the sequencing isn't ideal, but overall the

San Francisco Giants

 record in totality shows a successful first half. Coughing up a 9½-game lead and heading into the break in second place, however, warrants a bit of a dock, though.
D
Very good pitching and an abominable offense. This was expected to be the case, but the continued lack of development from so many of the position players is troubling.
D
After a very good start, they've completely fallen apart. Injuries definitely played a role, which is why they're spared an F. Still, things have gotten bad enough that the owner told a fan to stop coming to the games. On the bright side:

Troy Tulowitzki

!
F
After going 81-81 two straight seasons, they are one of baseball's worst teams. There have been a few good stretches, but none good enough to negate how much of a colossal failure this season has been.