2014 Las Vegas Summer League: What to watch on Day 4
Taking a look at the match-ups from Las Vegas Summer League for Sunday, July 13 and whom you should pay attention to.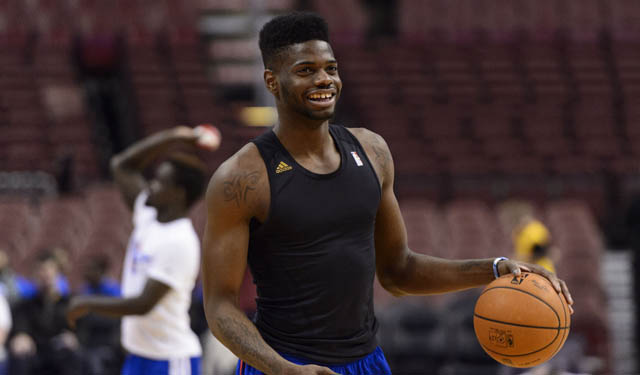 More Offseason Analysis: Coaching changes, news | Free Agency | Draft
Day 3 of Las Vegas Summer League had quite a bit of action. Noah Vonleh finally got on the board with some buckets, the D-League Select team went to sudden death overtime with the Atlanta Hawks, Doug McDermott put on a show for the fans in a shootout with Quincy Miller, Jabari Parker was welcomed to the league by a young veteran, and we had lots of guys making names for themselves throughout the day. 
What does Day 4 have in store for us? Perhaps a little Nerlens Noel mixed in with the action on the court?
4 p.m. ET - New York Knicks vs. Charlotte Hornets
Get ready for some chucking!
If you're not named Tim Hardaway Jr. and you're on the Knicks' summer roster, I'm not sure you should be expecting a lot of field goal attempts. He's taking 31 shots in the first two games with 18 of those coming from the 3-point line. He's making just 38.3 percent of his shots and 33.3 percent of his deep attempts. He's clearly come into Vegas with the same mentality he had last year; he wants to get shots up. Hardaway 2.0 is putting up shots immediately when he touches the ball, which is both good and bad. You want him being an all-around offensive threat in Phil Jackson's Knicks design, so shooting instantly isn't really working on his game. But you also want him to become a very confident scorer, so you just have to hope he doesn't develop bad habits.
Speaking of shooting a lot and not hitting a great percentage, through most of P.J. Hairston's first two summer league games, he was horrendous at making shots. But he was shooting a lot. He was 2-of-16 from the field in Game 1 and he started out 1-of-9 in the second game. I'm no basketball expert, but a 3-of-25 (12.0 percent) shooting performance isn't ideal. The only way to get out of a shooting slump is to shoot and make shots. Hairston made 5-of-11 to finish out the game, including making four straight 3-pointers at one point. He finished with 22 points on 6-of-20 shooting. All six of his makes were from three. The lesson as always is "keep shooting, kids."
4:30 p.m. ET - Sacramento Kings vs. D-League Select
Through the first two games of summer league for the Kings' roster, we haven't really had anybody distinguish themselves on the court. Granted, they played a very ugly game on Sunday, which makes it hard to really evaluate anything that's happening on the court. But Ben McLemore and Nik Stauskas have just kind of existed on the court. They each got 10 shots but neither player put their stamp on the game. It's the same with Derrick Williams and Ray McCallum. The only player definitely making an impact each time out is Quincy Acy. A big scoring binge from Stauskas or McLemore would be fun and needed.
The D-League Select team were the first quad during this summer session to go to sudden death. To keep things moving in summer league, you get one overtime period to win the game outright if you're tied after regulation. If it goes to a second overtime period, the first team to score gets the victory. It's more chaotic than it seems. Check out how Devin Ebanks won the game in sudden death:
6 p.m. ET - Toronto Raptors vs. Dallas Mavericks
After having an efficient 12 points in his summer debut, Bruno Caboclo struggled in his second game. He was very confident, even waving off a screen in order to take a pull-up 3-pointer at one point, but the struggle was probably a good thing in his early development as the Raptors try to tap into his potential. Caboclo gets his first opportunity to see what he did wrong in a game after struggling and try to turn it into a positive for his game. He's very long and he has incredible skill for being such a raw player, but even a very confident young guy needs to be knocked down a peg right away.
Eric Griffin, an unknown, undrafted 24-year old out of Campbell, has been creating a bit of a buzz. He's a very skinny 6'8" but he's a human pogo stick. He had the huge dunk on Shane Larkin in the first game of the summer, then had a big reverse dunk on a breakaway in the second game. He's also had some incredibly athletic defensive plays that make you wonder if he could really become a role player on that end of the floor. He's not all that skilled as a forward on offense, but if he can play defense and make big plays with his athleticism, no reason to think he can't make a team in this league.
6:30 p.m. ET - San Antonio Spurs vs. New Orleans Pelicans
Deshaun Thomas of the Spurs is probably the most interesting case on this roster outside of Kyle Anderson. He was the 58th pick in the 2013 draft for the Spurs and spent the year playing in France for JSF Nanterre. He's a bit of a tweener at both forward positions, but he's got a very smooth jumper, can stretch the floor out to 3-point range, and is a very solid defender. He's averaged 15 points and been very active on the offensive boards in the first two games of summer league. He's made 4-of-9 from 3-point range too. He just looks like a Spurs role player that will randomly kill your team for a quarter in a playoff game a few years from now.
Let's talk about Courtney Fells. Fells is a 6'5" guard out of N.C. State who went undrafted in 2009. He's played in the D-League and overseas since then. Sunday against the Lakers, Fells dropped 25 points in 23 minutes off the bench. He didn't do much outside of the scoring, but he can flat-out shoot the ball and has been a 3-point threat in other leagues. The question isn't whether he can shoot but can he defend and shoot consistently enough to make a roster? This might not be the last big scoring performance we see from him. Could possibly be this year's Vander Blue, even with Vander Blue being there.
8 p.m. ET - Cleveland Cavaliers vs. Philadelphia 76ers
Wiggins showed a lot of promise and skill in his first game. In the second game, he struggled quite a bit to have an impact. The problems he showed at Kansas when people accused him of blending in too much and not being aggressive reared their ugly head a bit. It wasn't a disaster by any means and it could be him just trying to be a certain role for this team. But you'd like him to maybe overdo and impose his game, good or bad, like Anthony Bennett has been doing in these games. Bennett has been chucking and his aggressiveness has been encouraging. You want these guys to have a little trial-and-error in these developmental games. Wiggins trying too hard might be a good thing.
It looks like Nerlens Noel and K.J. McDaniels will play in Monday's game. McDaniels hurt his ankle and hadn't played because of it, but it's not a serious injury and we should get to see his athleticism on display. He's a danger to baptize a big man at the rim at any moment. For Noel, they don't really need to be that cautious with him. They're being careful with not overusing him in the summer, but he needs reps on the court. Seeing how his offensive game keeps working against more and more potential NBA talent is a good trial-and-error for him as well.
8:30 p.m. ET - Miami Heat vs. Los Angeles Clippers
Some guy named LeBron James left the Miami Heat, but the savior in his place is James Ennis. OK, that's probably a little dramatic and optimistic, but Ennis has been very good in his summer league contests. He shot over 50.0 percent from 3-point range in the Orlando Summer league. That wasn't just a Florida thing for him. He hit 2-of-4 from three and 8-of-13 from the field in his first Las Vegas game for the Heat. He had 19 points, eight rebound, and three steals. He's not going to be a fix for LeBron's departure, but he can learn a lot from playing with Luol Deng in the next season or two as he becomes a rotation guy.
This Clippers' summer league team is rough to watch. They have Jon Brockman crashing into people under the boards and they have Delonte West trying make an NBA roster. Lorenzo Brown had a nice game with 17 points and eight assists, and he could be making his way to a training camp invite for a team that just lost their backup point guard in free agency. West, on the other hand, just didn't look good on the floor. It's just one game but you'd expect him to differentiate himself from these players in some way. He didn't at all. 
10 p.m. ET - Golden State Warriors vs. Los Angeles Lakers
James Michael McAdoo has looked physically imposing with the players at summer league. Granted, there are bigger, stronger guys in the NBA but McAdoo looks to be in great physical shape. He's battling for rebounds, pushing players out of post position, moving guys boxing out even when he's not even getting rebounds, and he's been very physical. Can he have an offensive presence at all? In two games, he has 17 points on 18 shots to go along with nine turnovers. He doesn't need to be Kevin McHale down there in the post, but he has to be active cutting off the ball for dump-off passes and big dunks.
Julius Randle made his debut for the Lakers after signing his rookie deal and looked pretty solid in limited minutes. He played just 21 minutes of the game, scoring 10 points on 4-of-9 shooting. The disappointing thing about his game is he wasn't a huge factor on the boards like you'd expect him to be. The Lakers' guards need to make sure he's a prominent feature in their offense and look for him to get out in transition. But it's good to have another star rookie on the floor in this summer session.
10:30 p.m. ET - Utah Jazz vs. Milwaukee Bucks
Dante Exum lit up the buzz of the summer league. Talk to fans, scouts, executives, writers, etc. and you'll hear about how good he looked on the court. They threw traps at him and he handled it like the world was moving in slow motion. He had his eyes up while dribbling the entire time. He handle and passing decisions were superb. Had Rodney Hood been able to knock down shots, Exum would've racked up a couple more assists. His defense was also very solid and his jumper looks workable. Now that he has the summer's attention, let's see how he plays in a bigger spotlight.
I don't believe the idea that Jabari Parker isn't a good or even an exceptional athlete. I think he can fly just fine and has an explosive enough leap in his arsenal. Couple that with his excellent footwork and he should be able to provide some highlights in his career. But he will be going against the best athletes on a nightly basis. Miles Plumlee reminded him of that Sunday night by going with the volleyball block on Parker. 
Larry Hartstein has his finger on the pulse of Philly basketball and locked in his pick

James Harden is back for the Rockets after missing the last seven games due to a hamstring...

SportsLine's Mike McClure, a DFS pro with more than $1M in winnings, gives optimal lineup...
James Harden is expected to return for this national TV contest between the Timberwolves and...

Philly and Boston are matching up again after the Sixers' second-half collapse in London

Kris Dunn somehow took a chunk of the Bulls court out with his teeth, but didn't lose any in...