Bracket overview: Why in the world did Dayton get sent to Dayton?
Putting the Flyers in Dayton is wrong for Dayton, bad for Boise State and just nonsensical in general.
The Field of 68 has been finalized.
Here are some random thoughts and wild predictions upon first look ...
When the RPI doesn't matter: I lead with this category every Selection Sunday. It never disappoints. What you need to know is that no power-five school with a top-58 RPI was omitted this season, but eight non-power-five schools with top 58 RPIs were -- specifically Colorado State Rams (28), Temple Owls (34), Tulsa Golden Hurricane (45), Old Dominion Monarchs (46), Iona Gaels (51), Green Bay Phoenix (54), Richmond Spiders (56) and Louisiana Tech Bulldogs (58). This means the two best RPIs omitted belonged to non-power-five schools for the 11th straight year, which again shows that a good RPI can save you if you're from a power-five league, but it won't help much if you're not. 
TOP TWO RPI RANKINGS LEFT OUT OF THE FIELD OF 68
2015: Colorado State (28), Temple (34)
2014: Southern Miss (33), Toledo (38)
2013: Southern Miss (31), Louisiana Tech (54)
2012: Marshall (47), Oral Roberts (51)
2011: Harvard (35), Cleveland State (42)
2010: Rhode Island (40), Wichita State (43)
2009: San Diego State (34), Creighton (40)
2008: Dayton (32), Illinois State (33)
2007: Air Force (30), Missouri State (36)
2006: Missouri State (21), Hofstra (30)
2005: Miami-Ohio (39), Wichita State (45)
THREE THINGS I IMMEDIATELY NOTICED ABOUT THE BRACKET
1. We might get Kansas Jayhawks - Wichita State Shockers in the Round of 32
I've never been one who believes the selection committee manipulates the bracket to create certain matchups, if only because once I started actually putting together mock brackets years ago I realized quickly that you'll always have possible fascinating matchups based on little more than the sheer number of teams involved. So is a likely Kansas-Wichita State matchup in the Round of 32 a result of bracket manipulation? No, I don't think so. But, man, that's the please-make-it-happen matchup of the opening weekend given how the Kansas-Wichita State scheduling situation has made headlines over the past few years, and Bill Self and Gregg Marshall have even gone back and forth publicly about it. (Simply put, Wichita State wants to play Kansas; KU has no interest for obvious reasons.) So with all due respect to Indiana and New Mexico State, it would be cool if you guys just got out of the way and let us have Kansas vs. Wichita State in Omaha.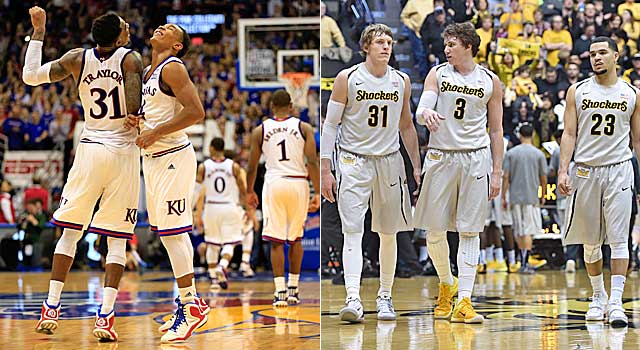 2. Dayton Flyers in Dayton is interesting (but wrong)
Dayton won 25 games, finished second in the Atlantic 10, made the A-10 tournament title game, won at VCU, beat Ole Miss and, somehow, still ended up in the First Four. Meantime, UCLA -- which went 2-8 against the top 50 of the RPI -- was placed in the main bracket, and I don't think a single person on this planet could intelligently explain that decision. Dayton finished 6-6 against the top 100 of the RPI with two losses outside of the top 100; UCLA finished 5-10 against the top 100 of the RPI with three losses outside of the top 100. Also: Dayton is ahead of UCLA in the RPI, at KenPom and in the Sagarin ratings, which means there's just no way to justify UCLA being in the main bracket ahead of Dayton. There's. Just. No. Way. And the worst part of all of this isn't even that the committee's mistake screwed Dayton. The worst part is that the committee's mistake also screwed Boise State, which now has to play Dayton in Dayton. Whole thing is dumb.
3. Murray State Racers was never even close to making it
I explained last week, after Murray State lost in the OVC tournament, that the Racers would only get an at-large bid if the committee disregarded the numbers and decided to simply reward their excellent run through the OVC schedule. As you know, the committee did no such thing. Murray State wasn't even close, and, honestly, I'm not surprised. I've made all my points about Murray State already -- and explained in great detail why the Racers cannot schedule the way so many uninformed observers suggest they should -- so there's no reason to go through them again. But I stand by this: The system is flawed when a team can win 25 straight, then lose at the buzzer of its conference title game and not even be seriously considered for the NCAA Tournament because of losses that came literally four months ago. If that can happen without folks really even blinking, then there has to be a better way for a sport that fancies itself as inclusive to do this.
Two teams seeded too low: Wichita State, Dayton
Three teams seeded too high: Xavier Musketeers , Oklahoma State Cowboys , UCLA Bruins
Four Round of 64 games I can't wait to watch: Butler Bulldogs - Texas Longhorns , Wichita State- Indiana Hoosiers , Utah Utes - Stephen F. Austin Lumberjacks , Maryland Terrapins - Valparaiso Crusaders
FIVE TEAMS I CAN IMAGINE WINNING IT ALL
Kentucky Wildcats

Duke Blue Devils

Arizona Wildcats

Wisconsin Badgers

Virginia Cavaliers
MY FINAL FOUR
Kentucky vs. Arizona
Duke vs. Virginia
MY NATIONAL CHAMPIONSHIP GAME
MY NATIONAL CHAMPION
Cavaliers basketball coach tapes statement on behalf of his university and his city

Gary Parrish and Matt Norlander discuss all things Marvin Bagley and his immediate future

Which version of Grayson Allen will show up for Duke and other questions for every ranked...
Upon landing the nation's top recruit, Duke tops the list with other title contenders at the...

The presumptive No. 1 overall NBA Draft choice makes the Blue Devils 3/1 favorites to win it...

Commitment to Duke is the first step, but the next one is the biggest; here's what you need...