Ranking the 24-hour college hoops marathon
The 24-hour marathon on ESPN in mid-November is always one of the highlights of the early-season schedule. To get you excited three months early, we ranked the 16 games.
• 4 min read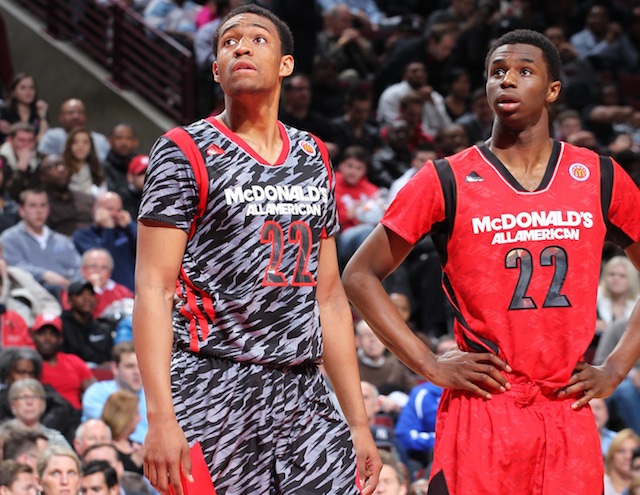 While the official start of the college basketball season is still about three months away, we finally started talking about certain matchups on Monday afternoon. The main reason? ESPN released its schedule for the 24-hour marathon of games. It's become one of the highlights of the non-conference season, as it's the perfect excuse to stay up for 24 hours (or 29 hours, technically) and watch basketball.
This season, there are clearly two marquee games – but they don't occur until the very end of the docket. It's not a bad build-up, though, so let's rank each of the games.
1. Michigan State Spartans vs. Kentucky Wildcats (7:30 p.m., Nov. 12, ESPN): I know Kansas Jayhawks vs. Duke Blue Devils is probably more intriguing, but this is going to be a battle between two of the top three teams in the country – and it's not like there's going to be a lack of intrigue in this one either.
2. Kansas vs. Duke (10 p.m., Nov. 12, ESPN): Andrew Wiggins vs. Jabari Parker. Bill Self vs. Mike Krzyzewski. Not a bad start. Both teams have the pieces to make deep runs in March, but much will depend on the play of each team's touted freshman star. It starts here.
3. Florida Gators at Wisconsin Badgers (9 p.m., Nov. 12, ESPN2): Both teams lose some pieces from a year ago, but it's impossible not to consider Wisconsin a top-20 team, and Florida has the horses to be a potential top-five team if Chris Walker is eligible. Sam Dekker vs. Dorian Finney-Smith ought to be fun.
4. VCU Rams at Virginia Cavaliers (7 p.m., Nov. 12, ESPN2): Nice contrast of styles in this one, as Havoc will go against the defensive-minded, slow-it-down mantra of Tony Bennett and Virginia. With that said, this should be a good intrastate battle where we get to see if both teams are set at the point guard spot.
5. Brigham Young Cougars at Stanford Cardinal (11 p.m., Nov. 11, ESPN2): A potential bubble game that will be talked about four months later, both teams have quality guards who can lead them to wins. Tyler Haws is capable of scoring 30 on a given night, while Chasson Randle is underrated for the Cardinal.
6. LSU Tigers at Massachusetts Minutemen (11 a.m., Nov. 12, ESPN2): Another game between two teams looking to break into the periphery of the NCAA tournament discussion. Massachusetts loves to get up and down, while LSU brings back four starters and welcomes Jarrell Martin into the fold.
7. NC State Wolfpack at Cincinnati Bearcats (5 p.m., Nov. 12, ESPN): This is where we take something of a downward turn. Cincinnati loses Cashmere Wright , but brings back Sean Kilpatrick and a host of players. NC State loses its entire starting lineup, and it will be interesting to see how Mark Gottfried handles the new talent.
8. Akron Zips at St. Mary's Gaels (3 a.m., Nov. 12, ESPN2): If Matthew Dellavedova was still in school, I would be all for watching this game at 3 a.m. But he's not, so we'll see. The Gaels will battle at the top of the WCC, while Akron will likely compete in the MAC despite losing Zeke Marshall .
9. South Carolina Gamecocks at Baylor Bears (3 p.m., Nov. 12, ESPN): There's going to be some talent in this game, but much of it is going to be young and unproven. Baylor will be back in the thick of things if it figures out the point guard situation, while South Carolina is bringing in a nice crop of newcomers. 
10. Colorado State Rams vs. Gonzaga Bulldogs (9 p.m., Nov. 11, ESPNU): Last year's Colorado State Rams team against last year's Gonzaga team would have been awesome. However, the Rams are rebuilding after losing most of their key pieces – although Gonzaga should be a Sweet 16 threat.
11. Western Kentucky Hilltoppers at Wichita State Shockers (1 a.m., Nov. 12, ESPN2): Gregg Marshall and the Shockers are coming off a shocking (sorry) Final Four run, and they do return Cleanthony Early and three starters. Western Kentucky has made back-to-back runs to the NCAA tournament.
12. West Virginia Mountaineers at Virginia Tech Hokies (1 p.m., Nov. 12, ESPN): How will Virginia Tech go about replacing Erick Green ? It's going to be nearly impossible. How will West Virginia go about replacing Aaric Murray ? Well, probably fairly easily. The Mountaineers bring in solid freshman power forwards.
13. Kent State Golden Flashes vs. Temple Owls (7 p.m., Nov. 11, ESPNU): Fran Dunphy-coached teams are always threats to make the NCAA tournament, but this version of the Owls needs some rebuilding. I'm not counting them out, though. Kent State has won at least 19 games in 15 straight seasons. Wow.
14. New Mexico State Aggies at Hawaii Warriors (5 a.m., Nov. 12, ESPN2): Hawaii loves playing this time slot, mainly because it's the only team that can play in this timeslot. It's going to be a nuisance to deal with 7-foot-5 Sim Bhullar so late at night, though. He's likely to bowl over the Warriors.
15. Quinnipiac Bobcats at La Salle Explorers (9 a.m., Nov. 12, ESPN2): The Explorers are coming off a surprising NCAA tournament run to the Sweet 16, and TV darling Tyrone Garland is back on the perimeter. Ramon Galloway will be a tough loss, but Dr. John Giannini's troops will be fine. Quinnipiac finished on a hot streak last year.
16. Hartford Hawks at Florida Gulf Coast Eagles (7 a.m., Nov. 12, ESPN2): Andy Enfield went across the country to USC, but Dunk City is back! For the first time since they captivated the nation with their high-flying Sweet 16 act, we will see the Eagles on their homecourt, in action. Hartford went 17-14 last season.
Arizona, for no good reason, doesn't have to play at USC or UCLA this season

We look at the 'Major 7' leagues and give you the best of what's to come in conference play...

Louisville's coach predicts a change is coming to the NBA's one-and-done rule by 2019
Multiple former players of Lonergan's alleged verbal abuse and inappropriate remarks

When Miller left for Indiana, there was cause for concern in Flyerland; a top-100 signee says...

The Hoyas will spend their non-league schedule playing mostly nobodies -- as will most big...