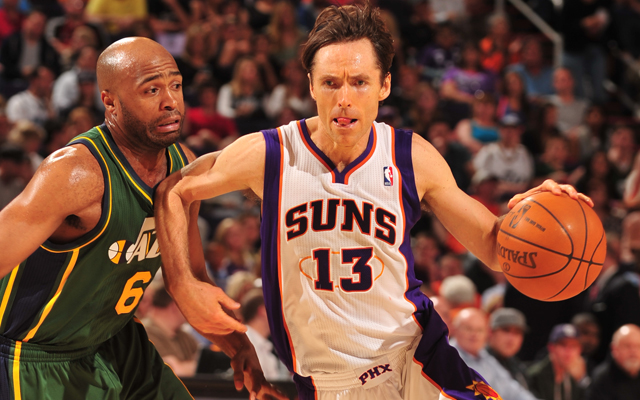 Steve Nash, beyond time and space.
(Getty Images)
The Baseline Awards hand out rewards for exceptional and not so exceptional events and players of the past week. Award rankings are at the end and please watch your step as you exit the ride. 


Eastern Conference Player of the Week: Carmelo Anthony
I'm on record as being hyper-critical of 1. acquiring Carmelo Anthony for the king's ransom the
Knicks
did last year, blowing up their team concept, 2. firing Mike D'Antoni who was never given the ability to win with the kind of team that actually fits his entire approach, let alone system, and 3. Melo's general approach which is "give me the ball and let me do my thing."
But there is no way to argue with what he's been doing since Mike Woodson took over, and the more teammates fall to injury, the less help he has, the more spectacular his play has been. He's doing all the things you would ask of him if he were going to take the "me against the world" attitude he loves so much.
He's been efficient, 50 percent shooting from the field and 47 percent (!) from three-point range the past four games. Yeah, his assists are down, because the ISO's are up. But 7.8 rebounds and 1 steal per game the last four outings, alongside his improved defense this season. Oh, and he's averaging 32 points per 36 minutes in that span.
Plus, you know, this:
Maybe it's a hot streak. Maybe it says something that he had to have everything tailor-made for him. But there's no arguing with the production, no arguing with the results, no arguing that Melo has been exceptional this past week.
Western Conference Player of the Week: Steve Nash
How are the
Suns
doing this?
No, seriously, HOW?!
The Suns are right there in the thick of the playoff race. I like
Marcin Gortat
as much as the next guy. But he,
Michael Redd
,
Channing Frye
, and
Shannon Brown
, do not a playoff team make. And yet here they are. And here's what Nash is doing.
His last four games?
The team is averaging a 111 offensive rating (points per 100 possessions) with him on the floor, he's dishing 48 percent of their assists, he's shooing 58 percent from the field, 53 percent from three, and 100 percent from the stripe while dishing 11 assists in 32 minutes. His per-36 minutes numbers over that span? 18 points, 14 assists, 4 rebounds with a 69 percent TrueShooting percentage.
GET. OUT.
Nash turned 38 years old two months ago.
Dominator Award: Tim Duncan
Among the multiple reasons to be absolutely horrified of how good the Spurs are right now, Tim Duncan's playing like some sort of mutant version of his old self. Not dominant, but certainly hyper-effective. Per-36 minutes over roughly the last week, Duncan has averaged 18 points and 17 rebounds with 3.7 blocks. He's playing just under 30 minutes. So to kind of put this in perspective, Tim Duncan is coming in, destroying everyone, and then getting rest so he can continue destroying people.
That 3.7 blocks seems particularly relevant. That's just not a stat padded by one extreme game. In the last eleven contests, Duncan has had multiple blocks in eight of them. The Spurs have a 90.5 defensive efficiency with Duncan on the floor over his last 4.
He's not taking up a huge role on the offense, but he's benefiting from the attention drawn from others. This is terrifying for the rest of the league. It's like when the killer comes out of the water at the end of the horror movie, and you totally expected it, but he's got an ax sticking out of his head and then he goes and throws a car on some teenager and you're like "Dude, you threw a car on that guy!" Tim Duncan is throwing cars on people.
Mushroom Cloud Meltdown of the Week Award: Orlando Magic
Stan Van Gundy crossed some sort of imaginary line with the players according to Shaquille O'Neal and Charles Barkley, because they're former players and you're supposed to always protect the player. This isn't about Dwight. He can complain all he wants to management. It's every employee's right to complain about his boss. It's not about Van Gundy, who has to deal with coaching a superstar, but doesn't have to go out and do a dog and pony show for the media about Dwight loving him if his bosses just told him Dwight wants him fired.
It's about the organization's approach this entire year, culminating with the train wreck this week. They called Dwight after a glass of wine (or two). They have brought in people he's wanted. They've prostrated themselves before the altar of Super-Dwight and have nothing to show for it but a dysfunctional team on its way to a first or (best-case scenario) second-round exit and another twelve months of this nonsense.
Van Gundy's been consistent. Fire him, don't fire him, whatever. But he clearly doesn't want the dog and pony show. The result is a situation in which no one wins. Howard looks like a coach killer, Van Gundy looks like he broke some hidden rule (but players are allowed to do whatever they want to coaches, by the way), and the Magic organization looks, yes, Mickey Mouse.
The Horde Award for team you should fear: Milwaukee Bucks
When the Bucks traded for
Monta Ellis
, the anticipation was that the offense would get marginally better, the defense would take a bigger hit, and the team would spiral. After all, the Bucks were putting an inefficient scorer next to another inefficient score in
Brandon Jennings
on an inefficient offense. How could that work?
Well, guess what. It's working.
The Bucks have become a machine since acquiring Ellis, though it's not really directly attributable to Ellis. Every player has stepped up and played better. Ellis, in fact, is shooting considerably worse from both the field and three-point land, while playing in a smaller role. We're already starting to see the same "Ellis' team outscores their opponent by more with Ellis off the floor" pattern we saw in Golden State.
But it's working.
Mike Dunleavy
,
Ersan Ilyasova
,
Drew Gooden
, even players with limited offensive skill,
Tobias Harris
and
Luc Richard Mbah a Moute
are posting offensive efficiencies in the 110's in limited minutes.
Beno Udrih
and
Shaun Livingston
are finding the open man every time.
It makes very little sense, but it's working. Fear the deer is back.
Cub Scout Troope Award for team you should not fear: Philadelphia 76ers
Here's the really weird thing. Over the past ten games, the Sixers are ranked in the top 15 of the league in field goal defense in every area except... the mid-range. They're giving up a 47 percent mark at that spot, which is five percentage points higher than the Warriors who have the worst mark over the course of the season.
So at the least efficient place on the floor, the hardest place to knock down shots, the Sixers are getting murdered. Now, some of that's explainable. A lack of defensive effort leads to open jumpers and if you give
NBA
players open jumpers, they'll destroy you and not be slow about it.
But some of it is just a weird fluctuation. And if you want the narrative, here it is.
Everything that can go wrong is going wrong.
There's just nothing going right, but most of it begins with the starters. After early returns the Evan-Turner-to-the-starting-lineup move has crashed and burned and the Sixers are still searching for a viable frontcourt rotation. The Sixers, after starting out as one of the best teams in the league on both sides of the ball and in the wins column, could miss the playoffs.
A season without reason, indeed.
Titanic award for tanking of the week: Cleveland Cavaliers
The best thing about the Cavs is that they don't look like they're tanking. They may not be tanking. Heck, they're probably not tanking. Unlike the Bobcats, who can't be accused of tanking because they're just that God awful, the Cavs are losing close games and looking competitive.
"Oh, what a heartbreaker!" (Team moves up another spot in the lottery.)
I want to be clear on this. If the Cavs get a top three pick in this draft along with the Lakers' at the back end, this thing is going to get moving upwards in a hurry next year.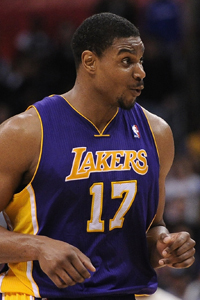 Life is so jolly when you're a millionaire!
(Getty Images)
The "Life is Pain" Award for Disappointment: Andrew Bynum
Andrew Bynum's probably going to wind up one of the truly great players in this game and may wind up being argued about as "great." Because in this bizarro world of the NBA, your attitude, work ethic, maturity and approach don't hold you back like they do in the real world.
If Bynum behaved the way he does, at 24, mind you, this is not some sensitive teenager anymore, at any other position his life would be in shambles on account of his immaturity. Most of you were or will be working for a living at 24, with responsibilities and an acceptable code of conduct in your personal and professional life. The way he behaves, from how he treats coaches, teammates, trainers, other people at the supermarket or J.J. Barea, would not lead to a successful life anywhere beyond this bizarre cocoon of the league.
But guess what? He's tall. So he's probably going to wind up having a great narrative written about him, even if he never changes in any way.
I think we need to close the conversation on Bynum's maturity. Can he mature? Sure. Lots of people don't get their lives together until they're past 24. But for some reason we continue to say he will mature, when there's been no indication. There were indications he would become the monster basketball player he is.
But we're very likely, though not definitely, going to have to accept that Bynum will be yet another tremendous player whose character issues are overlooked. But he hasn't committed any crimes nor given any indication that he's prone to such behavior. He acts like a brat. An incredible, amazingly talented, unbelievably huge, brat. That's going to have to be enough for now.


AWARD WATCH:Most Valuable Player
1. LeBron James:
Welcome back to the top rung, L-Train. Taking down the guy who stole your spot will do that, especially when you drop ridiculous numbers on him. James' award essentially comes down to rest. If he rests, and Durant maintains pace, Durant will win. If James plays, and doesn't crater, he wins if he logs one more signature game against a tough opponent.
2. Kevin Durant:
Durant's been superb this week as always and he's really 1B. I argued for a Co-MVP last year, but maybe this year is even more deserving.
3. Kevin Love:
The NBA's Atlas. World on his shoulders, and with the injuries you see just how bad this team is that it can't win despite Love's contributions.
4. Russell Westbrook:
Man meats machine. Westbrook is going to face attitude questions. Best way to shut them up? Play the way he has and win a ring. Winning forgives all.
5. Kobe Bryant:
Bryant played the best game I've seen him play since 2009 this week against the Clippers. He distributed, he was efficient, he shot within the offense and still got a few "Only Kobe" plays. If he played like that night in and night out, which would actually cause less strain on his body, he'd be in the top three of this list, which is incredible at his age and minutes.
Rookie of the Year1. Kyrie Irving:
Locked and over with.
2. Ricky Rubio:
Just not the same NBA without him.
3. Isaiah Thomas:
Thomas isn't just efficient and fast and very capable at running point, and a good shooter, but he's scrappy as all get out. You want a fight, he'll give it to you for 48 minutes.
4. Kawhi Leonard:
Get ready to hear this guy's name more than any other rookie from May through June. He's going to play a big part in the Spurs' run to the Western Conference Finals.
5. Iman Shumpert:
I freak out when people call a rookie the best perimeter defender in the game. I do not freak out when they say he could be there in two years. That's how tenacious the kid's approach is and how good his timing is.

Defensive Player of the Year

1. Tyson Chandler:
A new reigning member as Iggy and Deng fall. Chandler has made more of a difference in turning the Knicks into a good defensive team which few have noticed than anyone. He changes franchises now. That's what he does. He's a franchise changer. The Mavs, now the Knicks.
2. Tony Allen:
Finding out you're going to be matched up against Allen on any given night is like finding out you're getting two root canals and it's going to rain and be 40 degrees all day. You just want to stay inside.
3. Andre Iguodala:
Was really looking forward to Iguodala finally getting credit for his superb play, but he hasn't maintained during the Sixers swoon.
4. Luol Deng:
Injuries, here, mostly. Without them, he's likely the winner.
5. Dwight Howard:
Not so good at defending his coach. Wocka-wocka-wocka!
Coach of the Year
1. Tom Thibodeau:
No team is better prepared night in and night out. He may exhaust his team, but the fans never have to worry about the
Bulls
not bringing it.
2. Greg Popovich:
At this point I'm starting to wonder if this is just a thought exercise for Popovich, to see if he can win with an offense-first team.
3. Lionel Hollins:
You know how you get a group of guys with a resume of character issues and inconsistency to become one of the most cohesive, toughest teams in the land? You be the baddest dog in the junkyard. That's Hollins.
4. Rick Adelman:
Without the injuries, he would have had to have been the favorite. The odds-on favorite for 2013.
5. Kevin McHale:
Yeah, we're just as shocked as you are. But the
Rockets
' best player right now is
Goran Dragic
and they can't be stopped. Go figure.
Sixth Man of the Year1. James Harden:
This thing was over by the first month of the season and I have very little else to say about it. Harden's great for a starter on any team.
2. Taj Gibson:
It says something that Gibson's 26 and impressed me with his athleticism this year. I knew he had the motor and the attitude and some hops, but his lateral quickness and strength have been really impressive.
3. Goran Dragic:
How has this guy flown under the radar this much all season? He's come alive since becoming a starter with
Kyle Lowry
out, but he's playing a reservists role filling in and will qualify for the award regardless. He's been incredible in nearly every play set imaginable.
4. Lou Williams:
A high-production, low efficiency player who give you a lot per minute for better or worse. You kind of can look at the Sixers' collapse and see the foretelling in Williams' being such a pivotal element all year.
5. O.J. Mayo:
The shooting percentages aren't there, but on a team that needs scoring badly, Mayo's been it and has been the difference in a lot of games, at both ends of the floor.
Executive of the Year1. Neil Olshey, Los Angeles Clippers:
Brought in Butler for too high a contract, but then the deal looks great because he got CP3. Brought in Billups to play 2-guard, and it worked. May have built a perennial contender depending on how his summer goes. Even losing picks. Olshey has built a winner in Clipperland, and that's not easy to do.
2. R.C. Buford, San Antonio Spurs:
Nabbed an absolute steal in Kawhi Leonard, but more than anything, Buford's patience deserves credit. He's built a bench unit alongside Popovich by maximizing scouting and the D-League. The Spurs have stockpiled enough talent to run three complete teams at opponents. The best organization in basketball.
3. Chris Wallace, Memphis Grizzlies:
You want proof you should never close the book on the career of a guy who has been in this business as long as Wallace has? Take a look at the last four years and what Wallace has done. Young, competitive, winning now, tenacious, with an identity and heart and soul to boot. A masterful job.
4. Larry Bird, Indiana Pacers:
Bird didn't go out and run the coffers dry throwing money at free agents like Nene. He got
David West
for a steal, picked up a quality guard in
George Hill
, has kept their picks intact, their salaries reasonable and they have an outside shot at the Eastern Conference Finals. Not bad for the hick from French Lick.
5. Masai Ujiri, Denver Nuggets:
Are the Nuggets coming apart at the seams? Yeah, a little bit. but Ujiri has such a phenomenal set of flexibility for the future, if there's a high-quality player to be had, he'll have the ability to get it. Dishing Nene for McGee means he can invest in McGee if he shows the potential for growth and if not, he can let him walk and start over at center with some great prospects at his draft position.
Wilson Chandler
for a steal, Gallinari for the long-term, the Nuggets are just managed extremely well.
Most Improved Player1. Jeremy Lin:
Well, I mean, yeah.
2. Ryan Anderson:
Anderson's attitude is really great about his improvement. "I hit open shots." It's honest and humble. But the guy has become a high quality player in this league, despite being on a train wreck of a team emotionally.
3. Kevin Durant:
Sounds insane, but you really should go back and watch his defensive work from this season if you have access. The difference in prior years is startling. It's a whole new KD.
4. Spencer Hawes:
Raise your hand if you'd given up on this guy. I see you in the back, Billy. Hands up!
5. Andrea Bargnani:
Defense tailed off since his return from injury, which is a whole other set of problems. But on the aggregate, Bargnani showed he can be a franchise player with the right coaching this year, and that's what
Raptors
fans have been waiting for. The lottery might determine a lot about his future.
Statistical support for this post provided by NBA.com.