Trend Watch: Which NBA teams are contenders or mere pretenders?
The mid-way point of the season is upon us. We're gaining a clearer picture of who's tanking and who's not, who's separating for the major awards, and who's built to contend.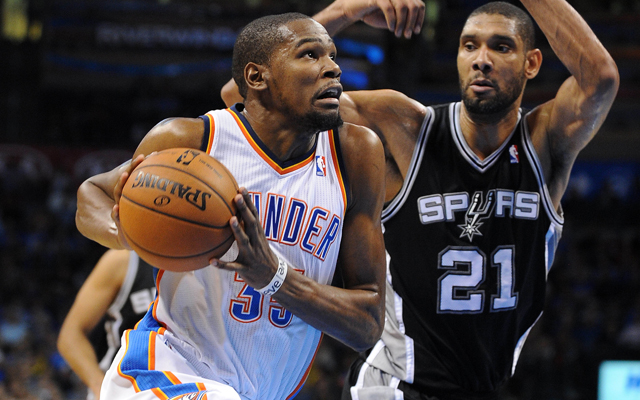 The mid-way point of the season is upon us. We're gaining a clearer picture of who's tanking and who's not, who's separating for the major awards, and who's built to contend. Let's check the half-season contenders and pretenders:
San Antonio Spurs: Contender
Another season, another run at a title. You keep thinking the Spurs are going to slip, that they're going to finally show signs of wearing down. Instead, there they are halfway through the NBA season once again sitting on top of the Western Conference. 
They have the best margin of victory in the West (+8.2) and second best overall in the league. Their defense is once again elite allowing just 99.2 points per 100 possessions (fourth), and their offense is as balanced as ever, averaging 108.2 (third). They aren't having a singular standout year from any one player, but the sum of the whole is a dominant, destructive two-way force. 
But here's the thing: They're 0-2 against OKC this season, which includes a loss at home, heading into Wednesday's matchup. A loss tonight decides the tiebreaker in the Thunder's favor and even more than that, shows that while the Spurs may be once again dominant, OKC might have their number.
Oklahoma City Thunder: Contender
With Russell Westbrook, the Thunder established themselves as the best team in basketball, rolling to a 21-4 record which included a stretch of 20 of 22 wins against the likes of the Clippers, Spurs, Warriors and Pacers. So with their All-Star point guard, we know they're real good. 
A week ago, the question was if they could survive long enough in the Western race without Westbrook to not give away homecourt advantage. After four straight wins, three of them coming against current Western playoff teams, I think that's been answered. 
And here's the scary thing about OKC: The Thunder are improving rapidly without Westbrook and figuring out how to play without him. Kevin Durant's torrid pace is one thing, but Serge Ibaka, a player whose success many linked directly to Westbrook's playmaking, had three straight games of 20 or more points last week, the first time he's done that in his career. 
The Thunder may not make a big trade at the deadline, but they will definitely be making the best addition. Add Westbrook back to the mix they have right now -- and no, don't worry about him offsetting Durant -- and the Thunder will pull back in position as possibly the league favorite. 
Also, sidebar to this: Durant is running away with the MVP. It sounds ridiculous, but he may have already won it. His recent performances sans Russell Westbrook has set the basketball world on fire, and shown Durant's full range of ability. The only thing that can reverse this course and hand it back to the current king? If LeBron beats Durant and outplays him both times in Miami and OKC's two matchups. Outside of that, this looks to finally be Durant's year. 
Miami Heat: Contender
Duh. 
But... what's their deal right now? Is it as simple as explaining their struggles with coasting of they're bored? One would think so, because when the Heat have needed to flip a switch, they have. And look at who they've lost to: the Sixers, the Nets (twice), the Celtics, the Pistons, the Bulls, the Pacers, the Kings, the Warriors, the Knicks, the Wizards and the Hawks. Of those teams, only three have winning records.
The suggestion to that obviously is that the Heat lose their focus when playing against lesser opponents. Which really isn't all that big of a deal. With the Heat, until someone is able to beat them four times in May or June, they're a contender. 
And here's the thing about the Heat: With the Pacers now five games clear of the Heat in the loss column and Miami seven ahead of Atlanta, the Heat may switch over to complete coast mode. Though, let's not forget: The Heat needed a Game 7 at home to topple the Pacers last season. And if they're content with giving Indiana the top seed, if they're faced with a seventh game again, it won't be in the comfort of South Beach. 
Indiana Pacers: Contender
The second of two contenders in the Eastern Conference. It's not even worth going over the others, because there's really not even a compelling paragraph being written to explain why the Raptors or Hawks aren't a contender.
But the Pacers are an absolutely torrid 68-win pace, shredding through teams with a buzzsaw defense, a rising superstar in Paul George, and one that's about to breakthrough in Lance Stephenson. 
The question with the Pacers obviously isn't if they're a contender. It's, are they the team to beat? Outside of getting waxed by Oklahoma City in December, there's really no case against. 
Houston Rockets: Pretender
The best explanation for not buying into the Rockets is that they're just too inconsistent. Take their recent loss to the Thunder for example: 73 points in the first half which included 12 3-pointers. The second half they managed only 19 total points which included zero 3s, and was the biggest point difference between halves in NBA history. 
Just a bad night, or maybe a larger indication of the issues the Rockets can often run into? The Rockets 28-15 overall, but just 15-12 against the West. They've been blown out twice by the Clippers, crushed once by the Pacers and beat twice by the Thunder. They do have two wins against the Spurs and two against the Blazers, but would you really put your money on Dwight Howard taking his team through the Western playoffs right now? 
Golden State Warriors: Contender
Everyone loves to say, "live by the 3, die by the 3" as if it's some kind of great counterargument to a team's contender profile. But you know what? When you have an identity, you either live or die by that. Like the Pacers could say, "live by defense, die by defense." If you don't do well the thing your team does well, you're going to die by it. 
So yeah, the Warriors shoot a bunch of 3s. They rely on their backcourt setting the world on fire and scoring points in piles. But they also have built a top tier defensive team (99.7 points allowed per 100, fifth overall) and have the versatility to match up with pretty much anyone. 
Portland Trail Blazers: Pre-contender
Basically every NBA champion from the last 10 years has ranked in the top 10 in defensive efficiency. It's essentially one of the best indicators of a true title contender. And the Blazers currently sit 26th in points allowed per 100 possessions at 105.7. 
But you can't ignore how potent and explosive their offense is (No. 1 in the league at 110.5 per 100) and the fact that their starting five is as talented as any in the league. Their bench is still an issue, but come the postseason, Terry Stotts can shorten to an eight-man rotation and play things out with his starters going over 40 minutes a game. 
Everyone's asking the same thing about Portland: Are they for real? Their back-to-back trip to San Antonio and Dallas seemed to indicate very much so, but then back-to-back losses to the Rockets and Thunder brought them back down a bit. With the Blazers, they look very contender-ish, while looking very pretender-ish. They look like the kind of team that is capable of a deep, darkhorse run to the Western Finals, or they could go out in the first round. 
Los Angeles Clippers: Contender
The fact the Clippers have won six of eight without Chris Paul goes a long way in building a contender's resume. It's showcasing their depth, and their ability to rely on other people rather than just assume CP3 will save them every night. 
Blake Griffin is realizing his full potential, J.J. Redick has given them a perfect halfcourt complement to Paul and the bigs, and Doc Rivers has obviously improved them greatly. For any team in the West, the path to the conference finals will be rocky, as someone will have to beat either the Thunder or Spurs before they get there. The Clippers have the look of a team that could do it.
Dallas Mavericks: Pretender
They're a nice story, and the resurrection of Monta Ellis as a good NBA player has been fun to see. Dirk Nowitzki is still a terrifying opponent to face in a seven-game playoff series, but the Mavs aren't quite built to compete with the big dogs. Offensively, it's Dirk and Monta and basically nothing else. They don't defend like they used to, and they don't have that stonecold third scorer to rely on. 
The Mavericks wouldn't be a fun seven-seed to face. But they're just not good enough to go any further than a possible first-round upset.
Greek Freak scores career-high 44 points and reaches scary level to finish the game

It was an ugly finish as the Warriors fell to 1-2 on the season -- both Curry and Kevin Durant...

Mirotic was hospitalized with facial fractures after an altercation with Portis during pra...
Irving had some choice words for a fan who heckled him in Philadelphia

Several teams were reportedly interested in Nelson after he was waived by the Nuggets

Cousins got into a heated exchange with a fan during the Pelicans' season opener