These aren't your dad's Dolphins and that's mainly because new interim coach Dan Campbell is probably younger than your dad. 
These aren't even last week's Dolphins, who were floundering under former coach Joe Philbin.
These are Campbell's "we'll punch you in the mouth and kick you while your down" Dolphins, a team that doesn't look like it will be taking any prisoners this season. 
The 39-year-old Campbell has only been the coach of the Dolphins for 13 days and somehow, in those 13 days, he's erased the timid attitude that the team seemed to have under Philbin. 
Here's what the Dolphins did under Campbell in Sunday's 38-10 win over Tennessee that they couldn't do under Philbin: They scored early, they pressured the quarterback and they forced turnovers.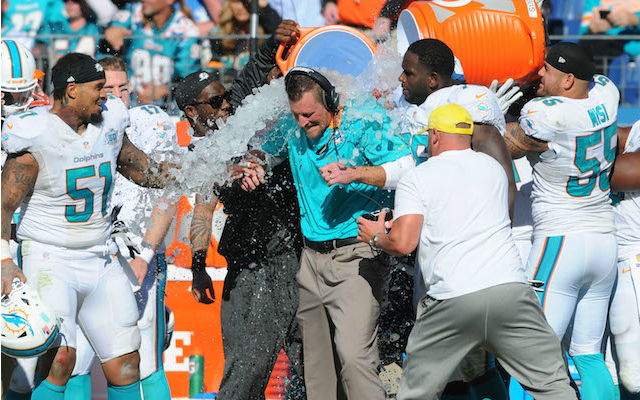 Let's start with the first thing. 
Before Sunday's game, Dolphins fans probably forgot what it was like to see their team score on their opening possession. The Dolphins opened up the game with a beautiful seven-play, 80-yard drive that ended with a 22-yard touchdown run by Jarvis Landry. The touchdown was notable because it was the first time since November 2014 that Miami had scored on its opening drive of the game.
You can bet Campbell liked that opening drive touchdown, this is a guy who gets excited about everything.
GIF: Dan Campbell high five. pic.twitter.com/2L60lTgggB

— MarcusD (@_MarcusD_) October 18, 2015
It wasn't just the offense that looked rejuvenated on Sunday though, the defense looked like the unit everyone expected to see when owner Stephen Ross broke out his check book this offseason and brought in Ndamukong Suh.
Titans quarterback Marcus Mariota was never able to get comfortable thanks to a unrelenting pass rush that was led by Cameron Wake, who tallied four sacks in the game. Four sacks is alway impressive, but it's even more impressive when you consider that the Dolphins ENTIRE TEAM went into Sunday's game with one total sack on the season. 
Overall, the Dolphins sacked Mariota and Zach Mettenberger a total of six times in the game. 
Offensively, Campbell decided that the team would pound the ball with Lamar Miller and that strategy worked to perfection. Miller ran for 113 yards against the Titans, which is the second highest total of his four-year career. 
A win over the Titans doesn't mean the Dolphins are a playoff team, but it is a step in the right direction. After being walked over the past in their past three games before this week, it looks like the Dolphins are ready to be the team that does the walking over. 
Team
Grade
Analysis
Patriots 34, Colts 27
B+
The Colts still haven't figured out how to stop LeGarrette Blount. Blount touched the ball 17 times against Indy and totaled 104 yards, along with two touchdowns. This game was all about Tom Brady though, who threw for 312 yards and three TDs and finally got revenge for Deflategate. Chandler Jones also gave Andrew Luck a warm welcome back by sacking the Colts QB 2.5 times. 
B-
The Colts were actually winning at halftime, a fact that's probably going to be forgotten after Indy ran a bizarre fourth down play in the third quarter that may go down as the worst play ever. After the fourth-and-3 play, the Colts turned it over on downs and the Patriots went on to score a TD and put the game away. Two weeks of watching Matt Hasselbeck must've paid off for Andrew Luck because the Colts QB actually played decently despite having a sore shoulder. 
Dolphins 38, Titans 10
A
Dan Campbell's debut with the Dolphins couldn't have gone any better. Campbell wants his team to be tougher than other teams and that's what happened on Sunday. I'm guessing Lamar Miller really likes Campbell. Miller had more yards on Sunday (113) than he had in his previous three games combined (78).
D
It would've been tough for a healthy Marcus Mariota to beat the Dolphins on Sunday, so it's not surprising that a hobbled one basically had no chance of leading the Titans to victory. Mariota took a shot to the knee in the second quarter and was shaky from there on out. After the hit, the Titans QB played with a knee brace for the rest of the way. 
Jets 24, Redskins 20
C-
RG3 was active for the first time all season on Sunday. Maybe the Redskins should've used him because Kirk Cousins was bad. Cousins threw two picks, which actually shouldn't be that surprising to anyone in Washington anymore because he's thrown multiple interceptions 10 times in 20 career games. 
A-
The Jets have figured out an easy strategy to winning this year: Give the ball to Chris Ivory as many times as possible. The Jets running back was unstoppable on against Washington, rushing for 146 yards and a TD. Ivory is now averaging 156 yards per game over the past two weeks. 
Steelers 25, Cardinals 13
C-
The Cardinals had zero running game on Sunday, which would've been OK if Carson Palmer had been hot, but he wasn't. The Cardinals QB had his first multiple interception game of the season and one of those two picks was a big one that came in the end zone in the fourth quarter with Arizona only trailing 18-13. 
A
When you win two games in a row with your starting quarterback on the bench, you get an 'A.' Someone who wasn't on the bench was wide receiver Martavis Bryant, who made his regular-season debut on Sunday after being suspended for Pittsburgh's first four games. Bryant was huge, catching six passes for 137 yards and two touchdowns. Also, Landry Jones (8 of 12, 168 yards, two TDs) might have just won himself the backup QB job going forward. 
Vikings 16, Chiefs 10
D
We knew the Chiefs offense would struggle without Jamaal Charles and it might've actually been uglier than we thought it'd be. The Chiefs went three-and-out on three of their first four drives and only rushed for a total of 57 yards in the loss. 
B
If we learned one thing about the Vikings on this week, it's that Adrian Peterson might not be the most deadly weapon on Minnesota's offense. OK, he is, but Stefon Diggs is close. The rookie wide receiver tallied seven catches for 129 yards in the win. 
Bengals 34, Bills 21
A
The biggest lock in football is Andy Dalton in a 1 p.m. game. For the sixth time this season, Daytime Dalton led the Bengals to an afternoon win. Not even the snow in Buffalo could slow down the Carrot Top Cannon, who threw three touchdown passes to three different receivers and ended the game with 243 yards and no interceptions. 
D
There was report on Sunday that indicated that EJ Manuel could win the Bills starting QB job if he played well against the Bengals. Well, you can put those Manuel jerseys away. Manuel wasn't horrible, but he struggled with his accuracy and could never get the Bills offense consistently moving. 
Lions 37, Bears 34 OT
C
The Bears were on the weird end of what will easily go down as the most ridiculous call of Week 6. After Bears linebacker Jonathan Anderson picked off Matthew Stafford in the end zone, officials went back to review the play and inexplicably gave Detroit a touchdown. Blaming a loss on one play isn't something any team should ever do in the NFL, but if the Bears want to do it here, I'm OK with that. Of course, the Bears could also blame their defense, which gave up over 540 total yards (546) for only the fourth time in franchise history. 
A
Do the Lions deserve an 'A?' Maybe not, but we're giving them one for picking up their first win of the season. This was a wild game, with a lot of wild plays, so it was almost fitting that the game-winning field goal in OT was set up by a Matthew Stafford 57-yard bomb to Calvin Johnson. Megatron finished with 166 yards. Stafford threw for 405 yards, marking the seventh time he's thrown for 400 or more yards in his career.  
Broncos 26, Browns 23 OT
B-
Don't let this grade fool you, the Broncos defense gets an 'A+,' it was the performance of the offense that drags this down to a 'B-.' Peyton Manning might have had his ugliest game of the year (three INTs, including a pick-six), but you can't blame it all him, Demaryius Thomas uncharacteristically dropped a few big passes and the Broncos running game didn't get going until the second half. 
B-
The Browns went full-Browns on Sunday, which you shouldn't ever do. Going "full-Browns" means roping your fans into thinking you're going to win, only to lose in the most unimaginable way possible. The Browns could've won this late in regulation or OT, but instead, the Browns lost on the last play of the game for the 21st time since 1999.  
Texans 31, Jaguars 20
B+
In theory, being the quarterback in Houston should be easy because all you have to do is throw the ball to DeAndre Hopkins. Apparently, Brian Hoyer finally figured that out and that's what he did on Sunday. Hopkins was targeted 15 times and ended up catching 10 passes for 148 yards and two TDs. Those 15 passes represented 41.7 percent of all the passes that Hoyer threw. 
C
Once Blake Bortles figures out how to not throw interceptions, this team could be good. Unfortunately for the Jaguars, Bortles doesn't have that figured out yet. The Jags QB killed any chances his team had of winning by throwing three picks, including a pick-six that turned a 24-14 deficit into a 31-14 deficit.  
Panthers 27, Seahawks 23
A
The Panthers managed to do something on Sunday that had only been done two times ever before this week: Beat a Russell Wilson-led Seahawks team in Seattle. Cam Newton wasn't perfect (20 of 36, 269 yards, 1 TD, 2 INTs), but he was clutch, throwing a 26-yard TD pass to Greg Olsen with 32 seconds left. Olsen was big too, catching 7 passes for 131 yards. 
C
For the second straight week, Seattle dominated the game for 3 quarters and then blew it in the fourth quarter. The Seahawks gave up 383 yards against Carolina, which isn't bad, the bad part of that is Carolina got 160 of those yards in the final 8:08 of the game. 
Packers 27, Chargers 20
B
Throwing for 500 yards is always impressive, doing it against the NFL's fourth-ranked pass defense is even more impressive and that's what Philip Rivers did on Sunday. The Chargers quarterback threw for 503 yards, becoming only the 17th player in NFL history to hit the 500-yard mark. Rivers threw a career-high 65 passes and the Chargers are now 5-11 when he throws 45 or more. Besides Rivers effort, the reason San Diego was able to stay in this game is because they suffocated Aaron Rodgers and didn't give him room to scramble. Jarry Attaochu tallied two of the Chargers 3 sacks. 
B
The Packers defense got shredded for 548 yards, but that doesn't matter when you have Aaron Rodgers. Rodgers (16 of 29, 255 yards, 2 TDs) did just enough to help Green Bay overcome one of the worst defensive performances in team history. The Chargers yardage total marked only the fourth time since 2000 that Green Bay's given up over 545 yards in offense. Surprisingly, the Packers are now 2-2 in those games. 
49ers 25, Ravens 20
B-
The Ravens are a team you almost want to feel sorry for: Baltimore's five losses this season have come by 6, 4, 4, 3 and 5 points. One of Baltimore's problems this week was the non-eliteness of Joe Flacco, who threw two picks against San Francisco. Those two picks led to six 49ers points, which is kind of big when you lose by five. 
B+
Maybe Colin Kaepernick has figured out this whole "being an NFL quarterback" thing. Kaepernick put together a second straight week of solid football and was the biggest reason the 49ers won on Sunday. Kap threw for 343 yards, which is the second highest total in his career. 
Giants at Eagles
TBD
xx
TBD
xx