Mark your calendar: 30 games to watch in conference play
What are the biggest games over the next two months? Here are 30 that could dictate the college hoops landscape on Selection Sunday.
• 4 min read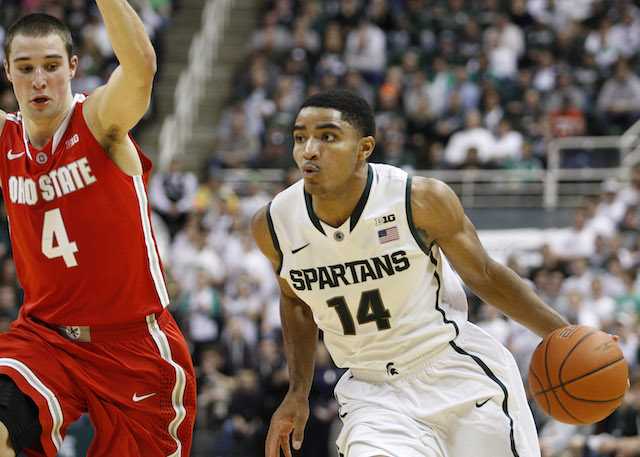 We've been doing midseason resets and look-aheads all week, and to finish it all off, it's time to pick out the games that matter going forward. Of course, it's difficult to project which teams will be conference champions or bubble teams or relatively irrelevant in two months – but this season is looking like it will be wide-open all across the country.  Right now, there are far more questions than answers, but we'll do our best to project the games that will shape the national discussion.
Here are 30 games that could dictate how the final standings look heading into the NCAA tournament:
1. Michigan State at Ohio State (March 9): Because the Big Ten is so loaded in the top half, both teams will have a few losses. But this could still decide the regular-season champion – and a possible No. 1 seed. MSU won the first in OT.
2. Kansas at Oklahoma State (March 1): Andrew Wiggins, Marcus Smart, Joel Embiid, Markel Brown. Tons of talent on display, and maybe the Big 12 title on the line.
3. Michigan State at Wisconsin (Feb. 9): The Badgers continue to roll unbeaten, but are they going to be a Big Ten champion? This game will be a key.
4. Duke at Syracuse (Feb. 1): The Blue Devils trip to the Carrier Dome, as the two best teams in the ACC go at it for the first of two meetings this season.
5. Kentucky at Florida (March 8): The SEC is struggling again this season, but these two teams should be the favorites heading down the stretch.
6. Ohio State at Wisconsin (Feb. 1): One week before Wisconsin faces Michigan State, the Badgers host Ohio State. It's their one meeting this season.
7. Arizona at Oregon (March 8): Oregon just lost its first game of the season, and the Ducks have the pieces to contend for a Pac-12 title. Will they still be in the hunt?
8. Villanova at Creighton (Feb. 16): Not your classic Big East rivalry, but Grant Gibbs could be back by this game for Creighton. Likely the two best teams in the league.
9. Louisville at Memphis (March 1): The two teams' first meeting comes Thursday, but both have been inconsistent. Will this one determine the AAC title?
10. Kansas at Iowa State (Jan. 13): The Cyclones are very difficult to beat at home, and Kansas snuck out with a win last season. Iowa State is better this season.
11. New Mexico at San Diego State (March 8): Clearly the two best teams in the Mountain West, the Lobos need to be within striking distance for this game to matter.
12. Oklahoma State at Kansas (Jan. 18): It isn't the clear-cut Big 12 title battle that it was back in the preseason, but this game will still have a ton of eyeballs.
13. Arizona at UCLA (Jan. 9): The only time these two teams meet this season, Arizona's trip to Westwood could be its first loss of the 2013-14 season.
14. Wichita State at Indiana State (Feb. 5): If Wichita State gets through this game unscathed, the possibility of an unbeaten regular season shoots up exponentially.
15. VCU at Massachusetts (Feb. 21): Maybe the two best teams in the Atlantic 10, this one will be up and down, fast-paced – and fun to watch.
16. North Carolina at Duke (March 8): This game always matters. By this time, though, it's completely unclear what sort of team the Tar Heels will be.
17. Syracuse at Duke (Feb. 22): What sort of impact will this game have on the ACC title race? A trip south for the Orange will be a tough test for a freshman point guard.
18. Oregon at Arizona (Feb. 6): This is where Oregon needs to make statements – on the road, against teams with size. Can the Ducks beat big teams?
19. Iowa State at Oklahoma State (Feb. 3): Iowa State is a different team away from Hilton, and the Cyclones need to prove they can win on the road.
20. Wisconsin at Iowa (Feb. 22): Where does Iowa stack up in the Big Ten race? The Hawkeyes have a slew of close losses, but they could get a big win here.
21. Florida at Kentucky (Feb. 15): The first game between the SEC favorites. It will be interesting to see the development of Kentucky's young players.
22. Cincinnati at Louisville (Jan. 30): Cincinnati is off to a hot start in the AAC, but are the Bearcats a league title threat? This game could answer questions.
23. Iowa at Michigan State (March 6): Iowa has had some close calls away from home, but the Hawkeyes won't be an easy out in the next-to-last game of the season.
24. UCLA at Colorado (Jan. 16): Colorado already has wins over Kansas and Oregon this season, and the Bruins are also pushing for a top-three spot in the Pac-12.
25. Duke at Pittsburgh (Jan. 27): The Panthers have great computer numbers, but people still don't trust them. A win over Duke could boost their reputation.
26. Iowa State at Baylor (March 4): The Bears will be looking for payback after Iowa State's blowout win this week. Will either team be in the Big 12 title hunt?
27. Tennessee at Florida (Jan. 25): The favorite to finish third in the SEC, the Volunteers have to show their worth in Gainesville.
28. VCU at Saint Louis (Feb. 15): The Billikens are always brutal to play, and how VCU is able to compete in the half-court will be telling.
29. San Diego State at New Mexico (Feb. 22): The battle with Cameron Bairstow and Alex Kirk vs. San Diego State's size and length make this one a must-watch.
30. Villanova at Xavier (March 6): The Musketeers are playing well right now, and Semaj Christon against the Wildcats' backcourt should be intriguing.  
The Mountaineers blew a double-digit lead in the second half and Huggins decided he'd seen...

The No. 3 Wildcats crush the No. 4 Musketeers to move closer to winning a 5th consecutive Big...

The No. 2 Spartans overcame a 27-point deficit vs. Northwestern and South Carolina holds on...
John Calipari's team gets a healthy home win over Alabama, and UK fans can finally calm th...

McLemore was taken to a nearby hospital for further evaluation

Bagley is leading the Blue Devils in scoring and rebounding