The Lineup: King Felix takes the Bronx; Pirates look to salvage one
It's 3 Up 3 Down, On Deck and Pepper ... starring King Felix, Justin Maxwell, Mike Baxter, the Reds, David Price, the Yankees, Jeremy Guthrie and awesome minor-league names. It's The Lineup.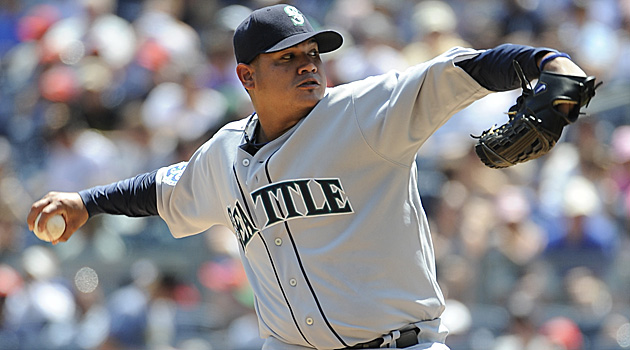 King Felix made one of baseball's best lineups look helpless Saturday. (Associated Press)


It took teams a while to collectively get going offensively Saturday, as the first game ended 1-0 and the second one went into extra innings at 1-1. By the end of the night, though, we were treated to some slugfests, especially in Colorado and Washington. Let's tie a bow on this thing ...
Full Saturday scoreboard with recaps and box scores for every game








3 UP

Felix Hernandez, Mariners: The Yankees entered play Saturday fourth in the majors in runs scored and first in OPS. And King Felix went out and shut the Bronx Bombers out, allowing only two hits and two walks in his nine scoreless innings. Don't look now, but the Mariners have won eight of their past nine and 14 of their past 19. A wild-card berth is still a major longshot, but not completely out of the question with Seattle being 7.5 out. On the flip-side, the Yankees have won just five of their last 15.

Justin Maxwell, Astros: The center fielder single-handedly carried the Astros' offense to a 3-2 win over the Braves. He went 4-for-4 with a double, two home runs, two runs scored and drove home all three Astros' runs. Just in case that wasn't good enough, Maxwell threw in a stolen base for good measure. The rest of the Astros' offense was 5-for-28 with nine strikeouts.

Mike Baxter, Mets: This is why it's dangerous to only look at batting average. Baxter had five plate appearances Saturday night in San Diego, yet collected zero hits. In fact, he had zero at-bats. Baxter walked all five times he went to the plate, a feat that requires patience and putting aside one's ego (players itching to get to swing the bat could get themselves out by swinging at a bad pitch). This was the first time since July 30, 2008 (Alex Gordon) that a player walked in all five plate appearances. It was the 100th time since 1918 a player collected at least five walks in a game (thanks to Baseball-Reference's Play Index). Well done, Mr. Baxter. This is a very underrated accomplishment.

3 DOWN

Ryan Cook, Athletics: The All-Star closer has now blown four of his past five save opportunities, including two within a 24-hour span. Cook blew a save Friday night and the A's needed 15 innings to finally topple the Blue Jays. Saturday, they lost starting pitcher A.J. Griffin to injury in the second inning. Still, the rest of the bullpen was outstanding in getting the ball to Cook with a 1-0 lead in the ninth. And Cook then coughed up a game-tying David Cooper home run. This time, the A's couldn't come through in extras, and lost 3-1 in 11 innings.

Mike Dunn, Marlins: Dunn entered the game with the Marlins leading 6-4 in the bottom of the eighth. He left with the Marlins trailing the Nationals 10-6. All six runs were unearned, but it was ultimately Dunn's fault because he committed the error that left the door open for the six two-out runs. Dunn was finally, mercifully sent to the clubhouse after allowing a three-run homer to Danny Espinosa and then a big-time bomb to Bryce Harper. In all, Dunn gave up six unearned runs in 2/3 of an inning. And, again, the reason the runs were unearned was because Dunn himself made an error.

Alfredo Aceves, Red Sox: Clay Buchholz gave the Red Sox seven strong innings, only allowing one unearned run, but they lost 6-4. The big blow was a three-run shot by Joe Mauer off Aceves in the ninth. In all, Aceves worked 1 2/3 innings, giving up four hits and four earned runs.








Better get one: The Pirates' three-game series against the Reds this weekend was one of the most important to the franchise in about two decades. And now they've lost the first two games, falling 5.5 games back of the Reds. So they're going to leave Cincinnati either 6.5 back or 4.5 back. A.J. Burnett (13-3, 3.27) will look to play stopper while the Reds trot out Homer Bailey (9-6, 3.85). 1:10 p.m. ET

Season slipping away? The Indians were in the thick of the AL Central race for most of the season, but they've now lost eight in a row and are much closer to last place than first. They're in desperate need of a big start, and will turn to Chris Seddon in his 2012 MLB debut. Max Scherzer (10-6, 4.62) and the Tigers stand in the way. 1:05 p.m. ET

Big rubber game/Price goes for 15: After splitting the first two games of their three-game series, the Rays and Orioles are deadlocked at 1.5 games back in the AL wild-card race. So Sunday's matchup is significant moving forward. A sub-plot? Rays' starter David Price (14-4, 2.64) is vying to become the first 15-game winner in the majors this season. Miguel Gonzalez (3-2, 4.46) gets the start for Baltimore. 1:40 p.m. ET
Sunday's probable pitchers








• 2013 All-Star logo? We know the Mets are the host for the 2013 All-Star Game, and it appears the logo has already surfaced before Tuesday's official unveiling. MetsBlog.com has the photo evidence.

• Nine Hall of Famers on one team? The Yankees, after trading for Ichiro Suzuki, now have nine players with legitimate Hall of Fame aspirations, writes nypost.com. Ichiro, Derek Jeter and Mariano Rivera are obvious. Alex Rodriguez will have to fight the PED issue. Andy Pettitte will, too, and he's borderline anyway. I feel like CC Sabathia and Robinson Cano will make it, but they have to continue their current path for a few more years. That leaves Mark Teixeira and Andruw Jones. I don't think Teixeira will make it at this pace. As for Jones, his career at this point is most similar to -- according to Baseball-Reference similarity scores -- Reggie Jackson. My prediction is that eventually A-Rod gets in, along with Jeter, Rivera, Ichiro, Sabathia and Cano. Eventually.

• Trip down memory lane in Detroit: In light of Ryan Raburn's struggles this season, the Detroit Free Press checks out the Tigers' five worst hitters of the past decade. Well, the five worst in terms of batting average. It's still interesting, even if misguided to focus only on average.

• Bieber fever? Royals pitcher Jeremy Guthrie tweets:
Just going through my weekly planner & organizing my schedule.... say.ly/kwI3UjO

— Jeremy Guthrie (@JGuthrie46) August 4, 2012

• Odor or Shoulders? MiLB.com runs a competition called "Moniker Madness" every year for the best name in the minors. The bracket is almost complete, with Rougned Odor vs. Rock Shoulders (yes, those are actual players) in the finals. Caleb Bushyhead and Tuffy Gosewisch were the players eliminated in the Final Four. As someone with a ridiculously common name, I have to say, I'm jealous.

For more baseball news, rumors and analysis, follow @EyeOnBaseball on Twitter, subscribe to the RSS feed and "like" us on Facebook.
Adell shows part of the reason why Los Angeles drafted him 10th overall in 2017

And, well, they're probably right

Supposedly, MLB execs have discussed letting teams hit any three hitters they want in the...
Keep tabs on the top 50 free agents on the market right here

After the departures of Steven Souza and Corey Dickerson, the Rays add a right-handed bat

Rasmus essentially walked away from baseball during last season