Tracking Trends: Cause for concern in Chicago?
The first week of the NBA season is in the books and while the sample size is too small to draw any conclusions, there are at least some trends that are developing worth keeping an eye on.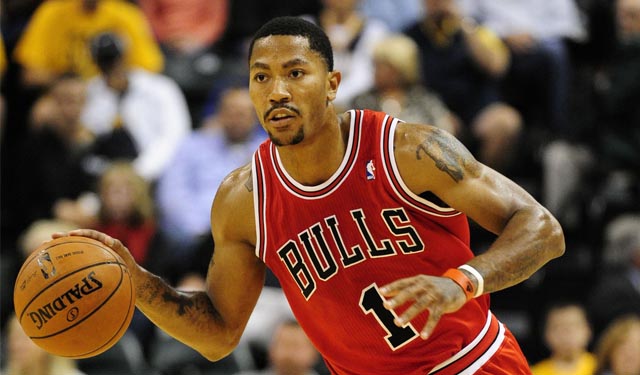 The first week of the NBA season is in the books and while the sample size is too small to draw any conclusions, there are at least some trends that are developing worth keeping an eye on. 
For example, the Suns and 76ers being a combined 6-1. 
I wouldn't classify that as a "trend," because the definition of trend is "a general direction something is developing." So... yeah. 
But there have been big questions to pop up after a week of games. Pretenders or contenders, worry or relax, buy or sell -- all that stuff. So let's check some trends:
Are the Pacers distancing themselves as Miami's top competitor?
They're the only undefeated team left in basketball (4-0) and face a visit from the Bulls on Wednesday. Their offseason clued us in that they'd be good because they addressed their most glaring issue -- the bench -- while their cornerstones are a year improved, and a year more experienced. 
Paul George was already firmly in the superstar conversation after carrying the Pacers against the Heat in the Eastern Conference finals, but with his hit start offensively, he's now trying to get himself into an All-NBA type of discussion here. Their defense is as solid as it gets, they're as tough as anyone on the interior and with George emerging as a legit go-to scorer, it's becoming obvious that the Pacers are the Heat's No. 1 contender in the East. 
Should the Bulls be concerned? 
Sitting at 1-2 and a Derrick Rose runner away from being 0-3. Concerned? Nah. It's early and Rose is trying to claw off the rust while the rest of the team is trying to remember how to play with him. 
But there is a little hesitation developing in assumping they'd return as one of the Eastern elite. And I say that as someone that picked them to win the NBA title this season. Defensively they're average right now and while we're still firmly in Small Sample Size Theater, you do have to wonder what kind of impact losing defensive coordinator Ron Adams might've had for them. The Bulls are built on the identity of their team defense keeping them in games. If they're not elite on that end of the floor, then they really aren't elite at all. 
Are the Knicks in big trouble?
Yes. It's not because of the limp 1-3 start as much as it is about losing Tyson Chandler for potentially 30 percent of their remaining schedule. 
Chandler's impact is obvious both with the eye and with the numbers. On/off court statistics show his defensive ability and how he hides a lot of the issues the Knicks have. Plus, he allows Mike Woodson to play better lineups. With Chandler at center blowing up pick-and-rolls, Carmelo Anthony can comfortably play the 4, or Woodson can go with two point guards together. Without Chandler? It's the Cole Aldrich show, or you play Amar'e Stoudemire/Kenyon Martin/Andrea Bargnani at center.
The Knicks have looked painfully average anyway to begin the season, missing the offensive punch and perimeter shooting J.R. Smith provided last season (his suspension is over now). But without Chandler? It may get worse before it ever gets better.
Are the Wizards still the same old Wizards?
I'll admit it: I was a believer in the Wizards-finally-won't-be-terrible hype. After John Wall returned last season, they played at a .500 level the rest of the way and assuming good health, they had a nice roster in place, especially after adding Marcin Gortat. 
Already though, Nene is battling injuries, their defense is terrible, their coach is cussing at them, and their chemistry is bad. Oh, and they're 0-3 and fading. The lesson: Never believe in the Wizards.
Will Anthony Bennett ever make a basket? 
He's 0-15 from the floor. It's becoming kind of A Thing. So much that Bennett said so long to Twitter for a while.
But that kind of number can be kind of deceiving. Bennett is 0-5, 0-3, 0-4 and 0-3 in four games. He's played a total of 51 minutes. He has the spotlight on him being the No. 1 overall pick, but his playing time is inconsistent and he's forcing. 
It depends on what the goals are for the Cavaliers right now are -- are they trying to make a playoff push or are they looking long-term? Because if this is about the future, I'd give Bennett more time on the floor. Let him work through his struggles. One of the biggest things rookies lack is confidence to really believe they belong. And with not many believing Bennett was worthy of being No. 1, the guy really just needs a little more opportunity to prove it.
Are the Timberwolves Western Conference contenders?
Let's break it down like this: 
They have the best power forward in basketball, one of the best offensive coaches in the world, a top 10 point guard that's an offensive wizard with the ball, they improved their big issue from last season (perimeter shooting), they have a solid bench, they have a high-quality post scorer and most importantly, they're healthy. 
Is that enough to be classified with the Thunder, Clippers, Spurs, Warriors or Rockets? With the Western Conference looking so wide open, it kind of does. But the setback in Cleveland revealed some of the hesitation with putting the Wolves in that tier yet. They're good, but we need to seem more than just a week of this. 
Is the Rookie of the Year race already over?
It's not over. It's just going to be a two-man race. Michael Carter-Williams took the league by storm after three games, nearly posting a quadruple-double in his first game, which was against the Heat, mind you. But Victor Oladipo has been equally as excellent, even showing off his 360 skills. 
There are other contenders that can obviously make a push, but I can't remember a race having two players so clearly separated after just a week. 
Should the Thunder be worried?
They're 2-1, but they've squeaked by two meh teams for those wins, and got roasted by the Wolves in Minnesota. And overall, they don't look a whole lot better. 
Except they have Russell Westbrook back and he looks like his old self again. Amazing what adding a top five or six player can do to the look of your team. Having Westbrook back also lets Scott Brooks reshape his bench and get Reggie Jackson into a more conditioned role of sixth man, while relying less on some of his young players. 
Worried? Not at all. But with Westbrook and Kevin Durant together again, the rest of the Western Conference probably should be, though.
Are the Mavericks back? 
They're 3-1, Dirk Nowitzki looks healthy, Monta Ellis looks fantastic and they're playing brilliant offense. Question is, can they sustain it? They've got a number of older and injury prone players and while Jose Calderon and Ellis have looked good together so far, is that a partnership that will pan out? 
The Mavs aren't anywhere close to entering a conversation involving the Thunder or Spurs or Clippers, but they are potentially back in the playoff one. Which is a nice step forward from last season.
We've got all the scores, highlights and news for Thursday night

The Sixers big man got his first All-Star selection -- and maybe some revenge -- on Thursd...

It appears some players are not entirely taking the All-Star voting process seriously
There were some weird discrepancies between the fan, media and player votes

LeBron and Steph will be the captains for the 2018 NBA All-Star Game

Arron Afflalo was involved in an altercation with Timberwolves big man Nemanja Bjelica on...