Leaderboarding: Fewest RBI by home run benchmark
Ever wonder who drive in the fewest runs despite hitting 50 home runs? Here's the answer to that and several more HR/RBI questions.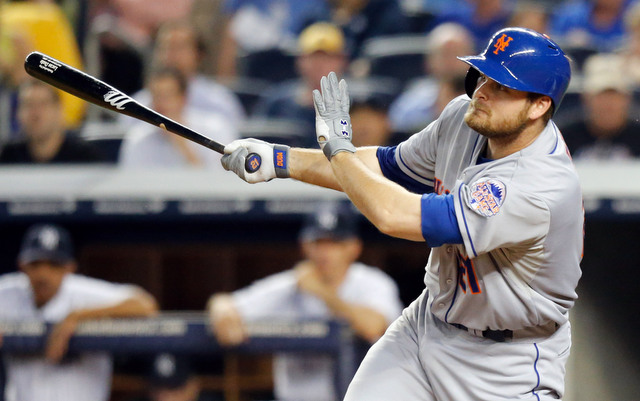 RELATED: The cases for an against Sammy Sosa as a Hall of Famer
Home runs and runs batted in go hand in hand. You can't hit a homer without picking up an RBI, but you can pick up an RBI without hitting a homer. In the latest edition of leaderboarding, we're going to look at a fewest RBI totals at each of the round-ish number home run benchmarks (20, 25, 30, etc.).
Which players did the poorest job of driving in runs without hitting the ball out of the park? Here's the rundown (with a surprise ending):
Fewest RBI for a player with 50+ home runs
Brady Anderson: 50 HR and 110 RBI (1996

Baltimore Orioles

)
Willie Mays: 52 HR and 112 RBI (1965

San Francisco Giants

)
Mark McGwire: 52 HR and 113 RBI (1996

Oakland Athletics

)
Fewest RBI for a player with 45+ home runs
Barry Bonds: 45 HR and 90 RBI (2003 Giants)

Alfonso Soriano

: 46 HR and 96 RBI (2006

Washington Nationals

)
Harmon Killebrew: 45 HR and 96 RBI (1963

Minnesota Twins

)
Fewest RBI for a player with 40+ home runs
Bonds (2003 Giants)
Ken Griffey Jr.: 40 HR and 90 RBI (1994

Seattle Mariners

)

Adam Dunn

: 40 HR and 92 RBI (2006

Cincinnati Reds

)
Fewest RBI for a player with 35+ home runs
Sammy Sosa: 35 HR and 80 RBI (2004

Chicago Cubs

)
Bonds: 37 HR and 81 RBI (1994 Giants)

Dan Uggla

: 36 HR and 82 RBI (2011

Atlanta Braves

)
Fewest RBI for a player with 30+ home runs
Rob Deer: 32 HR and 64 RBI (1992

Detroit Tigers

)
Felix Mantilla: 30 HR and 64 RBI (1964

Boston Red Sox

)

Hanley Ramirez

: 33 HR and 67 RBI (2008

Miami Marlins

)
Fewest RBI for a player with 25+ home runs
Ron Gant: 26 HR and 54 RBI (2000

Philadelphia Phillies

and

Los Angeles Angels

)
Marcus Thames: 25 HR and 56 RBI (2008 Tigers)
Mark Bellhorn: 27 HR and 56 RBI (2002 Cubs)
Fewest RBI for a player with 20+ home runs
Chris Hoiles: 20 HR and 40 RBI (1992 Orioles)
Kevin Maas: 21 HR and 41 RBI (1990

New York Yankees

)
Chris Duncan: 22 HR and 43 RBI (2006

St. Louis Cardinals

)
Fewest RBI for a player with 15+ home runs
Scott Hairston

: 17 HR and 31 RBI (2008

San Diego Padres

)
Daryl Boston: 15 HR and 31 RBI (1988

Chicago White Sox

)

Lucas Duda

: 15 HR and 33 RBI (2013

New York Mets

)
Fewest RBI for a player with 10+ home runs
Randy Ruiz: 10 HR and 17 RBI (2009

Toronto Blue Jays

)

David Ross

: 10 HR and 18 RBI (2003

Los Angeles Dodgers

)
Wayne Gross: 11 HR and 18 RBI (1985 Orioles)
Fewest RBI for a player with 5+ home runs
Mike Hessman: 5 HR and 7 RBI (2008 Tigers)
Humberto Cota: 5 HR and 8 RBI (2004

Pittsburgh Pirates

)
Ramon Castro: 5 HR and 7 RBI (2003 Marlins)
TWIST ENDING: Most RBI for a player with 0 home runs (Expansion Era only, 1961-2013)
Ozzie Smith: 75 RBI (1987 Cardinals)
Willie Randolph: 54 RBI (1991

Milwaukee Brewers

)
Smith: 54 RBI (1986 Cardinals)