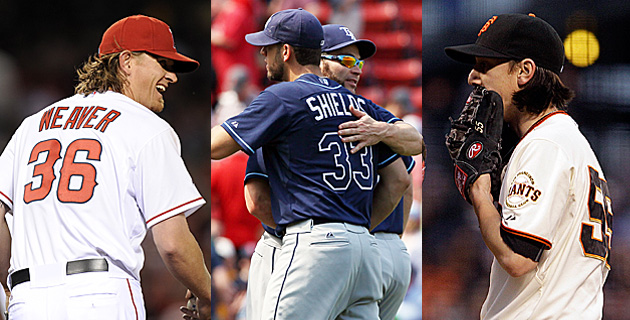 Not everyone was in action Monday, but we did see 20 of the 30 teams take the field. Of note: The
Nationals
moved to 8-3 while the
Mets
are now 7-3. The
Orioles
are in first place in the AL East at 6-4. Division favorites
Arizona
and
Detroit
moved to 7-3 while the
Phillies
got back to .500 (5-5). Anyway, onto The Lineup.
Full Monday scoreboard with recaps and box scores for all 10 games

3 UPJames Shields, Rays.
The Rays had lost the first three games in their series at
Boston
, with the Red Sox bats lighting up the scoreboard to the tune of 31 total runs. They needed a big outing from their ace Monday and they got it. Big Game James played the role of stopper, as he went out and stifled the Red Sox for 8 1/3 shutout innings, allowing only four hits and two walks while striking out five. In the process, he helped
manager Joe Maddon win his 500th career game
.
Joe Mauer/Justin Morneau, Twins.
Perhaps a positive sign of things to come? The two stars used to be the faces of the winning Twins, but they'd been relatively nonexistent since 2010. Monday, Mauer had two doubles, a run and an RBI while Morneau -- playing his first game in the field of 2012, by the way -- went 2-for-5 with a homer. And the
Twins won 7-3
in Yankee Stadium, which has been a house of horrors for them (manager Ron Gardenhire is now 6-28 there in the regular season).
Jered Weaver, Angels.
After a 3-6 start, it wouldn't be a stretch to say the Angels were the most disappointing team in baseball through a mere week and a half. So, much like Shields did, Weaver needed to go out and put his team in position to win. He wasn't as efficient as he could have been, but still threw 6 2/3 innings of shutout ball with six strikeouts (giving him exactly 1,000 in his career) and just one walk. The
Angels won 6-0 over the A's
.
3 DOWNTim Lincecum, Giants.
It's unfortunate that this can be called progress, but it can. Lincecum went six innings, allowing eight hits and five earned runs
in a 5-2 loss
to the Phillies. It lowered his 2012 ERA to 10.54. Most concerning are his first-inning struggles, as Lincecum has now allowed nine earned runs in the first inning this season. In 33 starts last season, he allowed only seven first-inning earned runs. Considering he has 30 or so more starts to go this year, there's no reason to panic right now.
Very
mild concern, however, is probably acceptable.
Braves (when playing the Mets).
Talk about ownership. The Braves are 5-1 against other teams, but 0-4 against the Mets this season
after dropping Monday's game 6-1
.
White Sox late-inning meltdown.
You have to give credit to the Orioles, who pounded out 15 hits and four homers -- two, including a grand slam, for
Matt Wieters
. In fact, Wieters had two homers and five RBI after the seventh inning. But, man,
heading into the eighth inning with a 4-1 lead and losing 10-4
has to be tough to swallow for the White Sox. Relievers
Jesse Crain
,
Hector Santiago
(who gave up two homers) and
Zach Stewart
didn't pitch well, but there was also a rather embarrassing error by
Alejandro De Aza
in center to open the 10th inning.
Tribal momentum.
The
Indians
got off to a rough start this season, wasting gems from
Justin Masterson
and
Ubaldo Jimenez
in the first two games and then getting swept by the White Sox. But after a three-game sweep of the
Royals
in which the Indians scored 32 runs, they're riding high. They'll look to continue that Tuesday night in
Seattle
. Masterson is on the hill for the Indians while
Kevin Millwood
gets the nod for the Mariners.
10:10 p.m. ET/7:10 p.m. PTCompetition picks up.
The
Dodgers
opened the season with 10 games against the
Pirates
and
Padres
. Credit the Dodgers for going 9-1 in those games, but they'll now tussle with the defending NL Central champion
Brewers
. The Brewers are coming home after losing four straight road games and getting an earful from manager Ron Roenicke, too.
Yovani Gallardo
starts for the Brewers while the red-hot
Chad Billingsley
(2-0, 0.63 ERA, 15 K, 1 BB) gets the ball for the Dodgers.
7:10 p.m. CT/5:10 p.m. PTHe's baaaaaaack.
After a five-game suspension for his positive comments regarding Cuban dictator Fidel Castro,
Marlins
skipper Ozzie Guillen returns to the dugout.
Josh Johnson
looks to get things going after an awful (0-2, 8.38) start for the Marlins. The
Cubs
will try to give
Ryan Dempster
some more help, as he has a sparkling 1.88 ERA but Cubs have lost both of his starts.
7:10 p.m. ET/6:10 p.m. CT
Complete Tuesday schedule, with pitching matchups for all 15 games
•
Target Field time lapse.
If you're into this sort of thing, check out the video below. Photographer Brace Hammelgarn used a whopping 5,742 images to show a time lapse of the Twins-
Rangers
Saturday night and then Sunday day games (via
Minnpost.com
).
•
Byrd's word.
One of the things we tend to hear each year on Jackie Robinson Day is the decrease in African-American baseball players, but
Marlon Byrd
takes exception with that talk.
"If you want to take polls, then take polls asking how many black lawyers do we have now, or how many black judges or black doctors there are now," Byrd said (
chicagotribune.com
). "Just because we're black doesn't mean we have to play sports. You can go through other avenues. If the decrease (in baseball) is because they're going into academic fields, so be it. More power to them."
Well said. The whole point of celebrating Robinson's legacy is to celebrate that barriers came down. If young African-Americans are choosing to explore things other than baseball, why is that a problem?
•
Roberto Clemente Day?
The Pirates want Roberte Clemente to be similarly recognized as Robinson is -- both with a universally retired number and a special day -- due to his breaking down barriers for players from Latin America. (
MLB.com
)
•
Social shots.
Mashable.com has assembled
some social media pictures from the first week and a half of baseball this season
. I love the Shea Stadium hat, though I can't imagine it's comfortable to wear.
•
Congrats, Ueck.
Brewers radio announcer Bob Uecker will miss the Brewers telecast Tuesday to be inducted into the National Association of Broadcasters Hall of Fame. He joins legends such as Vin Scully, Jack Buck and Harry Caray in this accomplishment. (Via press release)
•
Scout speak.
Palm Beach High School baseball has up Part 1 of an interview
with major-league scout Willie Romay, in which Romay discusses what scouts look for when judging high school players, among other things. It's an interesting read.
For more baseball news, rumors and analysis, follow @EyeOnBaseball on Twitter, subscribe to the RSS feed and "like" us on Facebook.