Class of 2011 5th-year options: No-brainers, tough calls, no ways
Picking up the fifth-year option on Cam Newton and JJ Watt? Easy calls. Aldon Smith? That might be 49ers toughest choice this offseason.
• 14 min read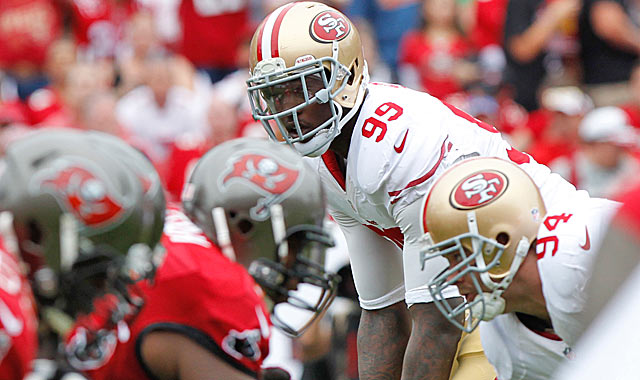 More Draft: Mock drafts | Rankings  | Big Board | Latest news
NFL owners have made out pretty darn well with the early returns on their new collective bargaining agreement, and continue to reap rewards. Another milestone in those negotiations is now upon us, with the first players under this CBA -- the draft Class of 2011 -- now subject to the possibility of teams picking up an option on them for the 2015 season (which would be their fifth pro season).
Teams have until May 3 to give the eligible players written notice they are picking up the 2015 options. And in many cases, the parameters that control this mechanism make it nearly a no-brainer that a team execute this option to maintain its rights over the player it selected in the first round back in 2011.
In reality, it is an extremely low-risk proposition. The teams are highly protected and have time and -- in most position groups -- economics on their side. And, they are protected against any 2014 off-field or performance issues, as these 2015 options are guaranteed for injury only at the time they are executed, and would not become fully guaranteed (for injury, performance and salary cap) unless the player is on the team's roster at the start of the 2015 league year. So he could still be terminated before then, and the team would owe the player nothing for the 2015 season.
For players selected in the first 10 picks, their 2015 salary tenders would equal the amount of the transition tag at their position for 2014. For the rest of the first round, the player's compensation is determined by using a tender that factors in the third-through-25th highest paid player at his position.
Furthermore, if a player who sees his fifth-year option picked up misses any mandatory football activities, or reports late, he is subject to daily fines of $30,000, plus a regular-season paycheck for any preseason game missed.
Not a lot of options for the player in this case, obviously. If teams want these to be five-year rookie contracts, well, then they become five-year contracts. In what is shaping up to be a strong draft class, with a host of players already making a tremendous impact for their teams and across the league, this option is another valuable cog for teams to retain a player during his prime years and secure their top assets without threat of interference from another club.
Ultimately, even if a team has concerns about the young man's ability to live up to the 2015 salary total, it can't really hurt them to execute the option now, on the chance he makes major strides in 2014 and actually performs to a level where his future output and compensation would quite possibly exceed the level of pay in 2015.
Sure, it's somewhat of a messy business practice to pick up an option on a future season and then end up pulling it away and letting the player go, but let's not forget that first and foremost this is a business where cash is king and it can be incredibly cold and cruel, lest we forget the average length of an NFL career.
With that in mind, I've divided the players eligible for the 2015 option into three categories: no-brainer, tough call and not bloody likely. Within a few weeks, we'll know for sure where each player and each team stands. For the record, I've got 17 no-brainers (which includes players whose options were already exercised), and 10 "not bloody likelys" (which includes primarily quarterbacks yet to establish themselves -- or even come close in many cases -- and oft-injured offensive linemen, who carry a steep option tender figure). As for the rest, I'll explain why they are such a tough call, and give a gut feeling on which way the team goes.
And, ultimately, if any team applied the option to any eligible player, you couldn't fault it at all. This entire process is tilted in the teams' favor, and other than a 2015 injury guarantee, they aren't gambling anything at all. The new rookie wage scale acts as scouting insurance from the teams, mitigates their risk, and pushes back the ability of a player to get a market-fair contract until, in some cases, his sixth season.
No-brainers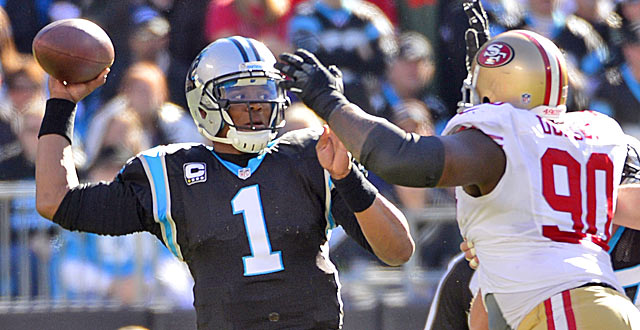 No. 1 overall: Cam Newton, QB, Carolina ($14.7M): He is a franchise quarterback, one of the most dynamic players in the NFL and someone who has been setting records at his position since his rookie season. Few people on the planet have his athleticism and he is still filling out and developing. At less than $15M a season, given his already low compensation to this point ($5M a season), this is a steal.
No. 2 overall: Von Miller, LB, Denver ($9.75M): Yes, he has had off-field issues, and yes, he is coming off injury, but Miller's pass-rushing exploits have been historically significant and his issues of maturity and time management and speeding pale in comparison to the legal troubles of say, fellow 2011 first-rounder Aldon Smith. Pick the option up, protect the investment and you buy plenty of time to eventually negotiate a longer-term deal.
No. 3 overall, Marcell Dareus, DL, Buffalo ($8M): He has been rather inconsistent and has infuriated coaches by being late and seeming unmotivated at times, but the Bills can't let more talented youngsters leave their building (an exodus continued by Jairus Byrd this offseason), and with Kyle Williams getting up there, they might as well buy themselves time to see how Dareus performs in 2014 with the 2015 tender hanging over his head.
No. 4 overall, A.J. Green, WR, Cincinnati ($10.2M): Green is among the five best players in the NFL at his position at a time when those types of pass catchers are commanding more like $15M a season. A total no-brainer for a low-spending team like the Bengals. This one screams out for a long-term extension, probably even before the 2014 season starts. UPDATE: Bengals exercise option on Green
No. 5 overall, Patrick Peterson, CB, Arizona ($10M): Peterson changes games on defense and special teams, and he isn't going anywhere. Negotiations with him on a long-term deal will heat up this summer. In the meantime, he gets the option picked up if a deal isn't struck by May 3. Update: Cardinals exercise option on Peterson
No. 6 overall, Julio Jones, WR, Atlanta ($10.2M): Same deal as with A.J. Green. At the time of his injury last season, one could make the case no receiver was performing better in the NFL.
No. 9 overall, Tyron Smith, T, Dallas ($10M): Cowboys have already exercised the option on the mountain of a tackle who looks like a franchise linchpin for years to come.
No. 11 overall, J.J. Watt, DL, Houston ($7M): Already picked up. A player who is among the 5-10 best in the league regardless of position. Expect a long-term deal before he plays for this ridiculously low amount in 2015. If he were to somehow play for this total, the Texans would benefit by getting him on the reduced tender rate, starting at pick 11, rather than had they picked him one spot up. And he's the best player in this draft to this point.
No. 14 overall, Robert Quinn, DL, St. Louis ($7M): Already one of the game's dominant pass rushers and getting better seemingly by the day. Absolute steal at this price, and when he does get his second contract, it will be worth well north of $7 million a year.
No. 15 overall, Mike Pouncey, C, Miami ($7.4M): Despite his issues in the locker room and his role in the Jonathan Martin fiasco, he is one of the best centers in football and he'll get his long-term deal from Miami eventually.
No. 17 overall, Nate Solder, T, New England ($7.4M): He has had some injuries but also looks like a long-term answer at tackle for the perennial Super Bowl contenders. And with tackle salaries soaring this offseason, this is a more than palatable enough number to secure him.
No. 18 overall, Corey Liuget, DL, San Diego ($7M): Chargers have already picked this up. They are still trying to rebuild their front seven, and he is a centerpiece in that movement.
No. 22 overall, Anthony Castonzo, T, Colts ($7.4M): The Colts are trying to make a Super Bowl push, they value this player and their offensive line has been a big concern in recent years. Can't see them letting Castonzo walk after 2014 and risk anything while they have this mechanism at their disposal to protect themselves.
No. 24 overall, Cam Jordan, DE, New Orleans ($7M): He has come into his own after a difficult rookie season and he represents the team's primary pass-rushing thrust. He is integral to what Rob Ryan is trying to do on defense and a player the Saints can't risk losing. Update: Saints exercise option on Jordan
No. 27 overall, Jimmy Smith, CB, Baltimore ($6.9M): Ravens already exercised the option on a player who has stayed out of trouble at the NFL level and performed as a No. 1 corner at times. Has elite size and ability and should anchor their secondary for years to come.
No. 30 overall, Muhammad Wilkerson, DL, NY Jets ($7M): The Jets already picked up his option, a total no-brainer, obviously, with Wilkerson becoming one of the most dominant linemen in the game. Will be interesting to see how much guaranteed money Watt gets because Wilkerson could push $40M guaranteed himself when all is said and done, and these sides will certainly talk about a long-term deal soon enough.
No. 31 overall, Cam Heyward, DL, Pittsburgh ($7M): The Steelers have had a lot of defections on their front seven and several draft picks not pan out. Heyward forced his way into more playing time and is a young cog who seems to be coming into his own. With the salary cap finally shooting up and the Steelers having sorted out most of their cap issues, this is a kid to keep around.
Tough calls
No. 7 overall, Aldon Smith, LB, San Francisco ($9.75M): If I were running the 49ers, I would pick it up even with his ever-lengthening rap sheet. But there is a strong sense the 49ers have seen enough of his weapons charges and DUIs and airport bomb threats. He might not play football anywhere in 2014, for all we know, and the 49ers need to send a message about how they deal with troubled players. So he's probably gone despite 42 sacks in 43 games. But given how unique this case is, I'm putting him in the "tough call" category. Then again, if Smith is suspended for the season, the 2015 option might actually end up working as a 2016 option for all we know. There really isn't much risk.
My Gut: They don't pick it up
No. 16th, Ryan Kerrigan, LB, Washington ($7M): This figure is a little high given Kerrigan's erratic production, and he hasn't fulfilled all the promise he displayed as a rookie. But then again, the Redskins have few young assets to protect on defense, they are short on draft picks again this season, and they did just franchise their other edge presence, Brian Orakpo. Owner Dan Snyder doesn't like to let high draft picks get away these days, but GM Bruce Allen is pretty careful about how he sprinkles the money around.
My gut: They pick it up
No. 19 overall, Prince Amukamara, CB, NY Giants ($6.9M): Amukamara has ability, to be sure, but he has been injured and his durability is in question, and a salary like this puts him up there given the falling salaries for many corners the past few years. Then again, this is a real position of need for the Giants, and they haven't hit in the draft recently like they are accustomed to, and they have some serious passing attacks to deal with in their division. The Giants are still mulling their options, and could go back and forth on it.
My Gut: They don't pick it up
No. 21 overall, Phil Taylor, DT, Cleveland ($5.5M): Taylor made an immediate impact as a rookie, he is diverse and can anchor the Browns line. The Browns need to retain a building block. Taylor's massive size -- even though spotted in a rotation -- and potential is enough that, if it were me making the decision for the big-spending and cap-loaded team, I would pick up the option and then weigh his long-term future down the line. But from what I gather, the Browns aren't as high on him as they used to be. He's seen as more of a situational player, and going over $5 million just might be too steep.
My Gut: They don't pick it up
No. 28 overall, Mark Ingram, RB, New Orleans ($5.2M): After riding the bench much of his career, Ingram finally began getting fed the ball late last season and he took full advantage. With Darren Sproles gone and Pierre Thomas aging, Ingram could end up with a nice workload this season. But then again, he wasn't used that much and in this era of football, $5 million-plus is a lot of money for a running back. Hence, the tough call.
My gut: They pick it up
Not bloody likely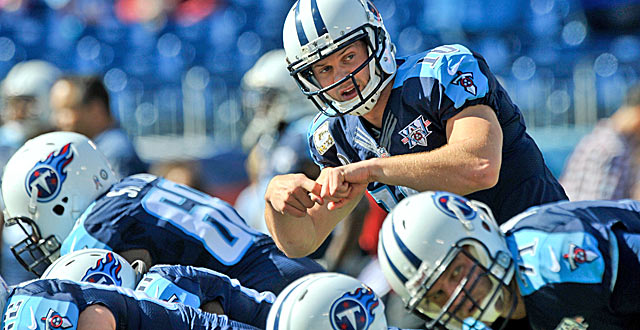 No. 8 overall, Jake Locker, QB, Tennessee ($14.7M): He made some strides last season before getting hurt, but remains very limited, his accuracy is an issue and if Ken Whisenhunt can't get him fixed this season, he'll be competing for a job somewhere in 2015. No reason to dangle a $15M carrot in front of him. And if Locker, who gets hurt a lot, suffers a serious injury in 2014, then that 2015 fifth-year option becomes guaranteed, which would be quite the salary-cap and budget wrecker.
No. 10 overall, Blaine Gabbert, QB, Jacksonville ($14.7M): Jags have already traded this draft bust for a bag of footballs (OK, not literally, but you get the picture). We'll see if Jim Harbaugh can turn him into a serviceable backup in San Francisco.
No. 12 overall, Christian Ponder, QB, Minnesota ($9.7M): Are you noticing a trend with the quarterbacks by and large? Ponder will be fighting to keep a job there, with the Vikings likely to draft a quarterback on the first two days of the draft. And he has been very up and down. Even if Norv Turner can fix him some, no reason to get him potentially into the $10 million-per-year stratosphere.
No. 13 overall, Nick Fairley, DL, Detroit ($5.5M): Fairley's 2011 draft slide gets mirrored here. Lions GM Martin Mayhew made it pretty clear a few weeks back that picking this up was highly unlikely, and I'm told that continues to be the case. With Ndamukong Suh about to get a massive deal, maybe a lower-priced deal for Fairley makes sense at some point.
No. 20 overall, Adrian Clayborn, DL, Tampa Bay ($7M): Clayborn is coming off an effective season but the Buccaneers have spent a lot of money already this year and will have to back up the Brinks truck to keep DL Gerald McCoy. So, I would be shocked if they picked up this option. They might be able to work out something with Clayborn, but not at $7 million a year.
No. 23 overall, Danny Watkins, G, free agent: Watkins didn't last long with the Eagles, who drafted him, and didn't last long with the Dolphins, either. He cleared waivers, so his rookie contract is null and there is no option to pick up in his case. We'll see what camp he lands in, but he's a veteran-minimum guy at this point.
No. 25 overall, James Carpenter, G, Seattle ($7.4M): Seattle usually ends up hitting on its draft picks, and over time, Carpenter still might become an elite pro. The potential is there, but he hasn't produced enough to this point or been able to stay healthy, most of all. This is a lot of money for an interior lineman and the Seahawks, as I said, do draft so well, so finding his replacement might not end up being all that difficult. Given all the stars they still need to pay -- Russell Wilson, Richard Sherman, Earl Thomas -- this is a luxury I can't see them affording. If he performs well and stays healthy this year, he can always work out a deal down the line.
No. 26 overall, Jon Baldwin, WR, San Francisco ($6.8M): Baldwin already was dealt by the Chiefs to the 49ers for A.J. Jenkins -- a deal featuring two busts at the receiver position -- and we'll see if he makes the 49ers this season and finally has any imprint on a team. But ain't no way he's seeing anything close to this kind of money in 2015.
No. 29 overall, Gabe Carimi, OL, Atlanta (not eligible): The Bears drafted him but didn't keep him around that long. Carimi managed to hang on with the Falcons last season after a brief stint with Tampa Bay but started only three games. He has cleared waivers and been off his original rookie contract for quite some time, so there is no option to exercise. Time will tell if he sticks with the Falcons.
No. 32, Derek Sherrod, OL, Green Bay ($7.4M): Sherrod has been injured and failed to play any meaningful snaps at all, and a figure like this is prohibitive. No real decision to mull here. We'll see if Sherrod can start to play regularly in 2014.
The Cowboys legend admits he's not on 'great' terms with the Cowboys suspended running bac...

Here's the latest information on injured Steelers linebacker Ryan Shazier

The Titans quarterback has had a frustrating season but maintains that's not an excuse for...
The Seahawks defensive lineman almost ended up in the stands fighting Jags fans last Sunda...

The Colts quarterback has been out of the country since mid-November

The MVP candidate is fresh off a successful surgery for a torn ACL