Afternoon Delight: Oklahoma State and 'Nova the big winners
There weren't too many marquee matchups on Saturday afternoon, but there were plenty of close games and contests that will matter on Selection Sunday.
• 6 min read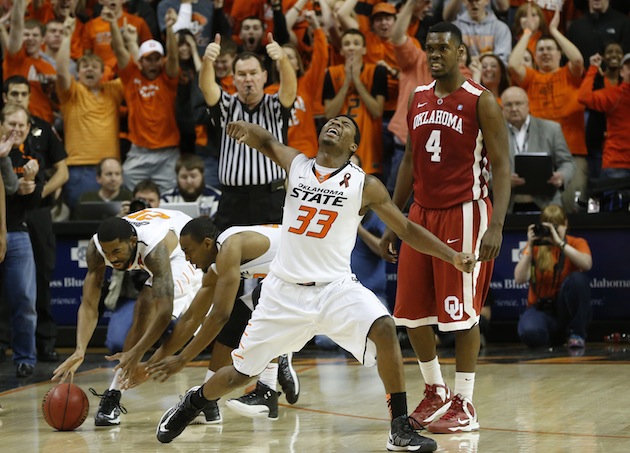 Marcus Smart improved his terrific freshman resume by making plays to lead Oklahoma State to a Bedlam win. (AP)
On busier Saturdays and Sundays this season, we're not going to make you wait until the end of the slate of games to catch up with all that's happened. Afternoon Delight (3-pointers in flight!) recaps the first five-or-so hours' worth of action, the perfect appetizer right before dinnertime.
The best we've seen so far: Oklahoma State coming back to beat Oklahoma in overtime.
Bedlam is always a fun matchup, and this one didn't disappoint. Oklahoma jumped out to a halftime lead, but the first few minutes of the second half made it clear that we were going to see some high-level hoops down the stretch. Le'Bryan Nash was outstanding in the second half, scoring 26 points, while Marcus Smart constantly made plays when it mattered. He finished with 28 points, seven rebounds and four assists. On the other side, three Oklahoma players scored 18 points: Steven Pledger, Romero Osby and Sam Grooms.
Nash and Pledger traded shots early in the second half, while Osby and Smart went back and forth in the final minutes. A botched final Oklahoma possession and missed buzzer shot by Smart sent the game to overtime -- where it wasn't decided until Smart knocked down two free throws with 18 seconds left. Both teams are likely to make the NCAA tournament, but Oklahoma State has an ever-improving resume and could have the inside track toward a Big 12 title.
The second-best we've seen so far: Marquette carving up Pittsburgh's defense in easier-than-expected win.
Teams don't roll over the Pittsburgh defense like Marquette did on Saturday. The Golden Eagles shared the ball and knocked down shots en route to a 10-point win over the Panthers. They constantly got open looks against Pittsburgh, moving the ball quickly and keeping the defense on its heels. Having multiple guys who can shoot the ball only helped. Vander Blue led the way with 19 points and six rebounds for Marquette, which is positioning itself nicely for a top-four seed come March. Moreover, the win moved the Golden Eagles back into a tie for first place in the Big East, sitting next to Georgetown atop the standings. Pittsburgh has a quick turnaround, having to return home and face Notre Dame on Monday.
Deserving of a free dinner at the restaurant of their choice: Villanova gets another key win with road victory at UConn.
Heading into the weekend, it seemed like Villanova's monster wins earlier this season over Louisville and Syracuse were less of a telling sign of how good the Wildcats were -- and more of a really good week in an otherwise mediocre season. That changed on Saturday, when Villanova went into Connecticut and added another win to the ledger. Ryan Arcidiacono was outstanding, scoring 25 points, while Mouphtaou Yarou chipped in with 11 points and 16 rebounds. Connecticut's prolific backcourt of Shabazz Napier and Ryan Boatright combined for six points on 3-for-15 shooting. Villanova is still on the bubble, but Saturday's win is a nice boost for the resume. 
No soup for you: Indiana State falls further down the pecking order after another MVC loss.
Heading into the week, the Sycamores' four top-50 wins were enough to slot them into most projected brackets -- despite having four sub-100 losses. Now, it's looking more and more difficult for Indiana State to get an at-large bid. It lost at Missouri State during the week and compounded that with a defeat at Bradley on Saturday. The Sycamores allowed the Braves to score 45 points and shoot 60 percent from the field in the second half. Home games this week against Wichita State and Iona are important but still might not be enough.
And Kentucky was also a disaster, getting absolutely destroyed by Tennessee in its first game without Nerlens Noel. The Wildcats' resume now reads -- With Noel: zero wins over NCAA tournament teams. Without Noel: a 30-point loss to Tennessee. Goodman has much, much more on this game.  
Afternoon all-stars
Huge props to Creighton's Doug McDermott, who reached 2,000 career points in the Bluejays' key road win over Evansville. And he's only a junior.
Will Sheehey went 9-for-9 from the field en route to 22 points for Indiana.
The top two point-scorers of the afternoon were Longwood's Tristan Carey and Buffalo's Tony Watson, who each scored 31 points.  
Other daytime action worth your attention
Delightful (and not-so-delightful) thoughts
-- Rutgers lost at DePaul, but the status of Eli Carter is more concerning. This fall didn't look good:
-- -- -- 

--
-- Xavier was pushing toward the bubble, but losing by 11 to Dayton won't help the Musketeers' case.
-- Bucknell and Lehigh go head-to-head for the second time this season on Monday, but both fell on Saturday. Bucknell lost by one at Lafayette and Lehigh was defeated by four at Colgate.
-- Thanks to a couple of terrible last-second possessions by Kent State, Ohio stayed one game back of Akron in the MAC. Stevie Taylor's 3-pointer in overtime won it.
-- Charleston Southern reclaimed first place in the Big South with a 73-65 win at UNC-Asheville. A 15-2 run down the stretch was the difference.
-- Texas Southern made its big move in the SWAC, beating Arkansas-Pine Bluff at home and staying within striking distance of Southern.
-- An important win in the Northeast: Robert Morris going into Sacred Heart and coming out with a win. Combined with Bryant's loss, Morris is now atop the NEC standings.
For more college basketball news, rumors and analysis, follow @EyeonCBB on Twitter, subscribe to our RSS Feed and subscribe to our College Basketball Newsletter. You can follow Jeff Borzello on Twitter here: @jeffborzello
Simons, 18, is a former Louisville pledge who is suddenly eligible for the upcoming draft

The Blue Devils improved to 4-0 in an easy win vs. Southern.

If LiAngelo Ball didn't come from a famous family, we might think differently of him
Ball significantly downplayed President Trump's role in helping get his son back to the U....

Discussing the one-and-done rule -- plus Michael Porter Jr.'s injury and Billy Preston's c...

Even though he's scheduled to graduate in December, the NCAA still won't let Hayes play