Lowlights: Colorado's collapse is complete, and more of the worst of Week 3
Celebrating the weekend's losers, on the scoreboard and in spirit.
Celebrating the weekend's losers, on the scoreboard and in spirit.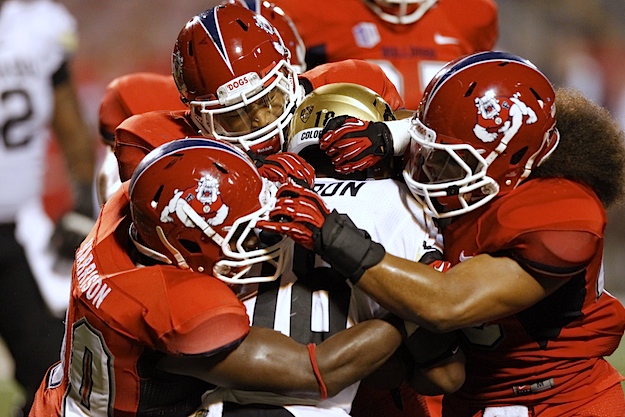 • Buffalo Blues. There was already considerable evidence before Saturday that the Colorado Buffaloes, 0-2 with demoralizing losses to Colorado State and Sacramento State, may be the worst team in major college football. At Fresno State, though, the Buffs made a compelling bid for the ages in what must rank among the worst performances in recorded NCAA history: By the end of the first half, Fresno led 55-7 with twice as many touchdowns (8) as Colorado had first downs (4) en route to a 69-14 debacle that could have been twice as bad if the Bulldogs didn't have the humanity to start pulling their punches. This is the same Fresno State team that finished 4-9 in 2011 and was last seen being ripped to ribbons in a blowout loss at Oregon.
This week, Colorado is at Washington State , the only other team in the Pac-12 that could conceivably match CU gaffe for gaffe on a bad night. If they come up short there, with the two most winnable games on the schedule already on the books as losses, the Buffs could be bound for an 0-12 session, and coach Jon Embree could be bound for the guillotine.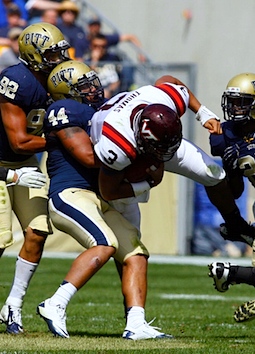 • Hokie, Hokie Low. The sad-sack Pittsburgh Panthers featured prominently in this space after each of the first two weekends of the season following dreadful losses at the hands of Youngstown State and Cincinnati. So the team that subsequently loses to Pitt by 18 points in a game that wasn't even that close? That's right, Virginia Tech , your top-20 ranking has been replaced by a string of sad-face emoticons. Fueled by freshman running back Rushel Shell, the Panthers ran over the vaunted Hokie defense (sometimes literally) for 537 total yards – the most Virginia Tech has allowed in one game since September 2007 – and picked off Tech quarterback Logan Thomas three times en route to the most inexplicable upset of the week.
• Woooooo, Pig Kablooie. Not that Arkansas had any hope of hanging with Alabama Saturday, especially with starting quarterback Tyler Wilson on the bench due to a head injury. But if the Razorbacks did have a chance, snapping the ball over the punter's head within the first five minutes of the game is probably the most efficient method of snuffing it out. Arkansas went on to turn the ball over five times, setting up short-field Alabama touchdowns following all five in a 52-0 blowout, the most lopsided margin of Nick Saban's tenure against an SEC opponent.
• LOWLIGHT HALL OF FAME: Bulldogs Score for Free.
Not to pile on poor Colorado, but… actually, yes, we are going to pile on Colorado, cruel as it may be, because its effort frankly deserves more scorn than we even have to give. Effort is the right word here: At one point in the first quarter, Fresno State scored five touchdowns in the span of ten offensive plays (read that again, out loud), which cannot happen against Division I scholarship athletes who are actually trying. Two of the scores in that string came on a 97-yard touchdown pass from Derek Carr to Isaiah Burse, immediately followed by a 94-yard touchdown run by Robbie Rouse on the Bulldogs' next series:
For the record, that was Rouse's fourth touchdown run of the first quarter.
Remember: Colorado is barely a decade removed from a BCS game, and barely two decades removed from a national championship. Now its starting defense can barely make it through a play without half of them falling down for no reason.
• WORST GAME OF THE WEEK: Connecticut 24, Maryland 21.
The "Edsall Bowl" in College Park featured just 428 yards of total offense between both teams on 3.5 yards per play, and just 179 yards through the air. Neither side managed a play that gained 30 yards. But UConn's Cole Wagner and Maryland's Nathan Renfro did put on a rousing display of form punting, combining for more than 600 yards' worth of punt yardage on 14 attempts – three of which they placed inside the opposing 20-yard line. Impressed? Maybe you just had to be there.
• WORST PLAY OF THE WEEK: Golden Bears blow a Golden Opportunity.
Cal ! You're improbably tied with heavily favored <span data-shortcode= State" data-canon="Ohio Bobcats" data-type="SPORTS_OBJECT_TEAM" id="shortcode0">, on the road, with less than four minutes to play. The Buckeyes are facing 3rd-and-7 from their own 28-yard line, an obvious throwing down and a chance to force a punt and get the ball back for the win. What do you do?
Unfortunately, you've chosen "leave the best receiver on the field wide open by 15 yards for the easiest touchdown of his career":
I believe that coverage is called the "Cover Negative-Two."
• DEMERITS. Also coming in for scorn this week…
• TCU's ball security.
• Utah's security guards.
• Full-contact field judges.
• Ole Miss' partisan Marine.
• THE DREADFUL DOZEN. The worst of the worst, in ascending order…
- - -
1. Colorado (0-3). At this point, any win in Pac-12 play will qualify as a stunning upset.
2. UMass (0-3). The Minutemen have been outscored 145 to 19 in their first three games as a full-fledged FBS program, but at least the margins against the MAC should be slightly less gruesome from here on out.
3. Colorado State (1-2). The Rams' only victory is a narrow win over Colorado, which is beginning to look almost as bad as their double-digit losses to North Dakota State and San Jose State.
4. Idaho (0-3). Vandals gave LSU a game for two quarters before being turned into boudin.
5. Memphis (0-3). On the bright side, the Tigers rank fourth nationally in net punting.
6. Eastern <span data-shortcode=" data-canon="Michigan Wolverines" data-type="SPORTS_OBJECT_TEAM" id="shortcode0"> (0-3). Consider it a victory if the Eagles' worst-in-the-MAC defense makes it out of Michigan State Saturday in one piece.
7. Houston (0-3). Yeah, there was a lot of attrition from last year's 12-1, borderline-BCS team, but how did the Cougars get this bad, this fast?
8. UNLV (0-3). Runnin' Rebels enjoyed a national TV audience last Friday against Washington State, confirming that there is still no reason whatsoever to intentionally watch UNLV play football.
9. Wyoming (0-3). No shame in a 20-point loss at Texas, or even a three-point heartbreaker against Toledo. But a loss to Cal Poly? Odds of another bowl game are dwindling fast.
10. Florida Atlantic (1-2). Owls got in a couple licks at Georgia before getting TKO'd in the second half. At Alabama this week, they should just stay in the corner.
11. Kansas (1-2). I didn't buy a ticket, but I did watch the Jayhawks' 20-6 loss to TCU Saturday in its entirety, and feel I deserve some kind of refund.
12. UAB (0-2). At least the loss to South Carolina put the Blazers in the headlines for a change.
Next week in the Worst: New Mexico meets New Mexico State for all of the… uh civilian aircraft?
Saban isn't going to win Alabama's special election, but the Crimson Tide coach got some l...

The Sooners' quarterback and Badgers' rusher stood out among their peers this season

Clark led UAB to an 8-4 overall record, 6-2 in conference this season
SportsLine simulated every bowl game 10,000 times for pick'em leagues and confidence pools

The Tigers are going worldwide for their next punter

Led by Heisman Trophy winner Baker Mayfield, the Big 12 finished with seven first-team sel...