2014 NFL strength of schedule: Raiders at No. 1, Colts at No. 32
The Raiders are going to have to beat long odds if they want to pick up the team's first winning season since 2002.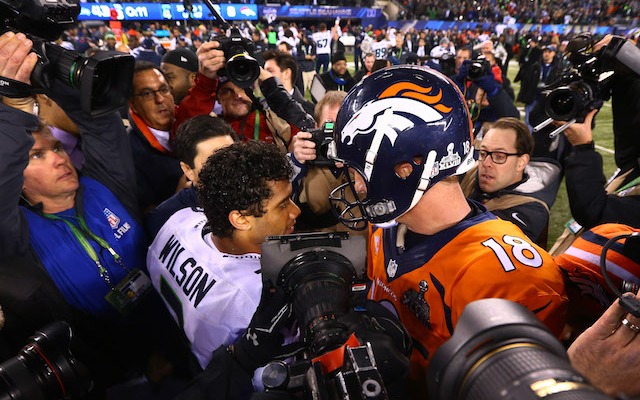 The Oakland Raiders haven't had a winning season since 2002 and if the NFL's 2014 strength of schedule is any indication, that streak is likely to continue for another year. 
Based on 2013 records, the Raiders will play the toughest schedule in the NFL next season. The Raiders will play a total of nine games against 2013 playoff teams, plus a game against the 10-win Arizona Cardinals. 
The Raiders schedule is as close to a murderer's row as an NFL schedule can produce. Oakland plays all four teams that played in the NFC and AFC Championship games and that includes three games against the two teams that were in the Super Bowl. 
Oakland might have it tough, but they're not the only ones playing nine games against 2013 playoff teams. The Broncos will also play a total of nine games in 2014 against teams that made the playoffs in 2013.
The eight toughest schedules in the NFL belong to the eight teams in the AFC and NFC West. The two divisions will play each other in 2014. The two divisions combined to send five of their eight teams to the postseason in 2013. 
It pays to be in the AFC South in 2014. The four easiest strength of schedules next season belong to the the four teams in that division. Going into 2014, Indianapolis has the easiest strength of schedule, followed by Tennessee, Houston and Jacksonville. 
The Colts 2014 opponents have a combined 2013 record of 110-146. The Raiders 2014 opponents have a combined record of 148-108. 
After all of this strength of schedule talk, the obvious question here is: Does strength of schedule actually mean anything? 
Going into the 2013 season, the Carolina Panthers had the toughest strength of schedule. After the 2013 season was over though, the Panthers had only played the 17th most difficult schedule.
A lot of that had to do with the fact that Carolina played the Falcons twice. Going into 2013, the Panthers strength of schedule was calculated using the Falcons 2012 record of 13-3. After 2013, it was calculated using the Falcons 2013 record of 4-12. 
The Tampa Bay Buccaneers ended up playing the most difficult schedule in 2013, but before the season, they were only projected to play the 17th hardest schedule. 
Here's the 2014 strength of schedule for each NFL team (Combined 2013 record of all 16 opponents, combined winning percentage)
1. Oakland Raiders: 148-108, .578
2. Denver Broncos: 146-110, .570
3. St. Louis Rams: 144-111-1, .564
T-4. San Diego Chargers: 144-112, .563
T-4. San Francisco 49ers: 144-112, .563
6. Seattle Seahawks: 143-112-1, .561
7. Kansas City Chiefs: 143-113, .559
8.Arizona Cardinals: 140-116, .547
9. New York Jets: 132-122-2, .520
10. New England Patriots: 131-123-2, .516
11. Atlanta Falcons: 130-124-2 .512
12. Miami Dolphins: 129-125-2, .508
13. Green Bay Packers: 128-126-2, .504
14. Buffalo Bills: 127-127-2, .500
15. Chicago Bears: 125-127-4, .496
16. Detroit Lions: 124-128-4, .492
17. Washington Redskins: 125-130-1, .490
18. Dallas Cowboys: 125-131, .488
19. Tampa Bay Buccaneers: 123-131-2, .484
20. Philadelphia Eagles: 122-133-1, .479
21. Minnesota Vikings: 121-133-2, .477
22. Carolina Panthers: 120-134-2, .473
T-23. Cincinnati Bengals: 120-136, .469
T-23. Pittsburgh Steelers: 120-136, .469
T-23. New Orleans Saints: 119-135-2 .469
T-26. Cleveland Browns: 119-137, .465
T-26. New York Giants: 119-137, .465
28. Baltimore Ravens: 117-139, .461
29. Jacksonville Jaguars: 116-140, .453
30. Houston Texans: 113-143, .441
31. Tennessee Titans: 112-144, .438
32. Indianapolis Colts: 110-146, .430
Here's a link to a list of every opponent each team will play in 2014. The time and dates of each game will be released in the spring.  
It had been rumored that the Jaguars might cut ties with Bortles, but instead he'll stay in...

Dez has struggled with injuries over the last few seasons

Cohen started last season red-hot before falling off dramatically but he has a ton of tale...
Beckham got injured during the 2017 preseason and then fractured his ankle after just four...

The Eagles were one of the most aggressive teams in the NFL in 2017, and it helped them win...

The ex-Dolphins offensive lineman was detained over a threatening social media post