If the San Francisco 49ers end the 2015 NFL season playing in Super Bowl 50, they won't have to fly to get there, which actually seems fair, because the 49ers are going to fly farther than anyone during the regular season.
For the upcoming season, the 49ers are slated to travel an estimated 27,998 miles. To put that in perspective, that's 5,116 miles more than the Eagles, Redskins and Colts will travel combined. 
You can see the 49ers travel map below (via Pro Football Reference).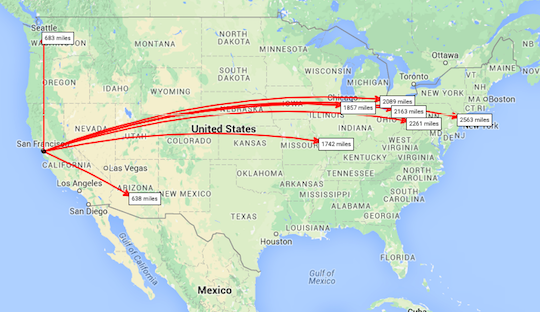 The fact that the 49ers are traveling a lot isn't that shocking because West Coast teams generally rack up more frequent flyer miles than other teams.
What is shocking though is that the 49ers are traveling 1,546 miles more than the Dolphins, a team that's flying nine times in 2015 thanks to a Week 4 "home" game in London.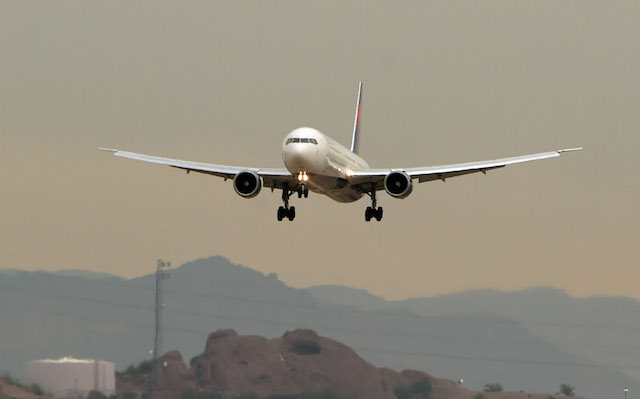 So is playing on the West Coast worse than playing in London? It is this year, at least from a travel prospective.
Of the six teams playing in London in 2015, only the Dolphins cracked the top-6 in travel miles. The other five slots belong to teams in either the AFC West or NFC West.
Now you're probably wondering, "If my favorite team's traveling a lot, does that mean they're going to lose?"
The answer is yes if you're a Raiders fan.
Since 2009, the Raiders have been on an almost impossible 0-16 losing streak in the Eastern Time Zone. Oakland's last win in Eastern Time came on Dec. 6, 2009, when the Raiders beat the Steelers in Pittsburgh 27-24.
The good news for the Raiders is that they'll have three chances to end the streak this year, but that's also kind of the bad news because it means the Raiders have to play three games in a time zone where they're 0-16. 
Back to the question at hand though: If my team travels a lot, will they lose?
The five teams that traveled the farthest in 2014 -- the Raiders, Seahawks, Cowboys, Dolphins and Jaguars -- combined to finish with a 17-23 road record and that includes the Cowboys 8-0 record. 
The five teams that traveled the fewest miles last season -- the Panthers, Bengals, Titans, Browns and Steelers -- combined to finish with an almost identical 17-22-1 record on the road.
Traveling a lot may not have a huge bearing on wins or losses, but traveling far seems to have some effect -- as the Raiders have proven. 
In the 15-season period from 1997-2011, teams that traveled 2,000 miles or more for a road trip won only 39.8 percent of their games, according to Grantland.com. That's slightly worse than the 43 percent of games won by teams that went on road trips that were 1,000 miles or less. 
In 2014, teams that traveled over 2,000 miles won exactly 40 percent of their games, with NFL teams combining to go 8-12. London games don't count in that total, since both teams had to travel over 2,000 miles and therefore were basically on equal footing.
If you need an example of what can happen when a team travels a long way, just consider the Steelers. In both 2012 and 2013, Pittsburgh inexplicably lost on the road to the Raiders.
Anyway, back to our most traveled team.
If the 49ers are going to earn a berth to Levi's Stadium for that trip to Super Bowl 50, they're going to have to overcome an NFL-high four games where they travel over 2,000 miles. 
Here's a look at each team's travel miles for the upcoming season. 
2015 NFL Travel Miles (Road games where team travels over 2,000 miles)
1. 49ers: 27,998 (4)
2. Dolphins: 26,452 (2 -- including London) (17,568 miles for 8 road games)
3. Raiders: 26,336 (3)
4. Seahawks: 25,086 (1)
5. Chargers: 24,274 (2)
6. Cardinals: 23,652 (1)
7. Chiefs: 21,640 (1 -- including London) (12,920 miles for 8 road games)
8. Ravens: 20,550 (3)
9. Lions: 20,272 (1-- Includes away game in London)
10. Jets: 19,866 (2 -- Includes away game in London)
11. Jaguars: 19,101 (1 -- including London) (10,537 miles for 8 road games)
12. Cowboys: 17,148 (0)
13. Bengals: 16,062 (2)
14. Broncos: 15,912 (0)
15. Patriots: 15,308 (0)
16. Packers: 15,108 (0)
17. Bills: 14,912 (1 -- Includes away game in London)
18. Rams: 14,738 (0)
19. Vikings: 14,394 (0)
20. Texans: 14,318 (0)
21. Steelers: 13,226 (2)
22. Browns: 12,564 (2)
23. Giants: 12,448 (0)
24. Saints: 11,942 (0)
25. Bears: 11,830 (0)
26. Panthers: 11,660 (1)
27. Buccaneers: 11,288 (0)
28. Falcons: 10,334 (1)
29. Titans: 9,312 (0)
30. Colts: 8,914 (0)
31. Redskins: 7,150 (0)
32. Eagles: 6,818 (0)
Note: The three London "home" teams all have a second number, which is what their travel miles would've been if they had hosted the game at home rather than in London. 
Note II: Several teams could see their total mileage change. For instance, the Ravens play at San Francisco and Arizona in consecutive weeks and could stay out west for both games. 
(Travel miles from Pro Football Reference)
For you visual people out there, we put together the handy chart below to give you an idea of how NFL teams stack up to one another in terms of 2015 distance traveled.