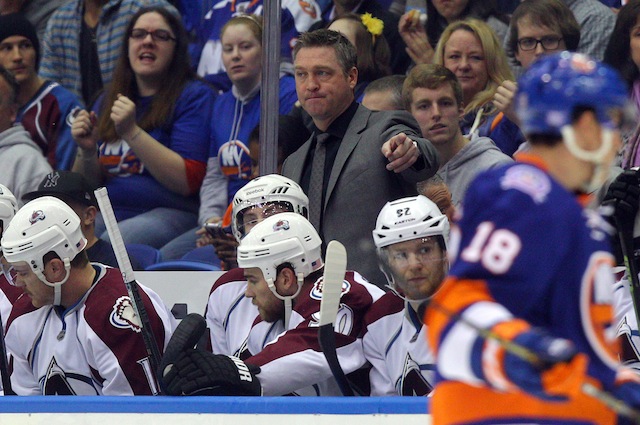 The NHL season isn't even two months old, but a quick look at the standings and the teams that currently occupy a playoff spot will give you a pretty good idea as to which teams are going to end up playing games in mid-April, and which ones will be hitting the golf course earlier than expected. This can be a pretty controversial statement to some fans because with three quarters of the season still remaining and teams still having more than 50 games to play, it's easy to think that no deficit right now is too much to overcome.
But in some cases, that deficit probably is too much to overcome.
What I like to do every year is look at the standings relatively early in the season and try to figure out how many games teams need to win the rest of the way to, at a minimum, guarantee themselves a playoff spot, and also which teams might already be out of it.
Yes. Already out of it.
Now that we are pretty much a quarter of the way through the season, it is now that time of year. So let's see what your team needs to do to reach the 2014-15 playoffs.
The target: 95 points.
Ninety-five points is almost always a safe bet to get a team into the playoffs and that should almost always be the mininum number a team should target. Since the NHL added the three-point game during the 2005-06 season, only two teams have ever reached 95 points and failed to make the postseason: The 2010-11 Dallas Stars, who fell two points short, and the 2006-07 Colorado Avalanche, who missed by just a single point.
If you get to 95, your chances of playing in the NHL's second season are great.
The other factor to keep in mind: It's really hard to make up points you left on the table in October and November. The "It's not how you start, it's how you finish" cliché? Yeah, it doesn't really work that way. Over the past five full seasons (going back to 2008-09 and excluding the lockout-shortened 2012-13 season) 78 percent of the teams (62 out of 80) that occupied a playoff spot on Nov. 20 ended up making the playoffs.
Of the 18 teams that ended up overtaking a playoff spot after that point, only two of them overcame a deficit of more than four points on Nov. 20 to make it. The 2008-09 St. Louis Blues overcame a six-point deficit, as did the 2013-14 Dallas Stars. That's it.
Six of the teams that were outside of a playoff spot on Nov. 20 were actually tied for one when it came to points but were out due to a tiebreaker. Five teams were only a single point back, two teams were three points out, and three more were three points out.
So, yes, the games in October and November are pretty important, and if you're more than four points out of a playoff spot at this point, it's going to be a surprisingly steep hill to climb to get back into it. That might be bad news for teams like Philadelphia, Carolina, Columbus, Buffalo, Arizona, Colorado, Dallas and Edmonton right about now.
All of that said, let's look at what each team needs to do to reach the magic number of 95.
Let's start with the Eastern Conference.
Carolina, Columbus and Buffalo. Good luck.
And now, the Western Conference.
Keep in mind, a lot of these teams will end up with a lot more than 95 points, and depending on the season it is possible to make the playoffs with fewer than 95 points. There are also different combinations of records that can get a team to that level. This is just an estimate as to what it will take to reach the minimum level that should guarantee a team a trip to the postseason.