College basketball: Looking forward to the rest of the season
Will Wichita State go undefeated? Can Michigan State make its first Final Four since 2010? Is Doug McDermott going to get his first scoring title? Will Bill Self get his 10th Big 12 title?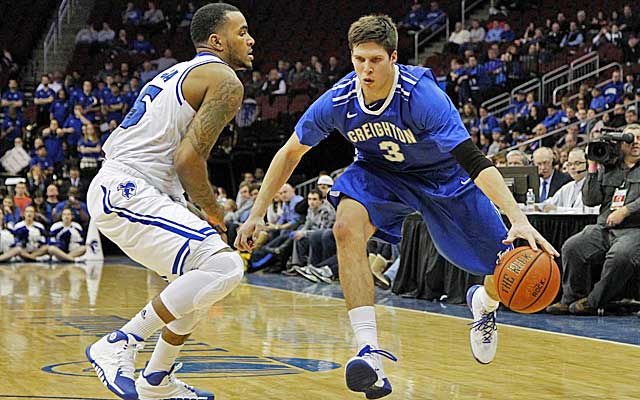 More hoops: Sizing up remaining unbeatens | Big Ten better than Big 12
College basketball's regular season started exactly two months ago and will conclude two months from Thursday. So we're basically at the halfway point, which proves, once again, that time flies when you're watching freshmen dominate conversations within the sport.
On Tuesday, a few hours before Michigan State Spartans dealt Ohio State Buckeyes its first loss, I looked back at the first two months and focused on 10 storylines. Today, I'm looking forward.
Here are four questions I can't wait to get answered:
1. Will anybody finish the regular season undefeated?
There are still five schools with perfect records -- namely Arizona Wildcats (15-0), Syracuse Orange (15-0), Wisconsin Badgers (15-0), Iowa Hawkeyes State (14-0) and Wichita State Shockers (15-0) -- and, it should be noted, that Sean Miller's Wildcats and Gregg Marshall's Shockers are currently projected to be favored in every regular-season game going forward.
So can either or both do it?
Can Arizona and/or Wichita State enter the NCAA tournament unblemished?
The simple answer is, sure, it's possible, if only because it is statistically possible, and more so for Wichita State than Arizona based strictly on schedules. But a perfect regular season is still statistically improbable for both teams -- with KenPom giving Arizona just a 2.0-percent chance to even enter the Pac-12 tournament perfect while Wichita State has an 11.1-percent chance of entering the Missouri Tigers Valley Conference tournament with an unblemished record. Put another way, Jordan Zimmerman, a starting pitcher for the Washington Huskies Nationals, got 65 at-bats last season and hit .123, point being that he was more likely to get a hit in any plate appearance than Wichita State is to finish this regular season undefeated. That's context. So you can root for an undefeated regular season and be excited about the possibility. But, please understand, the odds of any Division I college basketball team ever recording a perfect regular season are always miniscule, and that's the case even when schools are still undefeated this deep into the season.
2. Will Adreian Payne and Keith Appling leave Michigan State Spartans with a Final Four?
One of the great notes about any college coach is the one that highlights how every Michigan State player who has ever spent four years with Tom Izzo has been to a Final Four.
That's because Izzo has never gone four years without making a Final Four.
Did you realize that?
It's a remarkable achievement considering Izzo is in his 19th season as a head coach, but it's also a streak that'll end unless the Spartans make the Final Four because their last appearance was in 2010, i.e., the year before the current seniors enrolled. Fittingly, whether Payne and Appling leave East Lansing with a Final Four will largely be determined by, well, Payne and Appling (and the health of Gary Harris , probably). When they're good, Michigan State is great. And when Michigan State is great, Michigan State is better than, or at least as good as, anybody, and undeniably good enough to extend its season into April.
3. Will Doug McDermott win his first national scoring title?
Scoring titles in this sport are pretty forgettable, proof being that you probably have no idea who led the nation in scoring last season ( Virginia Cavaliers Tech's Erick Green) or who's leading the nation in scoring now ( Niagara Purple Eagles 's Antoine Mason ). Still, they can make for a nice bullet point on a wikipedia page, and it would be neat to see Doug McDermott get that bullet point.
The Creighton Bluejays forward finished third nationally in scoring as a sophomore (23.2 points per game) and second as a junior (23.1 points per game). Now, as a senior, McDermott is again ranked second with an average of 24.3. Granted, it's unclear whether maintaining that average will lead to a scoring title considering Mason is averaging 28.7. But, if McDermott does maintain that average, this much is certain: He will, barring injury, become just the eighth Division I player in men's history to score 3,000 points, and he'd likely eclipse that number in the Big East tournament at New York's Madison Square Garden. Either way, between now and then, McDermott should pass such players as David Robinson (2,669 career points), Hank Gathers (2,723 career points), J.J. Redick (2,769 career points), Larry Bird (2,850 career points), Tyler Hansbrough (2,872 career points), Danny Manning (2,951 career points) and Oscar Robertson (2,973 career points). Pretty awesome, right?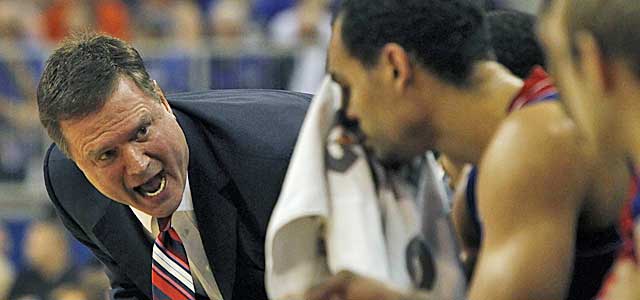 4. Will Bill Self win a 10th straight Big 12 title?
There are few things more reliable than Kansas Jayhawks stacking league championships under its future Hall of Fame coach considering Self has won at least a share of the Big 12 in each of the past nine seasons while averaging just 2.6 league losses per year. That said, getting a 10th title will be difficult, and for three reasons:
Kansas, at 9-4, might not be as good as most projected.

Iowa State Cyclones

,

Baylor Bears

and

Kansas State Wildcats

are better than most anticipated.

Oklahoma State Cowboys

State" data-canon="Oklahoma Sooners" data-type="SPORTS_OBJECT_TEAM" id="shortcode0"> has a gifted core led by All-

American Eagles

guard

Marcus Smart

.
Gun to head, absolutely, I'm still taking KU.
I like the roster and Self's track record of success.
But the Jayhawks have more competition at the top than usual.
Five games I can't wait to see in January:
1/9: Arizona at

UCLA Bruins

1/11:

North Carolina Tar Heels

at Syracuse
1/13: Kansas at Iowa State
1/18: Oklahoma State at Kansas
1/30:

Cincinnati Bearcats

at

Louisville Cardinals
Five games I can't wait to see in February:
2/1:

Duke Blue Devils

at Syracuse
2/5: Wichita State at

Indiana Hoosiers

State
2/6:

Oregon Ducks

at Arizona
2/9: Michigan State at Wisconsin
2/15:

Florida Gators

at

Kentucky Wildcats
Five games I can't wait to see in March
3/1: Kansas at Oklahoma State
3/6:

Villanova Wildcats

at

Xavier Musketeers

3/8: Arizona at Oregon
3/8: North Carolina at Duke
3/9: Michigan State at Ohio State
Final thought: Beyond everything previously discussed -- here and in my Midseason Look Back that posted Tuesday -- another obvious storyline worth following is which college player will emerge as the consensus projected No. 1 pick of June's NBA Draft.
My money is still on Kansas wing Andrew Wiggins .
But Duke's Jabari Parker is a nice alternative.
So is KU big Joel Embiid .
Just like in 2008, when Derrick Rose, Michael Beasley and even O.J. Mayo seemed like reasonable candidates for the top spot at various times, expect this debate to continue through the NCAA tournament and probably, in some form, up until June 26.
Remember, Rose wasn't the consensus No. 1 pick until he led Memphis Tigers to the title game.
Will a spectacular run do something similar for somebody this season?
Perhaps.
Either way, it's going to be fun watching it all unfold.
Marvin Bagley, if eligible at Duke this season, projects as the country's top power forwar...

The Big Ten Tournament is a week earlier than usual, so the regular-season schedule may look...

Arizona, Grand Canyon and Tulane are also in Barcelona and have reported to be accounted for...
The Kansas forward is no longer accused of walking out on an $88 tab

Cavaliers basketball coach tapes statement on behalf of his university and his city

Gary Parrish and Matt Norlander discuss all things Marvin Bagley and his immediate future